History of 2Ring Goodies at Cisco Live! US
Since we at 2Ring have started the planning for our stand at the upcoming Cisco Live! in Orlando, FL, I would like to share an overview of all the "goodies" that we had at our stands in previous years and then ask for your ideas of what you would like to see this year. Note: If you expect pictures of "booth babes" from this post, I am going to disappoint you. It will not happen. We just don't do that out of a belief that people who visit our stand should remember our product messaging.. Were our 10×10 stands a success? Yes. The goodies that we used over the years turned out to be great means for starting discussions with people walking by our stand. In other words, they are a great conversation starter. This little info graphics proves so – every year we got to talk to more and more folks from more and more countries: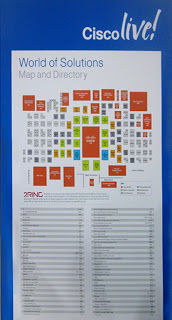 World of Solutions Map
What goodies did we offer in the past? Last year, 2012 in San Diego, we did a small campaign around small remote control helicopters that were very popular around our Bratislava office at that time. Before CLUS even started, we already had a small "helicopter cemetery" at our headquarters in Europe. To advertise this prize, we did a small YouTube campaign here (YouTube video) and advertised it on the World of Solutions map.The whole "campaign" was very successful – we generated over 900 leads out of approximately 17,000 attendees at the conference.In 2011, in Las Vegas, all the visitors to our stand were automatically enrolled in a drawing for 2Ring Starbucks gift cards. We were giving away 22 cards, each with a 22-dollar value. I don't recall how we came up with this prize idea, but it must have been related to the baby boom that our company enjoyed at that time, resulting in a lack of sleep for all the new parents. :)In 2010, we were at #CLUS for the first time and we raffled three 2Ring co-branded Cisco Flips (do you remember those cute devices?). I am still using one that I won from Cisco Developer Network to record videos of my kids. The funny thing is that Cisco Developer Network had a drawing at its Cisco Forum for developers (always organized on the Sunday/Monday before "World of Solutions" opens) as Michal Kridlo from ZOOM International, Martin Bielik from 2Ring, and I were standing at a table, enjoying our drinks. First Michal was called to get his prize. The second name was mine, and then they called pretty much everyone in the room except Martin. He was not a happy camper, and he actually ended up buying his Flip at Cisco's store next day. 🙂 And then, when in 2011 I won an iPod at the Forum, Martin was saying that the world is just not fair.:) Unfortunately, after winning twice in a row, I was not lucky in any future drawings (twitter contests are a different story – since they were about knowledge and speed ;)).
What goodies would you like to see in Orlando? So far, we are considering two ideas – two or three 2Ring co-branded MS Surface PROs since these little tablets with Win8 make it super easy for our sales team to travel and demo all of our applications/solutions for Cisco Contact Centers and Unified Communications. The other idea that's on the table are gift cards from Southwest Airlines since we do fly a lot around the US visiting our partners. Which of these two would make you come to our stand? Or do you have another idea? If so, share it below in the discussion.Increase your chances! We always draw for one of the prizes from our followers on Twitter, so if you are not following @2RingCX yet, do so now to have a chance to win whatever we decide on inthe end. If you do not care about the gift and just want to receive some unofficial bits of what we are working on, feel free to follow me at @MichalGrebac. Looking forward to having Cisco-related discussions with you, and see you in Orlando!
P.S. I promise that my next blog spot will be much more technical – product oriented.
Michal Grebac
Strategic Sales & Marketing Director