As I am writing this brief overview of 2Ring COMPACT AGENT v1.1.0, this fresh release has already been deployed in its first Cisco demonstration lab. It is also being deployed in another Cisco lab with the goal of testing this solution as an alternative (simpler) interface to Cisco Finesse for Cisco Remote Expert solution. We are very happy that we see a lot of excitement about this from all sides!

For those who don't know what 2Ring COMPACT AGENT for Cisco Jabber is, let's say that it is a simplified version of the Cisco Finesse agent desktop application utilizing Cisco Finesse API to connect to Cisco UCC Enterprise v9 and above or to UCC Express 10 and above. The first version of 2Ring COMPACT AGENT only provided an alternative user interface for agent state control and also for accepting/rejecting incoming phone calls. Cisco TechWiseTV recently did a nice overview of version 1.0 in one of its episodes here or you can watch a bit more detailed overview here.

FEATURES THAT YOU EXPECT

1) Agent State Control including Delayed States
An agent can change his state to Ready or NotReady, including selection of the appropriate reason code. Also added was support for delayed agent states: an agent requests a change in his state, but he will not be switched to the desired state until it is possible (e.g., if an agent switched to NotReady – CoffeeBreak while on a call, his status is shown as "not ready – pending" and once the call is finished, he is free for his coffee break).

2) Comprehensive Call Control
It is possible to accept or reject incoming calls. On top of that, it is also possible to place a call by pasting or typing in a number that should be dialed. Calls can also be put on hold (and yes, they can also be resumed ;)). Agents can do call transfers (via a warm or single step transfer), join calls to a conference, or do consult calls.

3) Documentation
Detailed admin and user guides make deployment and configuration of the solution seamless. No need for 2Ring professional services, do it all on your own!
FEATURES THAT ARE EXCEPTIONAL

1) Powerful and Flexible Data Visualization
Not only is every incoming call (inbound or campaign call) accompanied by a display of call variables (as configured in Cisco Finesse), but it is also possible to extend the call context via the use of configuration of 2Ring COMPACT AGENT. This allows you to display custom labeled values as hyperlinks. To give you some practical use cases of what agents can use these links for:
open a caller's contact card in the company's CRM system
open a page with shipment details
open an IM / chat session (Jabber, MS Lync) with ADM (Account Delivery Manager) or AM (Account Manager)
open a new email message to a caller or other contact related to the caller's account
open a new project in a case tracking system
open a file-share with project documents
open a guiding workflow or advanced wrap-up form provided by 2Ring SCRIPTS&FORMS
..
2) Touch-First
You will notice that the buttons have gotten bigger and generally, the entire UI was developed with users on touch-screen devices in mind first.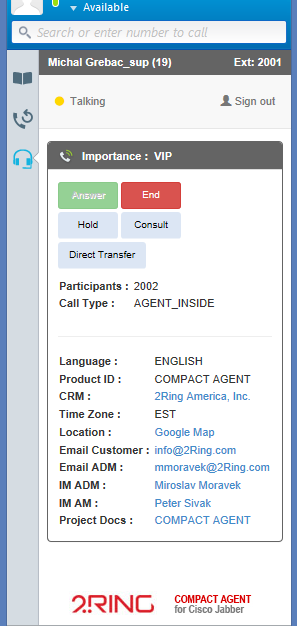 Remote Export / Agent on a call via 2Ring COMPACT AGENT v1.1 inside of Cisco Jabber Client for Windows
HOW CAN I GET MY HANDS ON 2Ring COMPACT AGENT? Yes, there are multiple options:
Request a live demo and have a discussion about becoming a 2Ring ADVANCED PARTNER and about getting this installed in your lab
Go to Cisco dCloud. 2Ring COMPACT AGENT v1.0 and older version of our GADGETS are both part of the UCCE v2 environment. Please note that we can also share an updated version of the UCCE v2 environment with you. Updated means that it contains the latest 2Ring GADGETS and the latest 2Ring COMPACT AGENT. If interested in this option, please email us your CCO Login.
Wait a little bit and go to dCloud in Q1/2014. 2Ring GADGETS (incl. COMPACT AGENT) will be part of the final version of Cisco UCCX10 and UCCE10 environments that are currently being prepared.
To stay in touch (and be the first to learn about a video showing the new COMPACT AGENT), follow us on Twitter or sign up to the RSS feed.
Cheers! @MichalGrebac