Sacramento, CA – 2Ring Gadgets for Cisco Finesse® (GA) v6.1 is available as of today and this release introduces a change in the container orchestration tool – from Docker to Kubernetes. This means that customers have two Linux flavors to choose from – Red Hat Enterprise Linux or Linux Ubuntu.
However, note that 2Ring will demo this release for the first time at Cisco Live!® 2022 in Las Vegas – you will be able to find 2Ring in the Collaboration Village (June 13 to June 15. If you cannot make it to Vegas in person, you can also schedule a live demo / Q&A session using our demo form: 2Ring.com/Webex).
What's New in GA 6.1?
2Ring Skilling now allows supervisors to set reoccurring skilling changes for a specific agent. In previous releases, a reoccurring skilling was only available via Team Skilling App, and thus it was only possible to have created profiles applied to all agents in a selected team. Team Skilling App is still the place to go and create the desired skilling profile, however, supervisor can then go to a profile of a specific agent, and have the profile applied right away manually or define the reoccurring settings.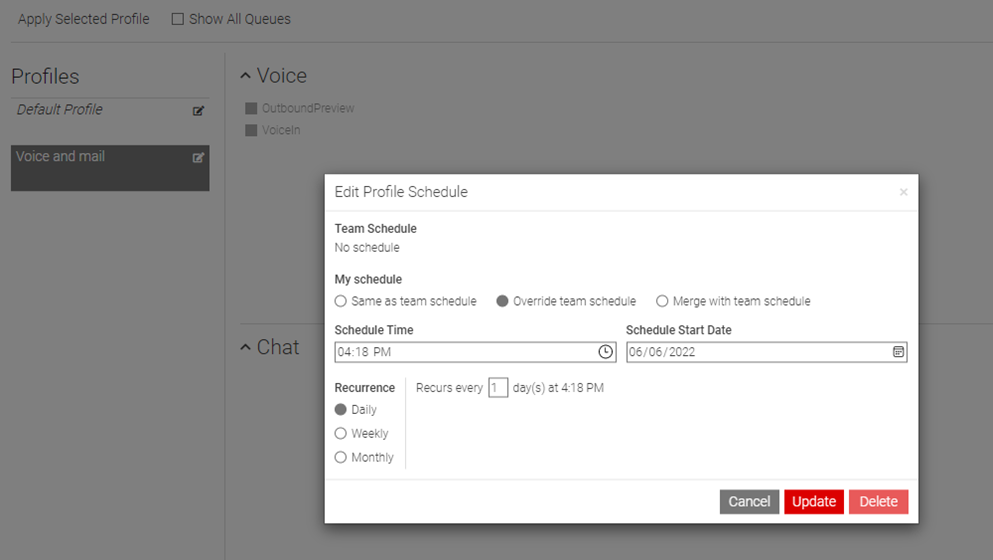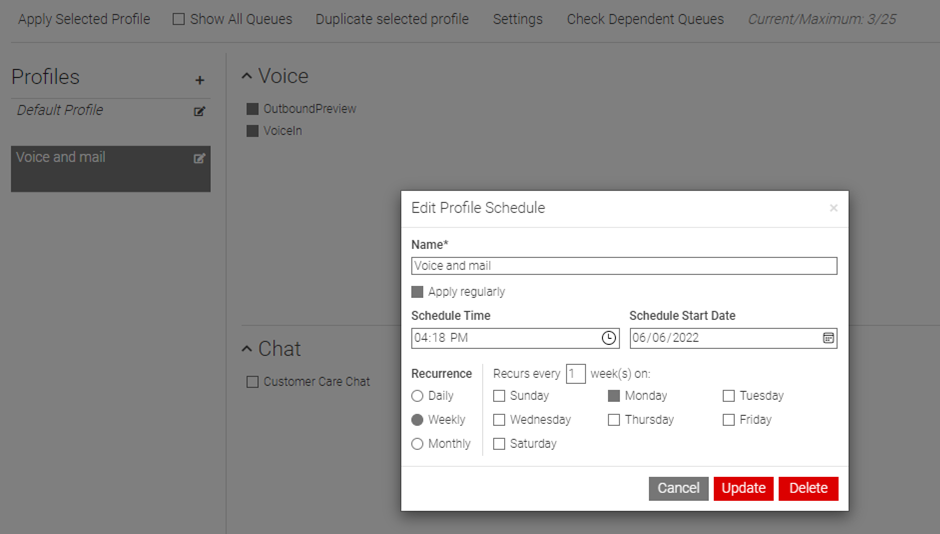 Support for Cisco Finesse VPN Less Mode of UCCE 12.6, and support for VPN Less Mode for UCCX will be introduced in one of the future releases.
2Ring Silent Monitoring (provided by 2Ring Phone Services) can now also be available to selected agents (so to users without supervisor role). Monitoring permissions (who can monitor whom) are managed by administrators within Configuration Page of 2Ring Gadgets for Cisco Finesse.
2Ring Browser Extension now also displays system reason codes, such as CRS_FAILURE, AGT-RNA, PHONE_DOWN, AGT-OFFHOOK and similar.
MS Teams Presence integration – displaying user's presence information in 2Ring Team Gadget for internal contacts is now available even for organizations that need to monitor 600+ Microsoft Teams users.
Side by side deployment mode has been added to simplify upgrades as multiple deployments can now run simultaneously.
Added support for Red Hat 8.6 and Ubuntu 22.04
Added support for Redis HA
Have You Missed Some of Our Previous Updates?
5.3 Release Notes – significantly enhancing 2Ring CTI Integrations with Microsoft Dynamics, Salesforce and Service Now.
5.2 Release Notes – added multiple 2Ring Skilling tools to Cisco Finesse
5.1 Release Notes – introduced customer journey, a CRM independent storage of all customer interactions
Subscription Pricing
A subscription for 2Ring Gadgets for Cisco Finesse can now be purchased from Cisco. In CCW, please search for 2Ring-SB, and select 2Ring Gadgets for Cisco Finesse for the desired self-hosted subscription period. Do not forget to add 2Ring Activation Services (a one-time fee) – 2Ring-1TF – for each of your 2Ring Subscriptions – so DW+GA requires a minimum of two activation fees.

Perpetual Licensing
2Ring Gadgets for Cisco Finesse are still available in these three perpetual bundles – Standard, Enhanced, and Premium (CRM integrations require the Premium bundle). Here is the latest overview of our three bundles.

Ready to Schedule a Demo?
The power of these integrations fully shows on a live demo, so schedule one now at 2Ring.com/Webex.