Sacramento, CA – 2Ring Gadgets for Cisco Finesse (GA) v5.3 is available as of today and this release significantly enhances 2Ring integrations of Cisco Finesse® with Microsoft Dynamics, Salesforce®, and ServiceNow®.
To schedule a live demo / Q&A session, please use this form – 2Ring.com/Webex

What's New in GA 5.3?
2Ring integrations of Cisco® Contact Centers with MS Dynamics, Salesforce, and ServiceNow are being taken to another level with the introduction of brand new soft-phone clients. These new soft-phone clients are very similar in nature (see screenshots below) and they all provide full call control and wrap-up selection options (all within the native user interface of the corresponding CRM/Service Desk application).
These brand new 2Ring Soft Phone Clients
come with a full call control experience,
display Cisco and/or 2Ring CallVariables,
provide custom action buttons (for example to let agent trigger a specific automation workflow),
deliver access to an address-book search with click2dial capabilities (handy for consults and transfers),
offer a list of speed-dial buttons,
and more.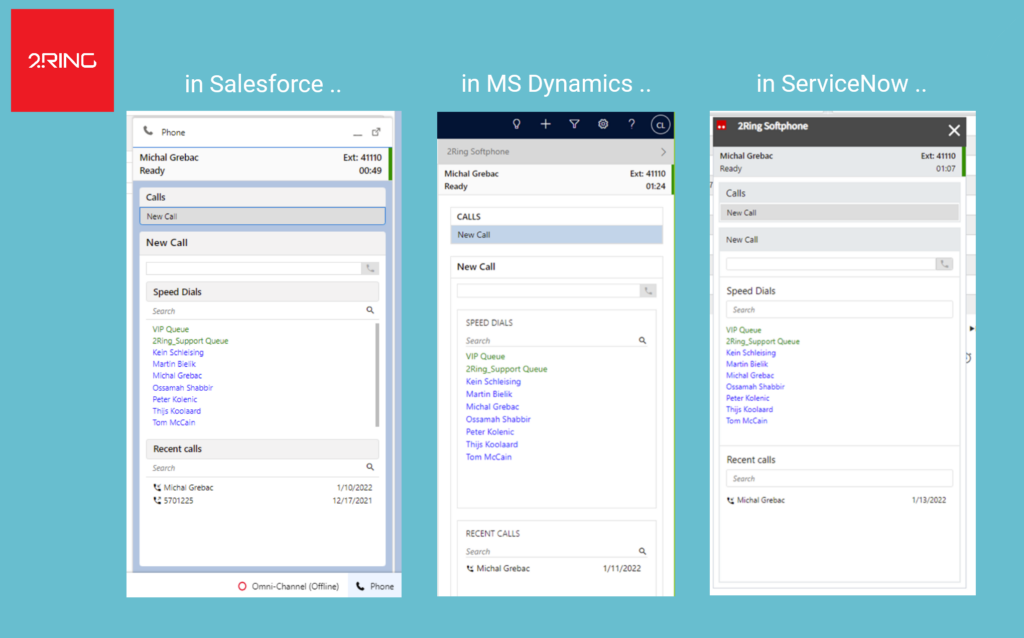 Of course, agents in Cisco Contact Centers will still have access to 2Ring Browser Extension in their browser (Chrome, Edge, Firefox) to see their own contact center state while working on ANY browser tab: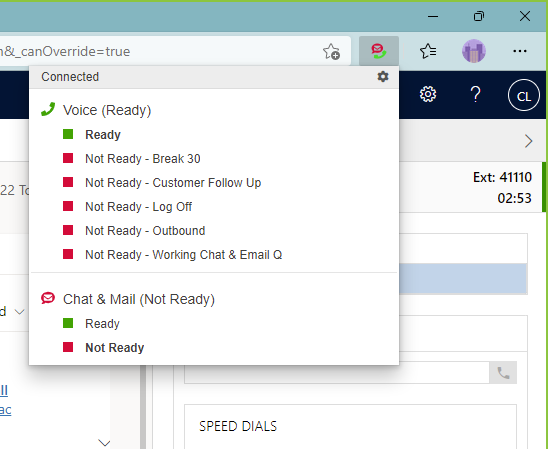 Lastly, agents are still able to access any of the native gadgets in Cisco Finesse – to have a full visibility for their personal interaction history, state history, and many other contact center metrics.
What Connected Systems are Supported?
These brand-new softphone clients from 2Ring are available for the following Connected Systems:
MS Dynamics Omni Channel
MS Dynamics Single Channel
Salesforce Lightning Console Mode
Salesforce Lightning Native Mode
Salesforce Classic Console Mode
Salesforce Classic Native Mode
ServiceNow

The power of these integrations fully shows on a live demo, so schedule one now at www.2Ring.com/Webex.
Here is couple more screenshots – showing an ongoing call in each CRM.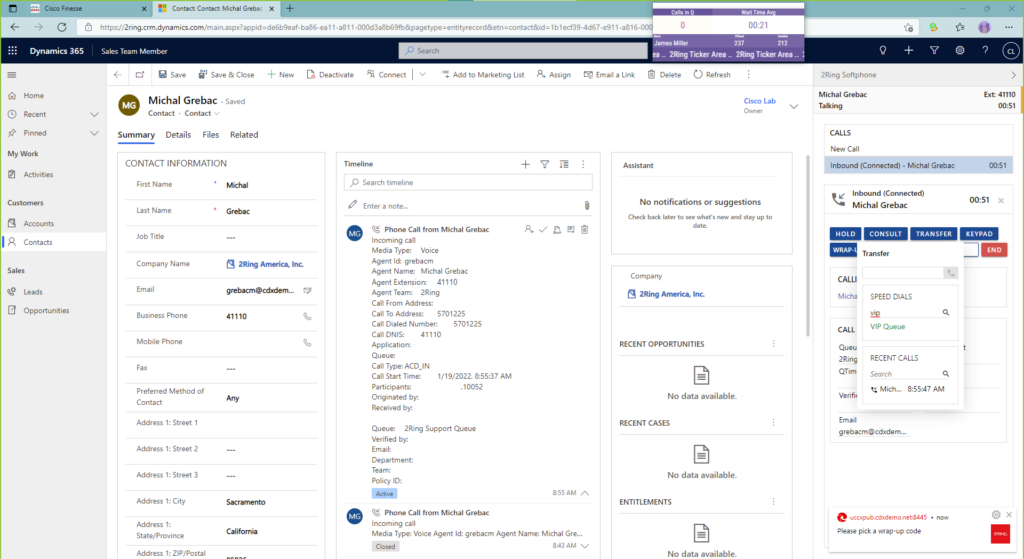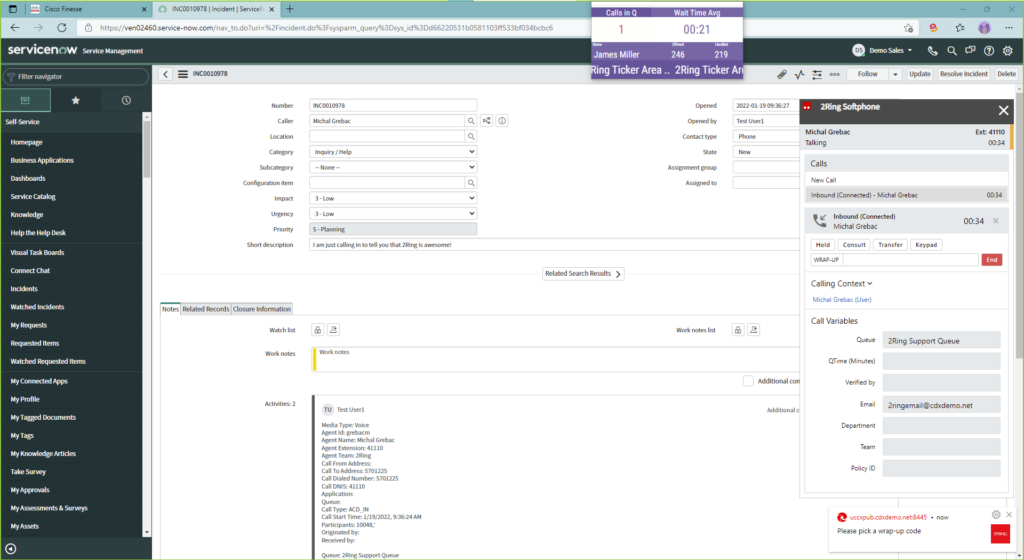 Apart from this, 5.3 release also comes with these additional items:
Supporting Cisco Finesse 12.6 release,
Showing time delta between consecutive trace events in Call Trace that's part of 2Ring Dialog Gadget. And just as a reminder, our toast alerts can still pop on top of all the application windows and inform the agent that the incoming caller waited in queue for more than x minutes, or that we can inform the supervisor that a customer has been on hold for more than x minutes,
A new concept of Connected Systems is being introduced. A connected system defines authentication and connection mechanism for a contact connector or an external http service or both. Connected Systems support agent based and shared connections. This allows us to call external services using either the identity of an agent or a shared identity. A set of predefined Connected Systems includes Microsoft Dynamics, Salesforce, ServiceNow, SQL database connector, a generic web service (anonymous, basic authentication, form authentication, OAuth Password Flow, and Authorization Header). A new SDK for writing custom Connected System is now also available,
Adding the option to raise a new event when a Cisco or 2Ring CallVariable changes value. This makes it possible for 2Ring Orchestrator (workflow) to react to this information and either auto-save such change or perform another action, such as update options available under another CallVariable's drop-down list based on the option picked by the agent for the first one (tree structure type of wrap-ups),
Log files have default rotation settings applied (so GA logs would not eat up your disk drive), and
A new guidance for backing up and restoring Cassandra data is now available.
Perpetual Licensing
2Ring Gadgets for Cisco Finesse are still available in these three perpetual bundles – Standard, Enhanced, and Premium (CRM integrations require the Premium bundle). Here is the latest overview of our three bundles – note the option to add 2Ring Staffino Feedback Services as a subscription to all three of our bundles (learn more about Staffino at www.2Ring.com/Staffino or request demo at 2Ring.com/WebEx).

Subscription Pricing
A subscription for 2Ring Gadgets for Cisco Finesse can now be purchased from Cisco. In CCW, please search for 2Ring-SB, and select 2Ring Gadgets for Cisco Finesse for the desired self-hosted subscription period. If your Cisco call center needs 2Ring Gadgets for fewer than 50 seats, please also add 2Ring Activation Services (a one-time fee) – 2Ring-1TF.



Ready to Schedule a Demo?
The power of these integrations fully shows on a live demo, so schedule one now at 2Ring.com/Webex.