Recently I got a shopping list from my wife. I decided to go to the shopping center closest to our office, and I got everything from the list under one roof. I just had to go to the right store/bank/post office to carry out the tasks on the list.

System integrators, more specifically, solution architects, receive similar lists from their customers or prospects. They can find vendors who have only one brick for the house or those who are able to provide multiple bricks at once – as we do here at 2Ring.

We started as a vendor of add-ons for unified communications and built products such as BUSINESS FAX, PHONE SERVICES and CALL ACCOUNTING. To make these solutions even better – user friendly – we built a set of connections between our products. So, for example, your contacts from 2Ring PHONE SERVICES can be used to identify callers in 2Ring CALL ACCOUNTING, or the same contacts can be used to identify fax senders, etc.

Our focus on UC was then expanded to collaboration, and so we built a set of applications for Cisco contact centers:
And here, we also make sure that our solutions are aware of each other. To give you a few examples, layouts or screen groups built in our WALLBOARDS can be available to agents within the 2Ring BROWSER gadget, supervisors are able to send text messages to WALLBOARDS from our TEAM Gadget, SCRIPTS & advanced wrap-up FORMS communicate with the workflow mechanism (ORCHESTRATOR) that is part of our GADGETS for Cisco Finesse, and the real-time data calculated by our WALLBOARDS can be tightly integrated into the UI of our COMPACT AGENT for Cisco Jabber, so even those users who do not use the full Finesse environment or who do not work from the contact center floor can monitor selected KPIs in the Jabber interface.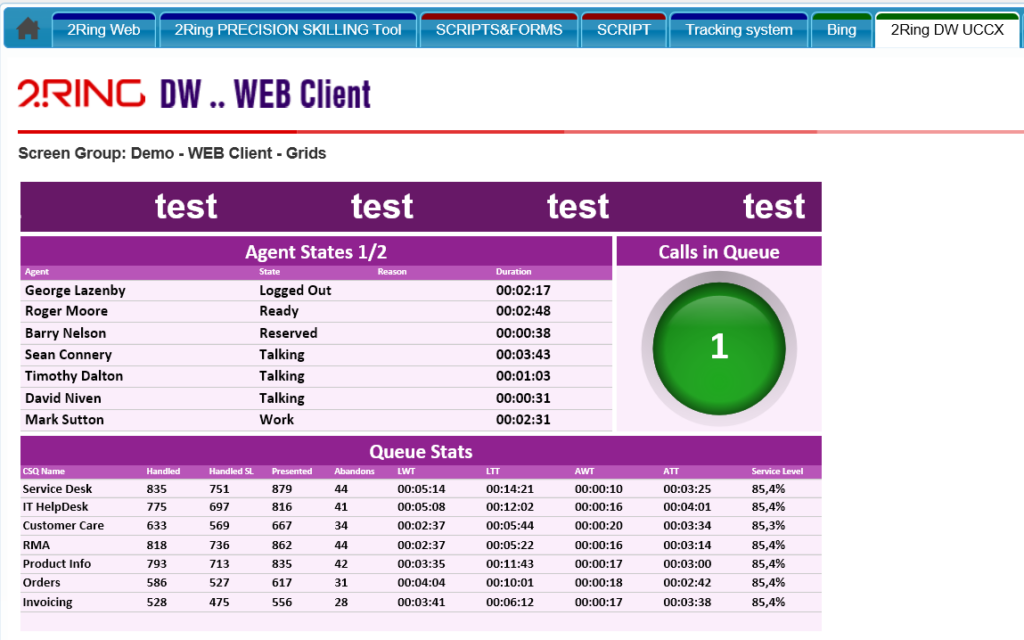 Recently we have integrated our solutions for Unified Communication with those for Contact Centers. Your contacts synchronized (from CRM, ..) to our PHONE SERVICES are available directly in Cisco Finesse, including the Click2dial option. And that`s just the beginning.
There are also other benefits. Our applications are pre-approved to co-reside on BE6K and BE7K, and we approve co-residency of multiple 2Ring solutions on one VM – which will save your customers precious computing power.

Let`s sum up the benefits of our one-stop shopping for your UC/CC projects:
solutions that are aware of each other
same discount scheme
unified pricing where possible
affordable product bundles
one point of contact for purchase and support
savings in computing power
Do not hesitate; visit our "mall" at www.2Ring.com.