Having well informed agents is always a good thing. A well informed agent is quicker to respond, less stressed, provides more accurate answers and the customer experience is better too. And that is what we all are ultimately looking for, right? 

There are plenty of training and wiki tools to keep agents informed and up to date with the product or service information, processes, guides and other how-tos. Agents should read those and attend trainings to keep up with the always changing world around us.

But let's face it. The information is sometimes flowing so fast that even the best agents cannot keep up. Often times the most critical information has a limited time validity and needs to be spread ASAP.

A one-to-many broadcast system could come in handy. A system that delivers messages instantly, addresses multiple targets and is easy to use. That is why we have delivered a broadcast feature for supervisors to use in early versions of 2Ring Gadgets for Cisco Finesse. To remind how this works let's have a look at the following picture.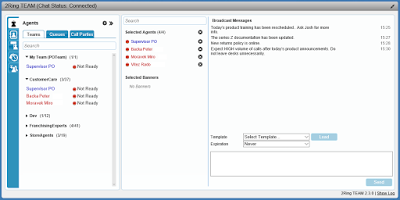 (the interface used to send broadcast messages in TEAM gadget)
There is a selector for choosing agents individually, by teams or queues on the left side. A 2Ring Wallboard can be also targeted together with the agents. Supervisors pick who they want to address and then write a message using the form on the right side. If a message occurs often a template can be created and then reloaded quickly.The message is then displayed instantly to all agents directly on their Finesse desktop and where applicable also on wallboards all around the place.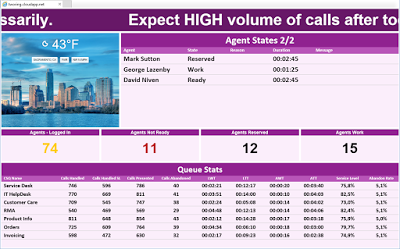 (a sample wallboard showing a broadcast message)
In the latest release we have extended this feature with message history. All received messages stack up and remain accessible to the agents even after a new message replaces them. A badge always informs about the number of messages in history. This allows agents to go back and review older messages they may have missed. Messages can be deleted individually or all at once. The ones that are not deleted persist even between finesse sessions so agents can keep them as long as needed.

(an infoPANEL showing a new message along with a history of older messages)
If a message has a limited validity it can be set to expire automatically. These messages are removed from the history once expired.

The broadcast feature with the message history allows you to instantly communicate important information. Messages are delivered in a hard to miss manner and stay front and center. And that makes agents productive. Which is what we need, right?

Miro Moravek
Managing Director, 2Ring

Contact us
To learn more, visit the product page of 2Ring GADGETS at www.2Ring.com/GADGETS. You can also schedule a live demo at www.2Ring.com/Demo.