This blog is part of our larger blog series focused on integrating Cisco® contact centers with CRM and Service Desk applications.
If you read our initial blog focused on all the integration modes (Living and Breathing in a CRM user interface, bringing CRM data to Cisco Finesse®, and Mixed Mode), welcome back!
This 2nd blog focuses on agent's experience when a Cisco Contact Center is specifically integrated with Salesforce® using a Mixed Mode – the Mixed Mode is explained in the initial blog post here (it will open a new browser tab so you can easily come back here).
Note: When we say, "Cisco Contact Center," for the sake of these integration blog posts, we are referring to all those platforms that come with Cisco Finesse, so these 4 platforms are covered: UCCX – Express, UCCE – Enterprise, Packaged UCCE, and Webex Contact Center Enterprise.
Why Mixed Mode is Best
We at 2Ring believe that the Mixed Mode is the best integration mode. It allows agents to leverage the Salesforce® interface to its full extent. However, agent experience is not only limited to the Salesforce user interface. Instead, even if an agent switches to Cisco Finesse (to use contact center centric applications – e.g., WFM schedule, or check their personalized stats, …), or if an agent leaves Salesforce for an external application (thin or thick, so web-based or desktop-based), updates on contact center events are still present. Agents do not lose sight of their contact center state. No matter what application they are working in, they will still receive contact center alerts (toast alerts from 2Ring), or even see their own personalized wallboard. The Mixed Mode is also cost-effective as it doesn't require extensive coding to set up, nor requires more coding to implement changes (e.g., when you need to add or display additional Salesforce fields for a new campaign). To sum up, the Mixed Mode delivers the best user experience for the agents, and for the contact center supervisors too, while keeping the overall costs at reasonable and affordable.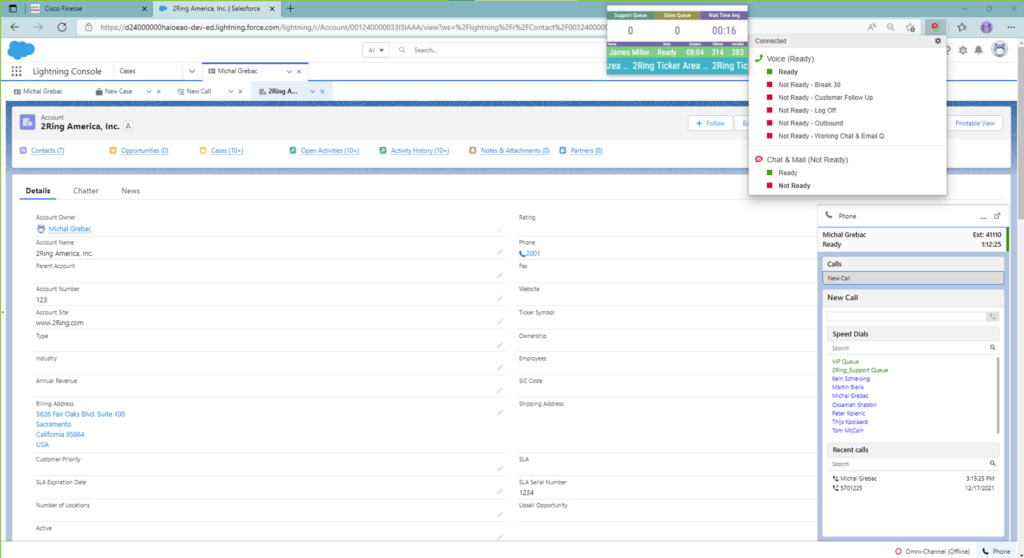 Note: Supervisor's experience will be covered in our next blog. A running list of blogs in this series can be found at the end of this blog (below).
What are the Components of the Mixed Mode?
Apart from a web browser, Salesforce, and the actual Cisco Contact Center platform, the overall agent experience is built and carried out via multiple additional components:
2Ring Workflow / Orchestrator
2Ring Soft Phone for Salesforce
2Ring Browser Extension
2Ring Toast Alerts
2Ring Gadgets for Cisco Finesse
Every component listed above is highly configurable, and able to take care of all the various use cases that each contact center team might be looking for.
Of course, there might be additional tools – such as call recording, workforce management tools, paging, payment processing applications, etc., and if possible, the availability of those tools (where and when accessed by agents) will also be optimized during the implementation phase.
Ok, so let's deep dive into these 2Ring components that we have listed above:
2Ring Workflow / Automation
Every contact center team can define its own requirements for the Salesforce integration and automation. The actual automation can differ based on what kind of call is coming in or according to the data available in Salesforce about the caller.
2Ring Workflow automates and thus speeds up many use cases normally carried out by agents manually.
A good example is an incoming call, when the workflow can use a caller's phone number (and other information about the call that is available) to:
identify the caller in Salesforce,
bring the agent to the Salesforce user interface,
show agent all the currently open opportunities with the caller,
automatically create an interaction history record in Salesforce about the call that is just about to start and let agent add any notes that s/he deems important.
Once the call concludes, 2Ring can store all the available info into Salesforce as well. This might include what agent(s) the caller talked to, how long each call was, what wrap-up – disposition – codes agents selected, and even include a link to the call recording / transcript.
The workflow can also push/store date to Cisco Contact Centers – for example, once the caller is identified, ClientID or any information about the caller available in Salesforce can be then stored in one of the CallVariables. Not only does this improve historical reporting capabilities, but at the same time it enables for smart call transfers – so even if the caller is transferred to another agent/queue, all the information provided to the first agent is available to all the consequent agents that the caller interacts with.
Having all this work done automatically saves valuable time for agents who then can spend more time spent with customers.
2Ring Soft Phone for Salesforce
This is the most important piece of the integration as 2Ring Soft Phone is the front end for all call related actions. It resides inside of Salesforce, and it is where an agent can:
see his/her current call center state,
view details of the call that s/he is currently handing – no matter if it is an inbound or an outbound call (started via click2dial in Salesforce, or part of a call center campaign),
access all the call control buttons – such as hold, consult, transfer, and call end. Consult and transfer buttons also provide access to pre-defined contacts – speed dials – that make transfers to other queues and setting up a consult calls with back-office experts seamless.
set wrap-up code(s),
and even leverage custom workflow buttons that agents can use to trigger a specific automation workflow – e.g., create a new case, create a new opportunity, etc.
The availability of the soft phone inside of Salesforce eliminates the need to switch to Cisco Finesse while assisting callers or looking up numbers for transfers.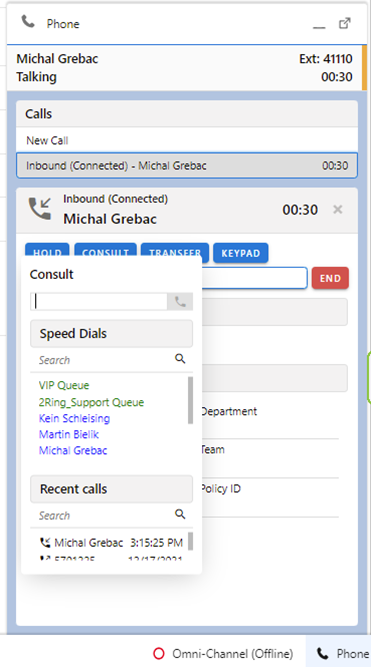 2Ring Browser Extension
This browser extension from 2Ring creates a link between Cisco Finesse and Salesforce, so data flows as needed for each of the configured automation scenario. On top of that, the extension also enables click2dial from Salesforce and it allows agents in Cisco Contact Centers to see & change their state from any browser tab without having to switch back to Cisco Finesse (Agent State for UCCE Voice and UCCX Voice + UCCX Chat/Email).
2Ring Bowser Extension is available for all the major browsers (Chrome, Firefox, and Microsoft Edge).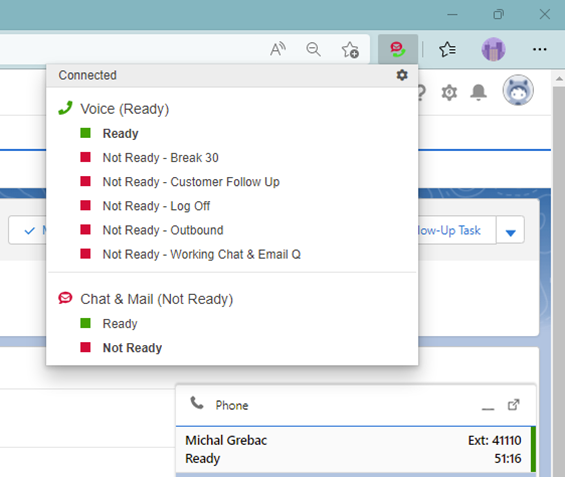 2Ring Toast Alerts

These are super powerful real-time alerts. It doesn't matter what application the agent happens to be using at the given moment, this alert will be seen as it always displays on top of all the application windows. In other words, agents see these alerts even if they are not currently looking at Salesforce or at Cisco Finesse.
Moreover, these alerts can be even configured in a way that they stay opened/displayed until agent performs the desired action (e.g., change your state to ready, picks a wrap-up/disposition code), or until the agent closes the alert manually.
Here are some of the most common use cases that we see:
Incoming call alert when working outside of Salesforce and agent needs to finish that work before answering a call,
A wrap-up / disposition code reminder e.g., if agent has been talking for over a minute and no code has been selected,
Remind agent to apologize for an extra wait time, e.g., only displayed if the caller had to wait for more than X minutes,
Notify agent about an unusual call – e.g., in overflow situations when agents are routed calls from different queues that they normally do not handle,
Notify agents about high call volume – and tell them to go ready ASAP, or keep a current call short due to the high call volume.
There are many other use cases that can be delivered – and we will cover supervisor-centric use cases in our next blog.
2Ring Toast alerts are available for all the major browsers (Chrome, Firefox, and Microsoft Edge).
2Ring Agent Power Tool

This tool can be used to bring real-time contact center stats directly to agents' workstations. It is often configured to auto-start when agent logs in to their workstation, and to stay on top of any other application on a user's screen (see an example above).
The sky is the limit when we talk about what can be displayed in this nifty tool that is a part of our 2Ring Dashboards & Wallboards. Supervisors can create personalized layouts that include a marquee for instant updates, multiple KPIs – e.g. number of calls in queue or longest wait time, or even a grid showing agent his/her personal stats.
This tool has been incredibly helpful for many of the 2Ring customers who switched to a hybrid or remote agent model. Regardless of the location of an agent, they now have full insight into crucial KPIs.
2Ring Gadgets for Cisco Finesse
A package of features available in the form of Gadgets accessible through Cisco Finesse. These gadgets are configured to enhance agent and supervisor user experiences. Here are few of the features that are relevant to agents when Cisco Contact Center is integrated with Salesforce:
2Ring Team Gadget – a gadget where agent can view his/her profile, see a state history (for today, or for a selected period), interaction history, feedback messages received via Staffino, or even access to agent's work schedule from Calabrio's WFM.
2Ring (Re)Skilling Gadget – if enabled, agents can self-skill within certain boundaries – e.g., add themselves to additional queues,
2Ring Cherry Picking (UCCX Only) – cherry picking allows agents to pick calls out of order from a queue, thus enabling them to assist callers based upon previous interactions. This tool is often used for call parking – so either a supervisor can grab the call or another more experienced agent can finish a conversation.
It should be noted that Cisco Finesse and 2Ring Dialog Gadget is a perfect place for the agent to start every interaction when contact center agents are expected to use multiple "CRM systems" – e.g., Salesforce and ServiceNow®. In such scenario, agent can talk to the caller and identify the reason for the call before selecting the correct automation workflow.
There are many other use cases that make the life of supervisors better thanks to the use of Cisco Finesse as their supervisor cockpit. As mentioned before, stay tuned as we will cover supervisor-centric use cases in our upcoming blog.
Conclusion
To briefly recap, 2Ring's mixed approach for Cisco Contact Centers is the best of both worlds as it combines flexibility as well as functionality. Agents can easily work within the CRM (Salesforce, in this particular instance) while still being fully updated about all the contact center events and have access to their personalized contact center stats and additional contact center tools in Cisco Finesse.
Do not wait for the next blog to be available. Get ahead of the curve and schedule your personalized demo and get all the details today. Submit your demo request at www.2Ring.com/WebEx.
Also check out the full series of 2Ring CRM Integrations into Cisco Contact Centers.
2Ring Gadgets for Cisco Finesse CRM Integration Blog Series
| | |
| --- | --- |
| Published: March 9th, 2022 | New Blog Series from 2Ring: CRM Integrations in Cisco Contact Centers |
| Published: March 30th, 2022 You're reading this blog post now 🙂 We can't wait to share with you the exciting integration possibilities 2Ring Gadgets for Cisco Finesse can offer to connect your Cisco contact center with the CRM of your choice. Stay tuned for more! | How to Integrate Cisco with Salesforce – Agent's Perspective |
| Published: January 6th, 2023 | How to Integrate Cisco with Salesforce – Supervisor's Perspective |
| Coming soon .. | How to Integrate Cisco with Dynamics 365 – Supervisor's Perspective |
| Coming soon .. | How to Integrate Cisco with Dynamics 365 – Agent's Perspective |
| Coming soon .. | How to Integrate Cisco with Service Now – Agent's Perspective |
| Coming soon .. | How to Integrate Cisco with Service Now – Supervisor's Perspective |
| Coming soon .. | How to Integrate Cisco with Homegrown CRM or Ticketing System |
| Coming soon .. | New Blog Series: Recap of CRM Integrations with Cisco Contact Center |