This blog is part of our larger blog series focused on integrating Cisco® Contact Centers with CRM and Service Desk applications.
In our previous blog, we discussed what an Agent experience would look like when 2Ring enhances the Cisco Finesse® experience using Mixed Mode. You are invited to read more about that here: https://www.2ring.com/crm-integrations-blog-2-how-to-integrate-cisco-with-salesforce-agents-perspective/
This blog mostly focuses on a supervisor's experience when a Cisco Contact Center is specifically integrated with Salesforce utilizing Mixed Mode.
Just a reminder, our integration works across the board with all Finesse based Cisco Contact Centers: UCCX – Express, UCCE – Enterprise, Packaged UCCE, and Webex Contact Center Enterprise.
Real Power of 2Ring Mixed Mode – Supervisor View
As you have seen, we at 2Ring love talking about Mixed Mode when it comes to using Cisco Finesse and Salesforce®. It truly shines since supervisors have the ability to utilize the best of both worlds.
The supervisor is able to stay within the Salesforce interface for day to day tasks but can quickly switch to Finesse to use contact center applications such as a WFM schedule or other agent stats. When the supervisor leaves the Salesforce tab to use external applications, they won't lose their ability to be notified on Contact Center related events. No matter what application they are working in, they will still receive contact center alerts (toast alerts from 2Ring), or even see their own personalized wallboard.
Recap of the 2Ring Mixed Mode Solution
If you recall from the previous blog post, we discussed in detail how 2Ring mixed mode works and all the different components that make the solution function. We will briefly highlight those components without going into detail for the sake of time.
Apart from a web browser, Salesforce, and the actual Cisco Contact Center platform, the overall supervisor experience is built and carried out via multiple additional components:
2Ring Workflow / Orchestrator
2Ring Soft Phone for Salesforce
2Ring Browser Extension
2Ring Toast Alerts
2Ring Gadgets for Cisco Finesse
Every component listed above is highly configurable, and able to take care of all the various use cases that each contact center team might want to address.
There might be additional tools – such as call recording, workforce management programs, paging, payment processing applications, etc., and if possible, the availability of those tools (where and when accessed by supervisors) will also be optimized during the implementation phase.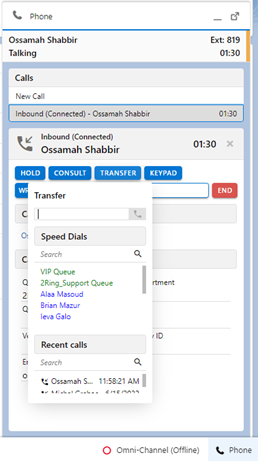 2Ring Supervisor Use Cases
Here are some of the most common use cases that we see from a Supervisor perspective:
1. Supervisor needs to check the WFM Schedule for a particular agent.
2. Supervisor needs to check all the active interactions that an agent is working on.
3. Supervisor needs to re-skill an agent. Read more about Skilling – 2Ring Gadgets for Cisco Finesse v5.2 – 2Ring
4. Supervisor needs to change to which queue/s an agent belongs.
5. Send a broadcast message to individual agent, group of agents or even teams.
6. Supervisor needs to get a quick glance on an agent's real time statistics.
7. Supervisor needs to view in real time an agent's state trace.
8. An incoming call alert when working outside of Salesforce and the supervisor needs to finish that work before answering a call.
9. Supervisors needs to be alerted about certain behavior of agents – talking for too long, dialing specific problematic numbers, changing to ready and then back to not-ready, etc.
10. Supervisors needs to send out a broadcast message.
11. Supervisor needs to review details of a particular call as it is happening, or from a few days, weeks, or months ago.
12. Supervisor needs to chat or call a specific agent and see agent's presence information (Cisco Jabber – CUPS, or Microsoft Teams) before doing so.
13. Supervisor needs to start silent monitoring.
14. Supervisor needs to identify what specific agents talked with a specific customer/phone number – e.g. to get more information about a situation that the end-customer is referring to in his/her feedback.
15. When a supervisor needs to respond to feedback.
Conclusion
To summarize the blog, 2Ring has the ability to bring both the Salesforce view and Finesse view together in a way where Supervisors can work efficiently throughout the day with having all the contact center performance data available at their fingerprints.
Agents can easily work within the CRM (Salesforce) while being automatically pointed towards the existing salesforce case or ability to open a new case when needed using the 2Ring integration. The 2Ring Connector for Salesforce from agent's perspective was covered here; feel free to read up on the typical experience an agent would have: https://www.2ring.com/crm-integrations-blog-2-how-to-integrate-cisco-with-salesforce-agents-perspective/
Supervisors can use 2Ring Gadgets for Cisco Finesse as their main cockpit and also use additional tools in Finesse to stay on top of all the contact center activities, while they can also have Salesforce available in the same browser – if they need to access some additional data.
To gain a complete understanding of how 2Ring improves Cisco contact centers, we highly recommend that you schedule your personalized demo today. Submit your demo request at www.2Ring.com/Webex.
Also check out the full series of 2Ring CRM Integrations into Cisco Contact Centers.
2Ring Gadgets for Cisco Finesse CRM Integration Blog Series