Welcome to a brand-new blog series from 2Ring that will provide you with consistent insights into integrating CRM system(s) within Cisco® Contact Centers. In this unique blog series, you will learn what features and benefits are enabled when Salesforce®, Microsoft Dynamics 365, ServiceNow®, or even home-grown and niche applications get integrated with one of the many Cisco contact center platforms, including Cisco Contact Center Express (UCCX), Enterprise (UCCE), and Packaged UCCE (PCCE).
At the bottom of this initial blog post you will find a running list of planned blog posts for the series. Please look for the updated content as it becomes available. To know about it first, follow us on Twitter, LinkedIn, YouTube, and Instagram.
Before we get too far into the weeds, let's first recap what the common approaches are for these integrations (remember that we will get into all the details about the pros and cons of each of these integrations when discussing specific CRM integrations and we will discuss those pros and cons from both, agent and supervisor viewpoints):
Approach A: Live and Breathe in the CRM
The CRM system is treated as agent desktop application – which it is not. Users are expected to live and breathe in the CRM with a one size fits all experience. Very often, users end up using multiple applications and "the live and breathe in the one CRM window" is not reality. Users end up going back and forth among multiple application windows. This CRM-focused approach also hinders real-time reporting, because agents do not get to see call center metrics nor do supervisors get ALL the visibility that they need – especially nowadays with many agents working remotely.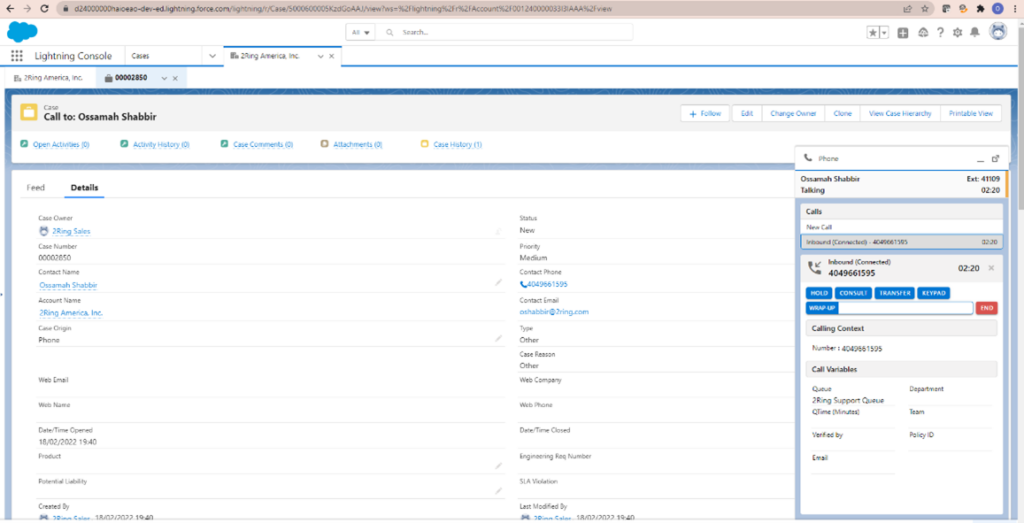 Approach B: Cisco Finesse is in the Center
This is the exact opposite of approach A. With approach B, Agents and Supervisors get to live in the agent desktop application (Cisco Finesse®), since all the applications that agents and supervisors need are available in Cisco Finesse. Instead of embedding the entire CRM UI, only the relevant CRM data points are made available in Cisco Finesse. Just because there are multiple fields available within a CRM, doesn't mean they all have to be displayed all of the time. Every team can pick and choose CRM fields that are the most relevant for their interactions and only allow those to be viewed and edited by their agents. There are many other benefits to this approach as Cisco Finesse is meant to be in the center of all contact center interactions. This approach allows for displaying & editing data from multiple CRM systems in a single window – for example: ticketing information from ServiceNow and sales data from Salesforce.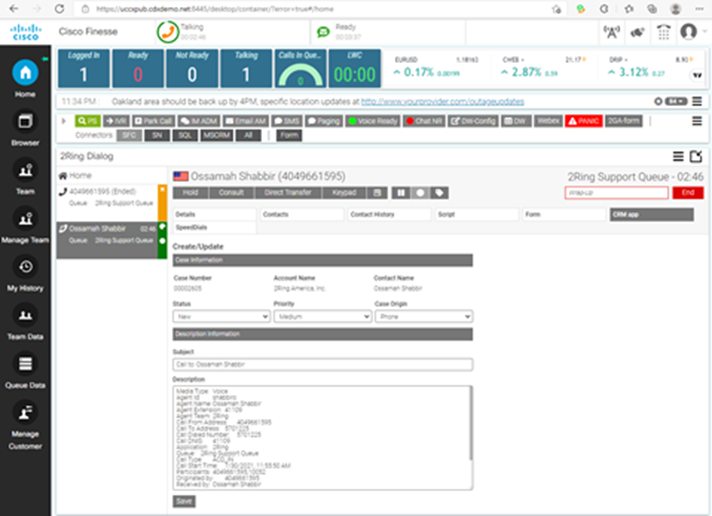 Approach A+B: Mixed Mode
Combining A+B delivers the best of both worlds, and from our experience, this is the best fit for many contact centers out there. Users can always work in Finesse and when there is a need 2Ring can pop open the CRM window in a new tab for improved usability.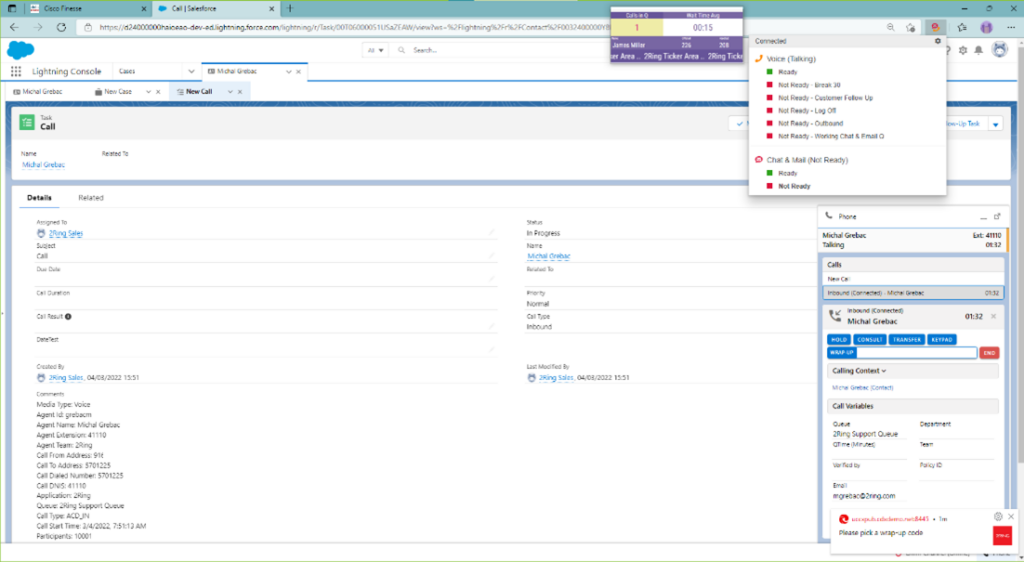 This blog series will focus primarily on the Mixed Mode (Approach A+B) since that provides a very powerful way of maximizing the benefits that the CRM and Cisco Finesse integration can deliver. At the same time, as we described this mixed mode, it will also give us a good opportunity to discuss the advantages and drawbacks of the other two approaches.
Do not wait for the next blog to be available. Get ahead of the curve, and schedule your personalized demo and get all the details today. Submit your demo request at www.2Ring.com/WebEx.
And here is the list of all the upcoming blog posts. Each post will be released a few weeks apart, so you have time to review, digest, and possibly contact us with your questions. Each post will be CRM specific and then even further divided to provide said integration overview from an Agent and Supervisor perspective:

2Ring Gadgets for Cisco Finesse CRM Integration Blog Series
Published: March 9th, 2022

You're reading this introductory blog post now 🙂 We can't wait to share with you the exciting integration possibilities 2Ring Gadgets for Cisco Finesse can offer to connect your Cisco contact center with the CRM of your choice. Stay tuned for more!
New Blog Series from 2Ring: CRM Integrations in Cisco Contact Centers
Published: March 30th, 2022
How to Integrate Cisco with Salesforce – Agent's Perspective
Published: January 6th, 2023
How to Integrate Cisco with Salesforce – Supervisor's Perspective
Coming soon ..
How to Integrate Cisco with Dynamics 365 – Supervisor's Perspective
Coming soon ..
How to Integrate Cisco with Dynamics 365 – Agent's Perspective
Coming soon ..
How to Integrate Cisco with Service Now – Agent's Perspective
Coming soon ..
How to Integrate Cisco with Service Now – Supervisor's Perspective
Coming soon ..
How to Integrate Cisco with Homegrown CRM or Ticketing System
Coming soon ..
New Blog Series: Recap of CRM Integrations with Cisco Contact Center
To learn a bit more about 2Ring and our involvement with Cisco Contact Centers and how we integrate various CRM systems into Cisco Finesse, you can check out blog that we published earlier this year – How to Affordably Integrate Your Applications with a Cisco Contact Center.
That's it for this intro post. Remember that 2Ring provides many enhancements to Cisco Contact Centers that include but are not limited to 2Ring Dashboards & Wallboards (Real-Time Reporting), and Gadgets for Cisco Finesse (a set of various Cisco Finesse enhancements such as re-skilling, integration with Microsoft Teams and Cisco presence, alerts, notifications, automations, and much much more).
The next blog post will be released very soon! To know when our next blog in the series get published, follow us on Twitter, LinkedIn, YouTube, and Instagram.