2Ring Gadgets for Cisco Finesse is a set of simple, open, and smart tools for improving productivity and user experience across all Cisco Contact Centers platforms (Express, Enterprise, and Packaged UCCE).
The already rich list of eCommerce, CRM, and service desk tools that 2Ring integrates Cisco Contact Centers with has gotten even longer with the 3.5 release with the addition of 2Ring Connector for ServiceNow. It is a full CRUD (Create, Read, Update, Delete) implementation and the set of features offered is a result of many conversations with multiple 2Ring / Cisco / ServiceNow customers who have helped us identify the key use cases to cover (thank you!). However, if you happen to have additional integration or automation requirements or if you would like to receive a Microsoft Word template to help you identify and define your requirements for integrating Cisco Contact Center with any CRM or service desk platform, do not hesitate to contact us (schedule a live demo here).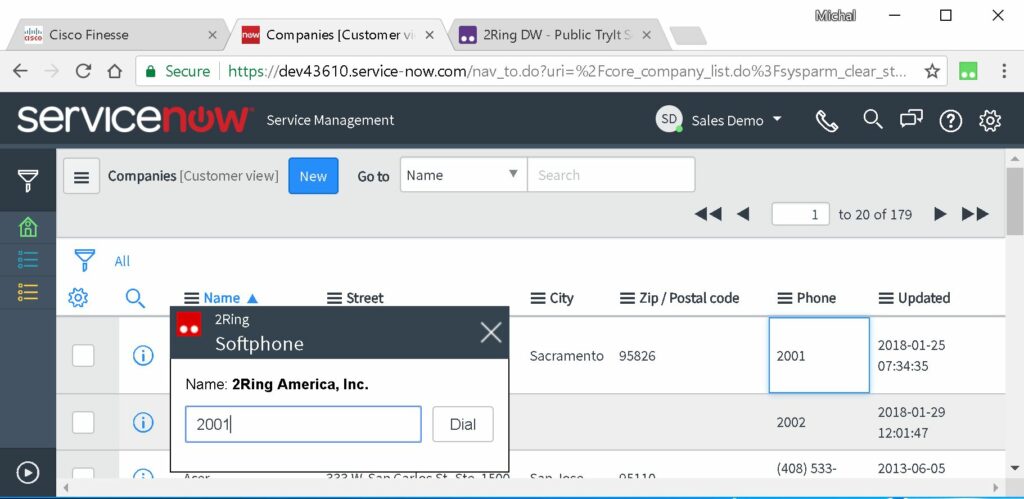 What's New in 3.5?
Connector for ServiceNow – the initial release supports the two most recent ServiceNow releases (Jakarta and Istanbul), and please note that the Kingston release will also be supported once ServiceNow makes it generally available. Here are some of the most often requested integration options supported by the connector:

Look up ServiceNow contacts (and other entities) automatically with 2Ring Orchestrator (workflow) or manually by agents in 2Ring Dialog Gadget
Preview child items from ServiceNow (e.g., a list of the most recent tickets) in 2Ring Dialog Gadget

Deliver ServiceNow screen pop-ups based on data lookups – take an agent to a contact, a ticket, or any other ServiceNow entity (again manually by agents using buttons or automatically thanks to 2Ring Orchestrator)
Use 2Ring Orchestrator to automate many tasks including updating ServiceNow records. Here is the list of ServiceNow related workflow actions added in this 3.5 release:

openListByQuery, openListByFilter, openForm, openFormByID, openFormByQuery, findEntities, readEntityRecord, updateEntityRecord, createEntityRecord, deleteEntityRecord, getListUrl, getEntityUrl, getNewEntityUrl

Add click2dial capability to the ServiceNow user interface (let agents place calls from a ServiceNow form or a list)
Note: 2Ring Dashboards & Wallboards introduced the ServiceNow connector in its 6.2 release (Release Notes – August 2017), and thus it is already capable of displaying Contact Center KPIs/Metrics next to those from ServiceNow.
Dialog Gadget / All Connectors

All data lookups are faster now since child collections (such as the phone numbers of a contact or the list of tickets) only load asynchronously after a contact is shown. This reduces data passing and makes all lookups faster.
Ordering the results of a child collection has been added.

Team Gadget

Silent monitoring of Supervisors can be disabled.

Browser Extension

The integration of any 3rd party apps with 2Ring Gadgets has been enhanced and simplified. This enables 3rd party app maintainers / admins to add features to their existing apps (such as click to call / click2dial).

Scripts & Forms – a brand new 3.0 release (Release Notes – December 2017), a fully rewritten version of the well-known 2Ring Scripts & Forms solution. This tool provides agents with guiding scripts and/or advanced multilevel wrap-up forms to collect details from callers. The tool has been enhanced in many ways while the requirement for Microsoft Silverlight has been dropped. Three different modes (Wizard, Hierarchy, Script) are available.
What's Next?
In the 2nd half of February 2018, you can expect Gadgets 3.6 release. This is the expected feature set:
Finesse SSO support (GA only, Compact Agent will not be SSO-capable yet)
Agent State Trace for an unlimited number of agents (yes, even for customers using Cisco UCCE and Packaged UCCE)
Further enhancements of 2Ring CRM Connector for Salesforce
To further improve the presence visibility and communication between agents, the Internal Chat feature is going to be rewritten to use our own backend instead of the Finesse server.
Any Impact on Ordering/Licensing?
2Ring Connector for ServiceNow has been added to our Premium Bundle – so all 2Ring customers with premium licenses can start using it once they upgrade to this latest release of 2Ring Gadgets for Cisco Finesse.