2Ring DASHBOARDS & WALLBOARDS (DW) v6.2 has been released.
To check out what a 2Ring DW layout (now with charts) can look like, go here: www.2Ring.com/TryIt

No credentials are needed.

To build your own layouts, request full access to our public demo environment (already upgraded to 6.2): www.2Ring.com/DWtrial

Nothing has to be installed on your end.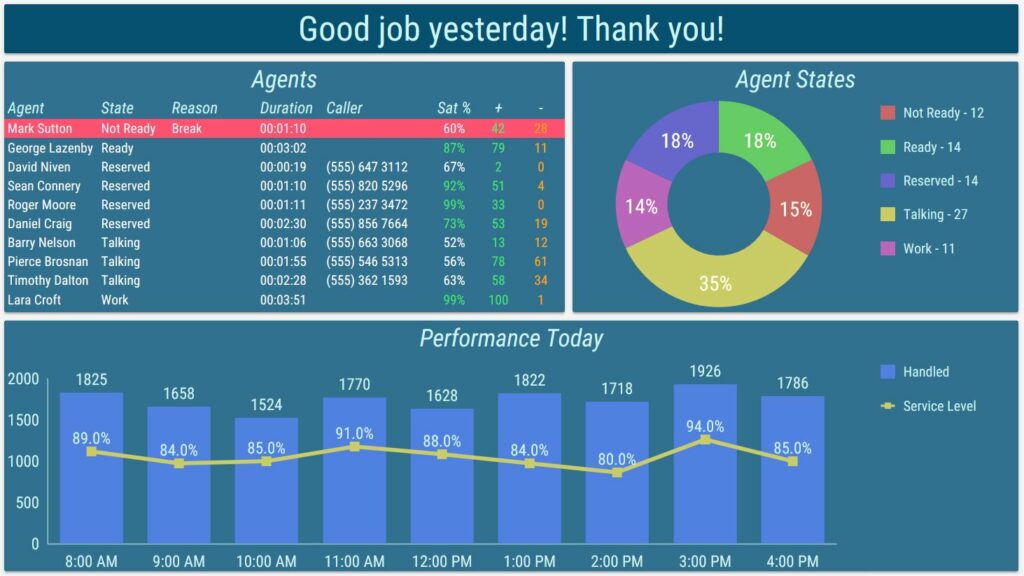 New Features in the 6.2 Release
New source type – KPI Pie Chart

Pie / donut charts showing past or current values
Legend and segment label with values, percentages, and calculation names


New source type – KPI Timeline Chart

Charts show how a value changes over time
Timelines focused on a single day (60, 30, or 15-minute granularities) or on multiple days (a week, a month or multiples thereof)
Daily timeline can also be filtered to a day segment (such as 8:00 AM to 4:30 PM)
Multiple value axes can be used


Security System

A multi-tenant security system has been introduced.
All major entities belong to a business unit.

A new special business unit (shared) for sharing resources has been added. Everyone can use shared resources, but only system administrators can manage these shared resources.
A new special business unit (templates) for hosting resource templates has been added. Everyone can create resources from a template, but only system administrators can manage templates.
Each user belongs to a single business unit and can access resources belonging to his, shared and template (read-only) business units.
Default values can be set for each business unit separately.
Notification rules can be created for each business unit separately.
A whole business unit can be duplicated with all its child resources.
Resources can be copied between business units.
The web client and configuration tools work in the context of a business unit. Administrators can switch contexts on the fly.


ServiceNow Connector

The connector pulls already existing statistics (scorecards) from ServiceNow, so there are no calculations performed by 2Ring.


Enhanced Cisco Unity Connector
Enhanced UCCX Connector

a brand-new data source Staffino. Learn more at www.2Ring.com/Staffino
new KPIs

Agents – Avg Handle Time
Agents – Avg Handle Time Monthly

new columns in Agent State Grid

Call Variable 1 to Call Variable 5
Avg Handle Time Monthly
Staffino – Thank Yous
Staffino – Suggestions
Staffino – Thank You Rate

new column in Current Call Grid

Enhanced UCCE Connector

new KPIs

Calls – Dequeued for Skill Group
Calls – Dequeued for Precision Queues
Calls – Dequeued for Call Types
Agents – Transferred In
Agents – Transferred Out

new columns in Agents Grid

Transferred In
Transferred Out

new columns in Call Types, Skill Group and Precision Queue grids
calculations can be now enabled/disabled using DBManager action (performance improvement)


Other Changes and Enhancements

The threshold range configuration is now simpler and more intuitive.
Intervals, Calendars, KPIs and charts now inherit thresholds from KPI Calculation.
Grid threshold color settings were moved to the Column Values tab.
Feature Requests
All of the features above were added based on feedback received from our customers and/or prospects, so please do not hesitate to reach out to us with any feature suggestions (https://www.2ring.com/Contact). Also, please note that 2Ring DASHBOARDS&WALLBOARDS is available in two of the bundles of 2Ring GADGETS for Cisco Finesse (Enhanced and Premium) – if used with Finesse, 2Ring DASHBOARDS&WALLBOARDS provides even more features. To schedule a live demo, please visit www.2Ring.com/Demo.