2Ring DASHBOARDS&WALLBOARDS v4.6 is here! Besides significant improvement in performance / use of allocated resources, adding many new KPIs (Key Performance Indicators) and grids, version 4.6 also delivers even tighter integration with Cisco Finesse.
New Features
Agent State History and Call History with Click2Dial

Customers with 2Ring GADGETS for Cisco Finesse (Enhanced or Premium Bundle) are now able to include Agent State History and Call History views in 2Ring TEAM Gadget via the Profile Apps feature. This makes it easy for supervisors to review the performance of their agents right inside Cisco Finesse without the need to login to CUIC (Cisco Unified Intelligence Center) while agents can also keep track of their own performance and even place calls to any previously called number via the use of the Click2Dial feature.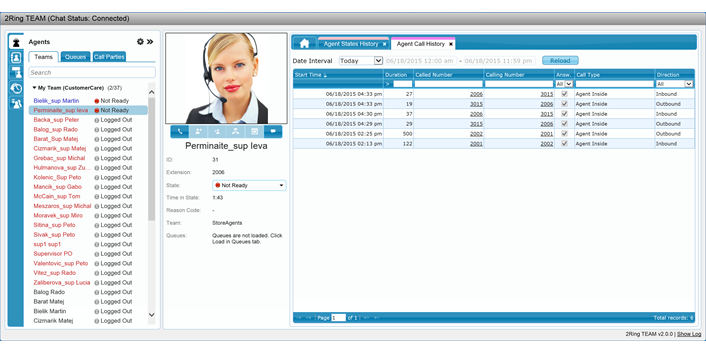 Performance Boost

Up to 500 users/clients is now supported by a single node deployment using minimum requirements

Sizing Guide

Review recommended HW/SW configurations for various scenarios

Looping of Sounds

Audible alerts can now play continuously/loop instead of playing just once when the value enters the "bad zone"

Static Banners

Turn off text scrolling in any of the banners (message ticker/marquee), and use the banner in your layout for a title or to display any other static text

DESKTOP Client Remembers its Position

The previous release of DESKTOP Client remembered a screen group to display as well as whether to run it in borderless or always on top (floating on top of all the other application windows) mode. Now, the client also remembers the position where it should start/run, so supervisors/agents can have the client launched with the start of Windows and immediately view key KPIs without having to do anything.

Multiple License Filter Types

Customers who do not need real-time reporting for the entire contact center can apply license filtering based on multiple criteria such as Skillgroups (SGs) and Precision Queues

Various Security Improvements
2Ring DW Connector for Cisco UCCE v4.6
Support for multiple filter types
HA (high availability) support (multiple AWDB)
New KPIs

Avg Queue Time for Skill Groups
Total Queue Time for Skill Groups
Avg Queue Time for Precision Queues
Total Queue Time for Precision Queues
Calls – Internal for Skill Groups
Calls – Avg Ring Time for Skill Groups
Dialer – Attempted
Dialer – Requested Personal Callback
Dialer – Requested Callback
Dialer – No Answer
Dialer – No Ringback
Dialer – Agent Rejected
Dialer – Agent Closed
Dialer – Abandoned
Dialer – Abandoned to IVR

New Grids & New Grid Columns

New Dialer / Outbound Grid with these columns

Dialer Name
No Answer
No Ringback
Agent Rejected
Agent Closed
Cancelled
Requested Callbacks
Requested Personal Callback
Dialer Abandon
Abandon To IVR
Customer Abandoned
Attempted

Call Types Grid can now also contain these columns

Avg Queue Time
Total Queue Time

Precision Queues Grid can now also contain these columns

Avg Queue Time
Total Queue Time

Skillgroup Grid can now also contain these columns

Avg Queue Time
Total Queue Time

Agent States Grid can now also contain
2Ring DW Connector for Cisco UCCX v4.6
New KPIs

Email – Longest Waiting
Email – In Queue
Email – Answered
Email – Average Work Time
Agent – Email Ready
Agent – Email Not Ready
Agent – Email Processing

New Grids & New Grid Columns

Agent States Grid can now also contain three new columns

Agent CSQs
Email State
Email Reason