Sacramento, CA and Bratislava, Slovakia – 2Ring announces a brand new Five9 connector, and also a minor release of 2Ring Dashboards & Wallboards – 8.7.0.
8.7.0 introduces these two enhancements:
Message Author – introducing a new user role, users with this role can send messages to banners.
MS AD Integration is now more flexible as the field to use as the unique identifier of a user logged in via Azure AD can be configured to be any of the Azure AD claims.
Five9 Connector
This brand new Five9® connector now brings support for two other Five9 APIs, offering 156 pre-built key performance indicators (KPIs) and 29 various grids. As always, each of the available Five9 metrics comes with its own subset of applicable parameters / filters:
Agent States
Agents
Agent Groups
Call Variable Groups
Campaigns
Campaign Profiles
Campaign States
Connectors
Dialing List
Dispositions
IVR Scripts
Media Availabilities
Prompts
Reason Codes
Skills
User Profiles
Users
However, not all filters/parameters are available for all grids. For example, "Agent State Grid"supports the following calculation parameters:
Agent Groups
Agent States
Agents
Media Availability
Reason Code
Skills
and now it offers the following set of columns:
After Call Work State Duration
After Call Work State Since
Agent Id
Agent Name
Call Type
Campaign Name
Channel Availability
Current Cases
Current Chats
Current Emails
Current Video Chats
Customer
Duration
Logged Out State Duration
Logged Out State Since
Media Availability
Not Ready State Duration
Not Ready State Since
On Call State Duration
On Call State Since
On Hold State Duration
On Hold State Since
On Park State Duration
On Park State Since
Parked Calls
Permanent Recording
Presence
Ready Channels
Ready State Duration
Ready State Since
Reason Code
Reason Duration
Reason Code Id
Reason Code Since
Session Recording
State
State Duration
State Since
Once a grid is configured, it can look like this on your board: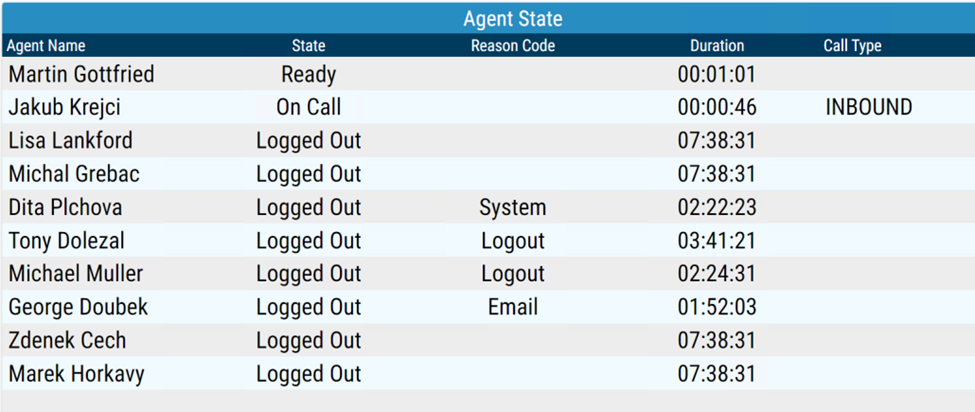 Have You Missed Some of Our Previous Updates?
8.6 Release Notes – We releases our widgets/talking heads feature, a new type of a segment that displays multiple related child segments that correspond to a single row of a grid calculation.
8.5 Release Notes – added word cloud, a new messaging tool (incl. support for displaying temporary announcements/messages), multiline banners/tickers, new color picker, font settings, total rows, alternating row styles, and column presets.
8.3 Release Notes – added a connector for the Genesys Cloud CX™ platform, a KPI that can display peak licenses consumed so administrators can monitor license consumption and usage, added further functionality to the layout editor, added the possibility to include metadata in grid calculation function parameters, and lastly implemented various security fixes.
8.2 Release Notes – added support for WxCC, historical grids to allow performance comparison (e.g. today vs. yesterday), licensing alerts, and more
8.0 Release Notes – a brand new admin client with support for additional languages, a log browser, support for alerts delivered via texting and IM notifications, and more.
Need more Info?
If you would like to receive details on all the KPIs and Grids that are now available from 2Ring Dashboards & Wallboards, please contact us, and we will provide you with a link to our latest documentation with all the details.
There is also the possibility to send us a list of all the metrics that you would like to display or a picture/screenshot of what you are after, and we can cross check that against what 2Ring Dashboards & Wallboards could do for you.
Apart from that, as always, a sample wallboard layout displaying Five9 data in real-time is available at this link: 2Ring.com/TryItFive9.
And as before, you can always schedule a live demo or request access to the public demo environment.