2Ring Dashboards & Wallboards v8.5 is available as of today and we think that you are going to love all the new usability enhancements that it has to offer.
Unrestricted access to a demo environment can be requested here, and as always, you can request a live demo / walk-through at www.2Ring.com/Webex.

What's New in DW 8.5?
Besides many usability and security improvements, 8.5 release also comes with the following new features and existing feature enhancements:
Word Cloud – a new visual representation of trending terms/words based on any information available in 2Ring Dashboards & Wallboards. You can use this to highlight the most active agents, the busiest queues/teams/channels, the most often used wrap-up codes, etc.: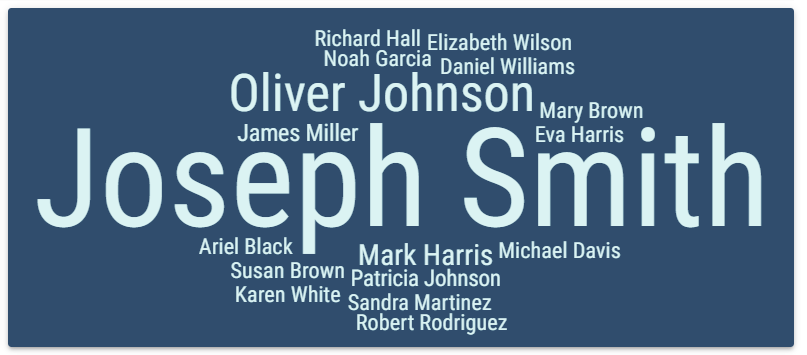 Banners have been significantly enhanced and BU admins now can:

Create multiline banners / tickers,


Display a temporary message in one or in multiple banners at once. In other words, a temporary auto-expiring text can be displayed and after expiration, the previously displayed message will display in each banner again: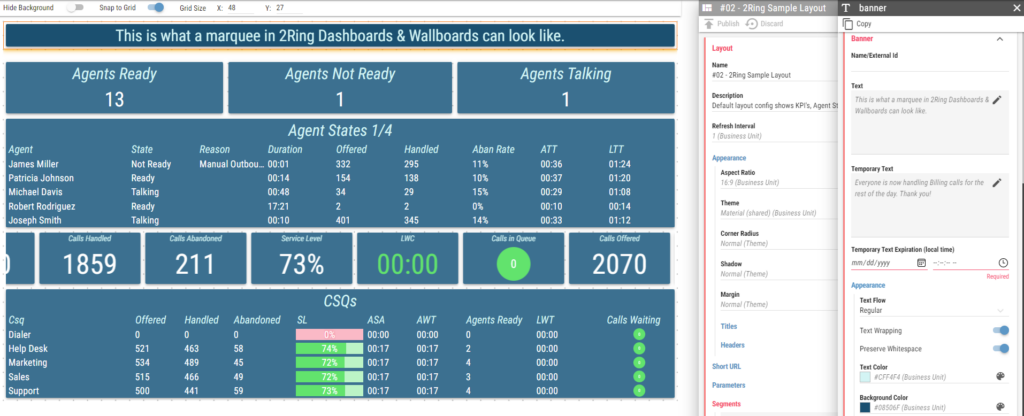 Update messages displayed in multiple banners (layouts) at once via a new messaging tool that's available right there in the layout list (viewer client – top right corner):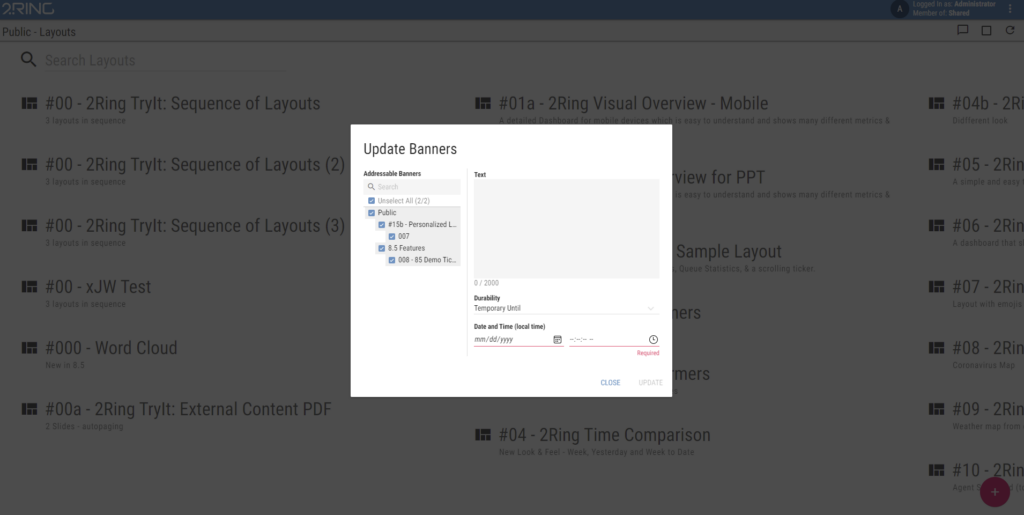 Bar and Line Charts – support for table valued sources of data with non-time-based label axis has been added. Previous Bar and Line charts always had a timeline axis. Similarly to the Word Cloud feature, you can use this to highlight the load distribution among agents, queues, teams, channels, or show the use of wrap-up codes. Here is an example showing number of calls handled for multiple teams:


Color Picker – all color values now have a color picker control. However, you can still type in color's name such as "blue" if that's what you prefer. It should also be noted that the strict color validation available in previous versions has been dropped (users found it to be too strict as it was blocking some meaningful color values). A color indicator showing how the value would be interpreted in current browser is shown alongside all color values in editor: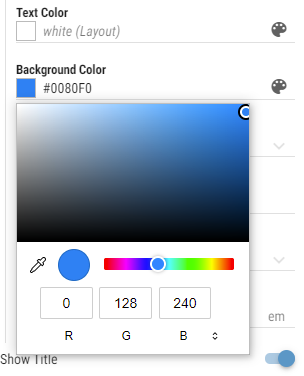 Font Styles – all font style properties now have a compact font control. On a side note, please notice here the new *padding* setting that is now available for most segment types – title is just one of many where you can use it to optimize the feel of your layout):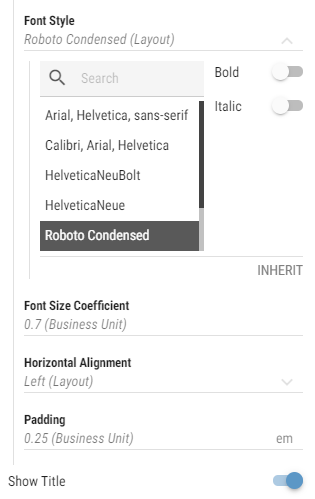 Grids – now come with:

Column Presets – when you add a new grid, it will automatically come with a set of handpicked columns by 2Ring. Each of grid's columns will already have a name and all the other setting already set. This speeds-up a creation of new layouts and makes the entire process even more business user friendly. If you don't like the default columns that 2Ring picked, your Admin can change the defaults for future use.
Total Row – grids display a total row – with aggregate values for grid calculations.
Alternating Row Styles – it is not possible to set unique text and background colors for alternate rows: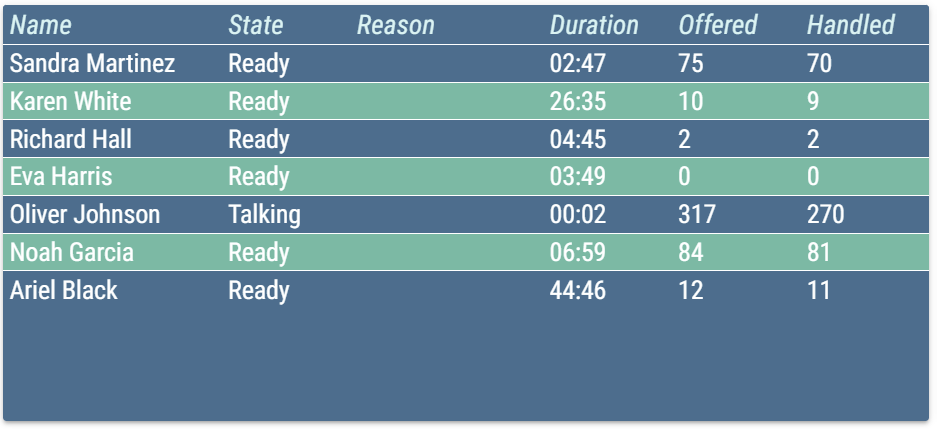 Borders can be set for headers, values, alternate row values, totals, and conditional styles: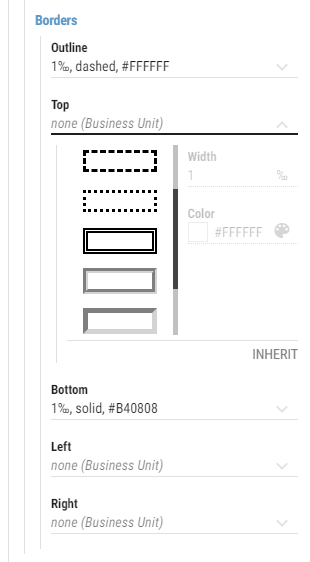 Additional items that you might want to be aware of:

The viewer client now remembers the most recently used Business Unit, and thus after signing in, you will be shown the recently used business unit instead of the BU that you belong to
All dialogs must be explicitly closed by clicking the cancel or close button.
Some *Inheritable Settings* have been moved directly to the *Business Unit*.
The admin tool supports RTL languages and Arabic translations.
A new concept of *Warnings* has been introduced – a *warning* means that an entity is not fully configured and is marked with orange color. These can now be saved and/or published and are mostly ignored by the viewer. Entities with errors (marked with red color) are never saved to the server nor created by the server anymore. If an entity on the client has an error, it blocks the publishing of the layout.
A new concept of non renderable segments has been introduced. Such a segment cannot be rendered until its type and some other specifics are known (such as the image name for an image or a KPI calculation function for a KPI). These segments are displayed in a form of an icon representing their type. After becoming renderable these segments display a pending indicator until data to be displayed is available.


Connector Updates
All connectors have been rewritten to use 2Ring DW Connector SDK
Cisco® UCCE/PCCE Connector comes with a new set of additional columns in the Agent Grid:

CallsAutoOut
CallsAutoOutOnHold
SumAutoOutCallsHandleTime
SumAutoOutCallsOnHoldTime
SumAutoOutCallsTalkTime
SumAutoOutTalkTime

Cisco UCCX Connector now better handles various non-standard situations with the UCCX data.
ServiceNow Connector has been significantly enhanced:

Parameters values are loaded from Aggregation API by default.
Rewrote the following settings:

Added settings
Enable Aggregate API for calculation parameters
Enable Aggregate API for calculations
Scorecards per Request
Record Inactivity
Records per Request

Renamed various connector settings and calculation parameters to use names that SNOW Admins are used to.
Added "Task Fields" calculation parameter
Added new KPIs:

NumberOfLicenses
Tasks – State
Incident – Count – an example of KPI from a custom ServiceNow table
Incident – Longest Waiting – an example of KPI using data from a custom ServiceNow table

Added new grid:

Incident – an example of a grid based on a custom ServiceNow table

Updated Assignment Group Statistics Grid

Uses Aggregation API by default

Updated Assignment Group States Grid

Uses Aggregation API by default
Now comes with a new column – State
Now offers a new parameter – State
Does not contain these columns anymore

New
OnHold
InProgress
Resolved
Closed
Canceled

Updated Task List Grid

Removed its default filtering
Added parameters

Active
Empty Fields
Exclude State
Minimum Priority
Not Empty Fields
State

Added new columns for

Priority ID
State ID
Table
Ticket ID

Updated Task States Grid

Uses Aggregation API by default
Now comes with a new column – State
Now offers new parameters – Assignment Group, Company Name, Priority, and State
Does not contain these columns anymore

New
OnHold
InProgress
Resolved
Closed
Canceled

Updated Task Statistics Grid

Uses Aggregation API by default
Added parameters

Assignment Group
Company Name
Priority
State

Have you missed some of our previous updates?
8.3 Release Notes – added a connector for the Genesys Cloud CX™ platform, a KPI that can display peak licenses consumed so administrators can monitor license consumption and usage, added further functionality to the layout editor, added the possibility to include metadata in grid calculation function parameters, and lastly implemented various security fixes.
8.2 Release Notes – added support for WxCC, historical grids to allow performance comparison (e.g. today vs. yesterday), licensing alerts, and more
8.0 Release Notes – a brand new admin client with support for additional languages, a log browser, support for alerts delivered via texting and IM notifications, and more.
​What's Next?
​2Ring is currently working on introducing a concept of "talking heads." This will allow BU admins to define an agent segment to show a specific agent information (such as agent name, photo, agentID, extension, state with an icon tied to a specific agent state, ..). There is a lot to look forward to, so stay tuned by signing up to our RSS channel, or by following us on social media – LinkedIn, Twitter, and Instagram.​