2Ring Dashboards & Wallboards v8.6 is available as of today.
Unrestricted access to a demo environment can be requested here, and as always, you can request a live demo / walk-through at www.2Ring.com/Webex.

What's New in DW 8.6.0 (incl. 8.5.4 and 8.5.3)?
Widgets / Talking Heads – a widget is a new type of a segment that displays multiple related child segments that correspond to a single row of a grid calculation.

Some refer to this type of a segment as "talking heads," but with 2Ring Dashboards & Wallboards, widgets do not only have to show agent metrics, but they can also be used to show data about queues, campaigns, etc. Every grid can be displayed in the form of widgets, and such widgets are often used to build floor plans or create visual representation of specific groups entities – filtered using available grid parameters (display a widget for all agents belonging to a specific queue).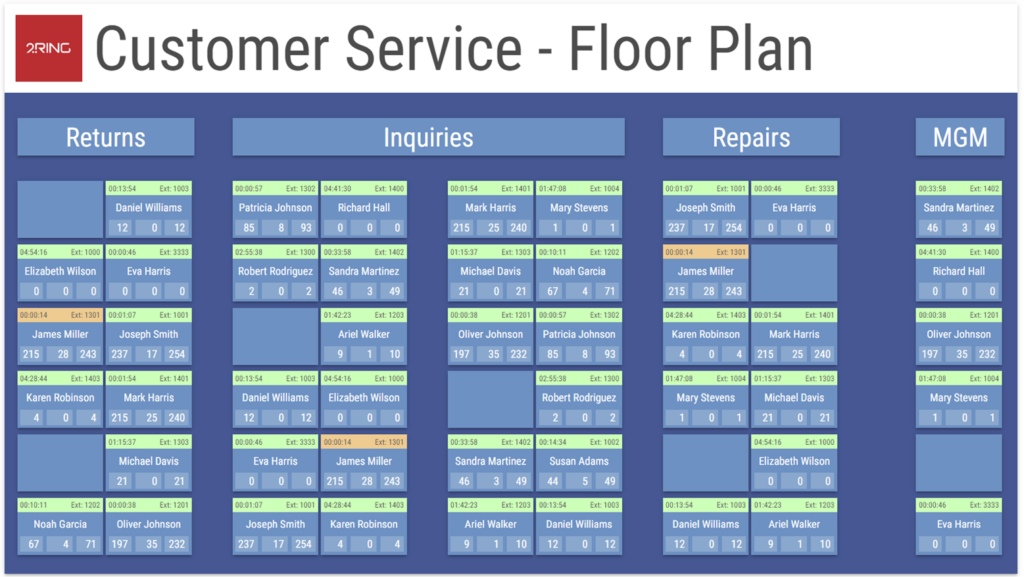 Once you define what your widget should look like and what metrics it should display, then your layout will display such widget for every entity belonging to the group of agents, queues, campaigns, ..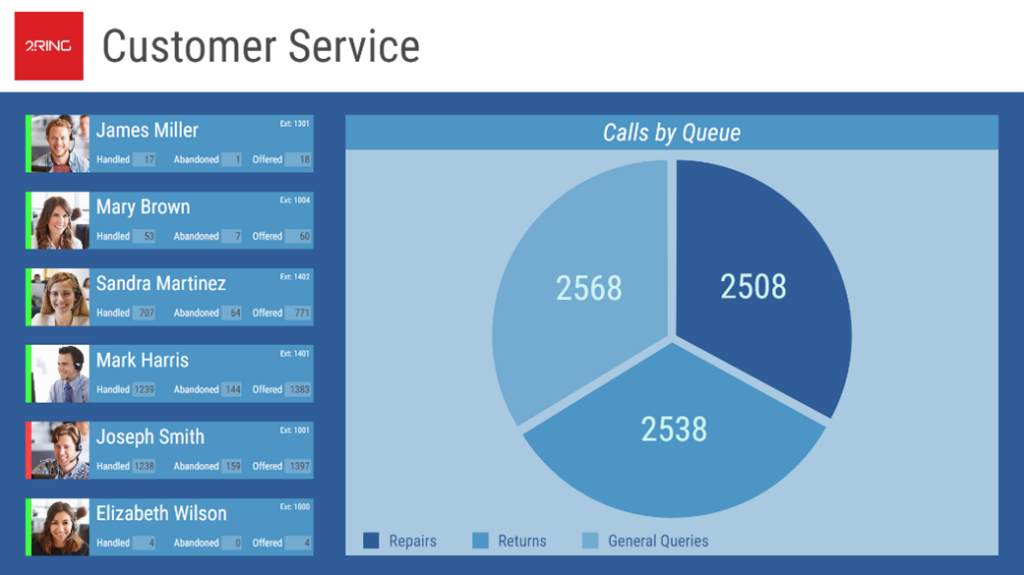 Flexible Value Ranges – a Good/Neutral/Bad ranges on KPI and Grid Columns have been replaced with unlimited number of conditional styles. Each style has its own condition and can modify almost all aspects of the appearance of a KPI/Grid Column: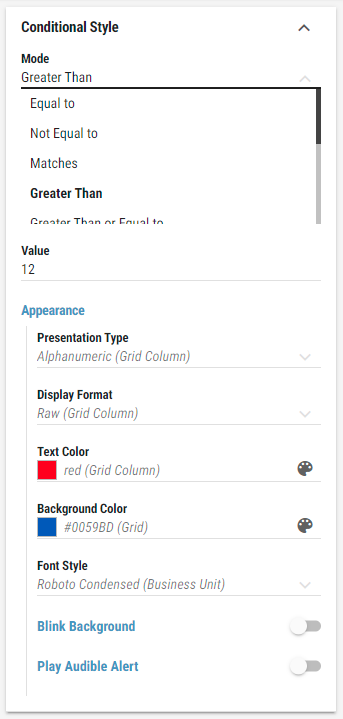 The style conditions are evaluated in a sequence. The first condition that evaluates to True sets the style and the evaluation sequence stops.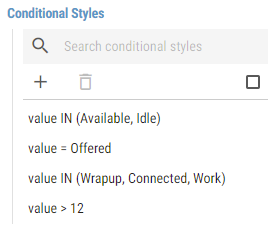 Custom User Attributes and Personalized Layouts – 2Ring DW user accounts can have custom attributes (Team, Photo, Queues). A single layout can provide different data to different users based on their profile attributes. This is very handy for use with 2Ring Power-Tool (one layout showing personalized data to every agent).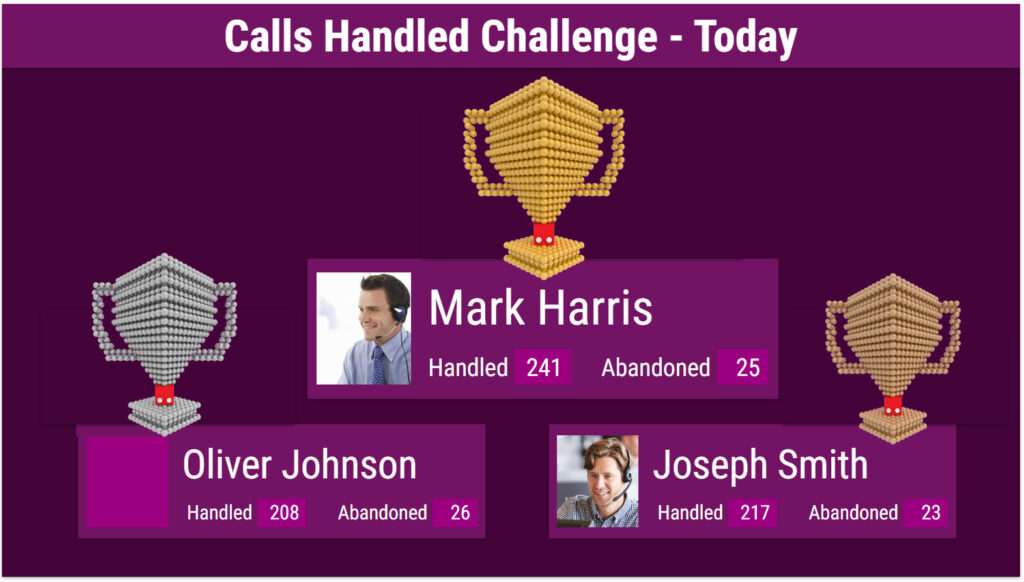 Many Additional Usability Improvements in the Layout Editor

Hide Grid option added in editor
Shortcut Keys in editor – CTRL+C, CTRL+V, DEL, CTRL-A, CTRL+click
Drag to select multiple items
Drag & Drop multiple items
Multiply items while copying
Autofocus segment type picker on segment creation
Autofocus banner message when opening message editor
Performance improvements to handle hundreds of segments in a layout
More intelligent segment name auto generation
More intelligent column header auto generation
Removed minimum segment size configuration setting
Layout is centered in full screen if unlocked
Layout borders do not spill in editor from the editable area
A single error indicator is shown when an error affects multiple segments
All dropdowns are clearable in editor
Open list of layouts in a new window
Bug Fixes

Security updates to 3rd party libraries
Imprecise positions calculated when snapping to grid on move or resize action
Legend in Bar/Line chart does not respect series order
Have You Missed Some of Our Previous Updates?
8.5 Release Notes – added word cloud, a new messaging tool (incl. support for displaying temporary announcements/messages), multiline banners/tickers, new color picker, font settings, total rows, alternating row styles, and column presets.
8.3 Release Notes – added a connector for the Genesys Cloud CX™ platform, a KPI that can display peak licenses consumed so administrators can monitor license consumption and usage, added further functionality to the layout editor, added the possibility to include metadata in grid calculation function parameters, and lastly implemented various security fixes.
8.2 Release Notes – added support for WxCC, historical grids to allow performance comparison (e.g. today vs. yesterday), licensing alerts, and more
8.0 Release Notes – a brand new admin client with support for additional languages, a log browser, support for alerts delivered via texting and IM notifications, and more.
What's Next?
​There is a lot to look forward to, so stay tuned by connecting with us and signing up to our RSS channel, or by following us on social media – LinkedIn, Twitter, and Instagram.