Cisco Finesse is extensive in nature, yet for some contact centers it offers either too much or too little depending on their business requirements. With the addition of 2Ring Gadgets for Cisco Finesse, customers are able to transform Cisco Finesse into a tool that helps enterprises achieve their business objectives by serving as an alternative to traditional attendant consoles.
In other words, Cisco Finesse enhanced by 2Ring Gadgets is a viable replacement for some of the most popular attendant consoles and allows customers to utilize their existing investment into Cisco Customer Journey solutions even more.
Sometimes the requirement is as "simple" as having call controls, a searchable corporate directory and queue visibility in a single user interface. Upon further discussions with these customers, their needs usually boil down to the functionalities of a somewhat traditional, yet versatile attendant console such as Arc, Zeacom, Cisco UAC, Farlon, Imagicle, Komutel, and PeterConnects.
We believe that 2Ring Gadgets for Cisco Finesse can cater these perfectly (schedule a demo at www.2Ring.com/Demo).
Below are some of the features which enable an Attendant Console like usability within Cisco Finesse:
1. One Directory from Multiple Data Sources
Have the ability to create a comprehensive yet easy to use corporate directory that can include employees, customers and partners, providing the organization one view of the world with which it needs to connect, including the added extra of allowing supervisors to create self-managed personal address books. The actual directory can be composed from a variety of sources and all common interfaces such as LDAP/AD, CUCM, ODBC, SQL, and Exchange SOAP. In order to keep the information current and up-to date, the directory is synchronized with these sources at regular intervals. And these directories can be searched even when the caller has been put on hold.

2. Caller Identification
The telephone numbers of external callers are automatically recognized when a call comes in, their name and details are displayed within Cisco Finesse or via a toast alert that agent sees on top of all the application windows. There is also the option to provide extra sets of caller/account data using one of our CRM connectors or any backend system of your choosing you would like to integrate.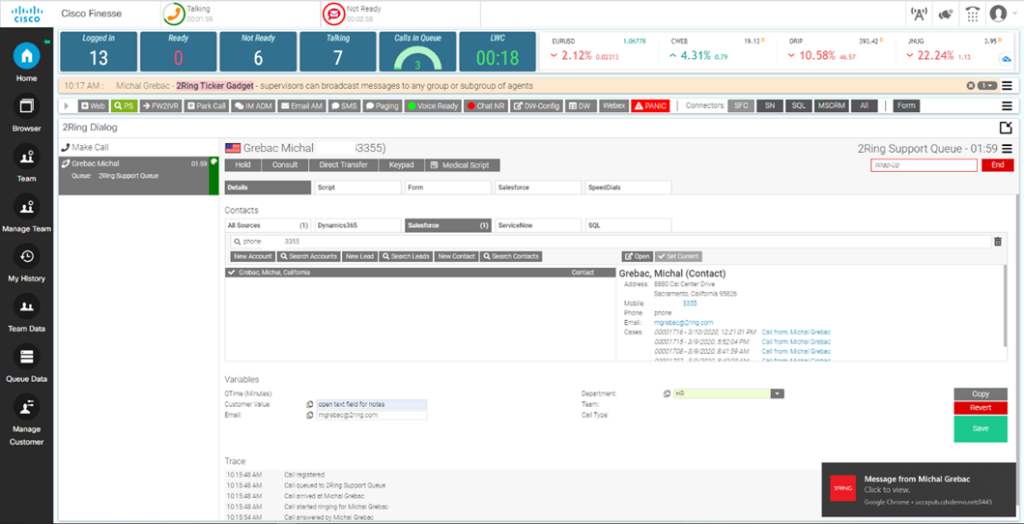 3. Displaying presence
The presence status (from CUPS – Cisco Unified Presence Server) of employees such as 'Online', 'Offline', 'Away' and 'Do Not Disturb' can be displayed within Finesse (in one of the speed-dial lists, or directly in 2Ring Team Gadget (see screenshot below). This feature is particularly useful when an operator needs to connect with (transfer a call to) a back-office employee.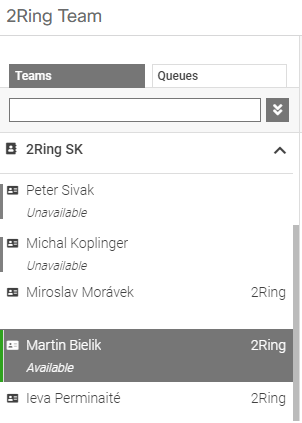 4. Text Messages – SMS
Having the ability to send SMS text messages directly from Cisco Finesse to the employee's cellphone (GSM) ensures they can be reached even when they are not near a desk phone. When the operator selects an employee from the company directory, an SMS message can be directly sent through a simple click of a button.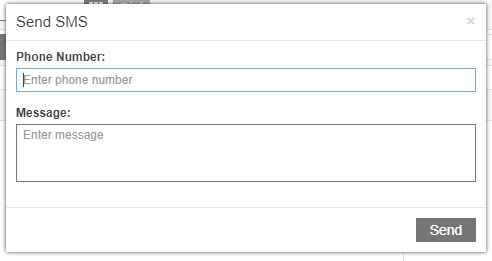 5. Sending messages to pagers
For organizations using pagers such as hospitals, the sending out a text or call requests (immediate response or call back) can be a highly desirable and functional feature.

6. Instant messages
It is possible from Finesse to send chat messages using the Skype for Business, Cisco Jabber, Slack, Microsoft Teams, and other IM clients. This can be particularly useful when back-office employees are on the telephone and the operator needs to advise them of another important call that is waiting.
7. Real Time visibility on Team/Queue statistics
Include our real-time reporting tool, 2Ring Dashboards & Wallboards, to create unique views of Queue/Team statistics as well as an endlessly vast number of other metrics you wish to display.

8. Speed Dials
A unique set of Speed Dials can be configured for operators to utilize. This way, they can effortlessly connect with any department and/or individual with the click of a mouse button.

9. Park/Pick-Up Calls
This feature allows the operator to select which call to take next (for instance if a VIP caller is waiting in the queue) and provides them with an option to park calls during busy periods. Watch a quick overview of the cherry picking feature on our YouTube channel here.

To Conclude
Would like to discover more and see how 2Ring Gadgets for Cisco Finesse can seamlessly integrate with your current contact center set-up and boost overall efficiency? Be sure to visit www.2Ring.com/Gadgets to learn how our solution can transform your business. If you would like to schedule a live demo and have one of our product experts walk you through the features listed above and more, please visit www.2Ring.com/Demo
.