SACRAMENTO, November 16, 2018 – 2Ring is proud to announce that its solution 2Ring Gadgets for Cisco Finesse received an award from Cisco Systems for the Most Innovative Agent Tool of 2018. The award ceremony was held during the Cisco Customer Journey Solutions Sales Summit in Athens, Greece, in early November. 2Ring is receiving this award only 18 months after becoming an official member of the Cisco SolutionsPlus Program (read that press release here).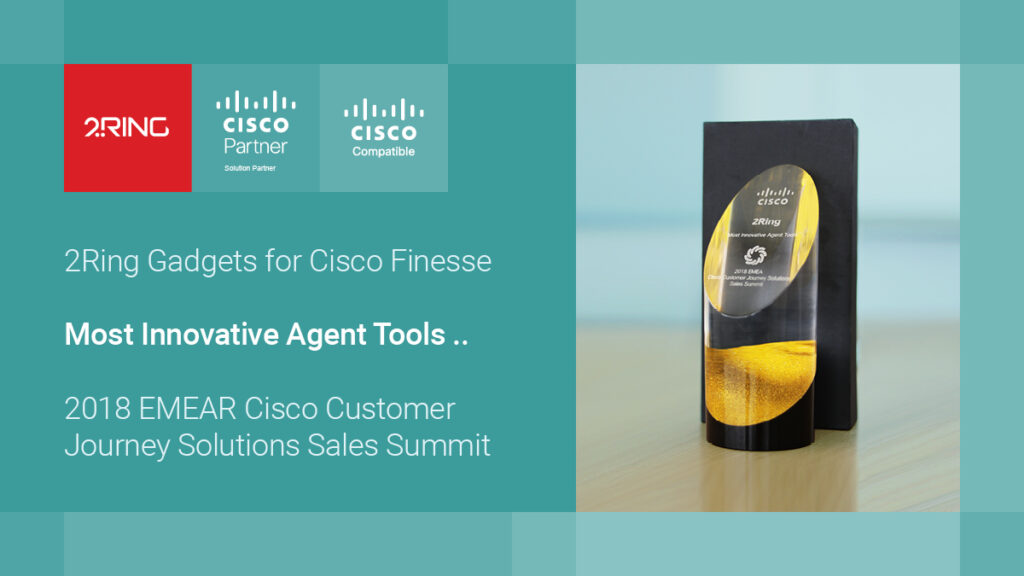 "This award means a lot to us at 2Ring. We have been working extremely hard on delivering what our customers and resellers expect from us – a set of super flexible enhancements to Cisco Finesse desktop that are easy to deploy and even easier to support. Receiving this award today is a sign that we are on the right path and we will stay laser focused on doing our part in making Cisco Finesse the best agent and supervisor desktop tool on the market," said Michal Grebac, Strategic Sales & Marketing Director, 2Ring. "It must also be said that just like with getting into the SolutionsPlus program, this award also belongs to all of our existing resellers and customers who have been there to support us along our journey. We would not be here without all the 2Ring enthusiasts out there who have believed in our solutions and who have believed in our team's ability to execute."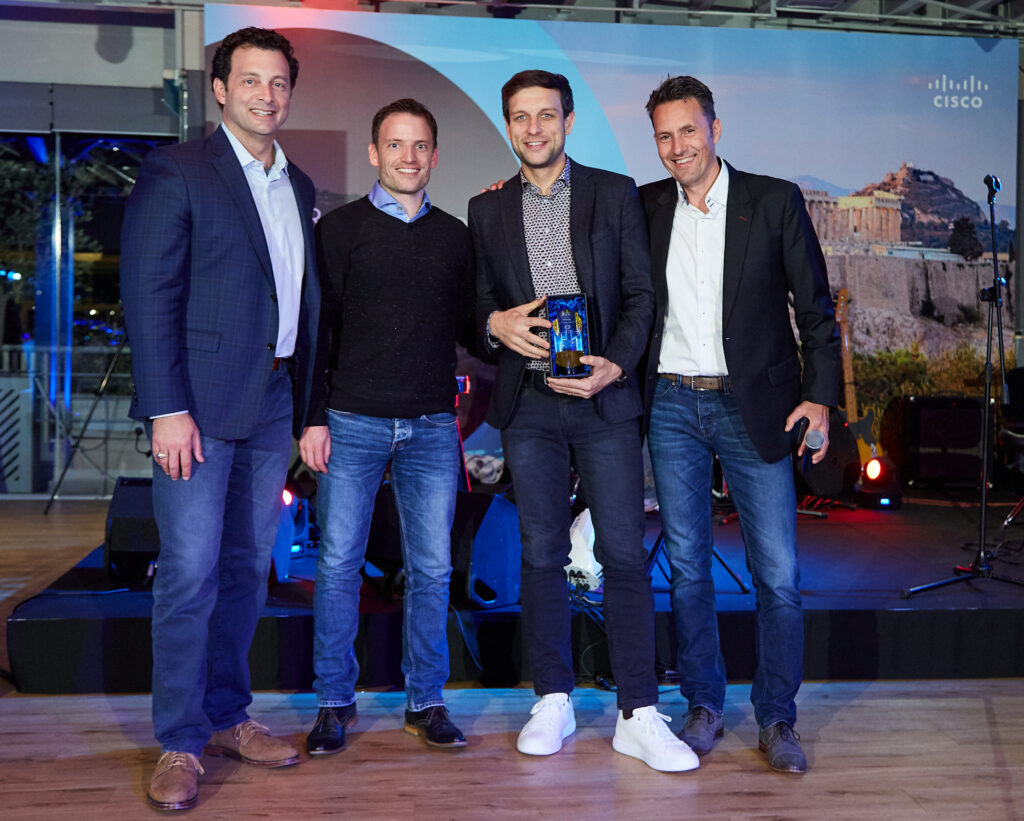 Vasili Triant (GM of Customer Care at Cisco), Thijs Koolard (2Ring), Peter Kolenic (2Ring), and Erwin-Paul Bouma (Head of EMEAR Sales at Cisco)
2Ring solutions complement Cisco Unified Contact Center products. 2Ring Gadgets for Cisco Finesse is a solution that focuses on enhancing the user experience of agents and supervisors within Cisco Finesse. Among many other improvements, the Premium Bundle also offers integrations of Cisco's contact centers with CRM and Service Desk systems like MS Dynamics CRM, ServiceNow, Salesforce (SFDC), or almost any SQL based CRM system. 2Ring customers can deploy all of the available connectors and have agents work with data previews and benefit from automation with multiple CRM systems at once or have Cisco Finesse integrated with different system per each contact center team. 2Ring Dashboards & Wallboards, on the other hand, is a solution providing easy access to views showing relevant real-time statistics. These views can be available on large screens in contact centers or even on the go – on the cell phones of supervisors and other managers.
About Cisco SolutionsPlus
Cisco SolutionsPlus is a program that places a carefully selected set of Cisco-compatible products on the Cisco price list with the goal of Cisco customers being able to order these products directly from Cisco or via the existing reseller network. For more information, please click here.