2020 has been the year for changes like never seen before. The global pandemic has ushered us into unprecedented times, but at the same time enabled companies to re-invent themselves. One of the major adaptations in recent times has been a shift in work force location, and working from home is becoming the norm, not the exception.
Is your Call Center making the switch?
So far, we have seen three major ways that Contact Centers have responded to the latest trends in the industry:
Keeping agents in the office
Shifting Agents to work remotely
Hybrid Roles (Partial Remote Work)

How can 2Ring help?
2Ring has been assisting remote agents even before these recent changes, as we noticed the shift in Call Centers ahead of time. When workers are in the office, they have the luxury to utilize large screen monitors in the lobby area to see 2Ring Dashboards & Wallboards Layouts. Likewise, supervisors can also pad their agents on the back and have a general feeling of who is there, and how busy things are. Working remotely, it can be challenging at times to assess the dynamic of the contact center without this in-person overview. Employees also have the opportunity to view multiple monitors when they are in the office. This of course changes when working from home as majority of the work force is usually using laptops with 13" or 15" screens.
2Ring Agent Power Tool
Earlier this year we released our Agent Power Tool that has enabled Call Centers to provide the relevant KPIs (Key Performance Metrics) to the team members without utilizing the full screen window of the Browser or large screen monitors within the office lobby.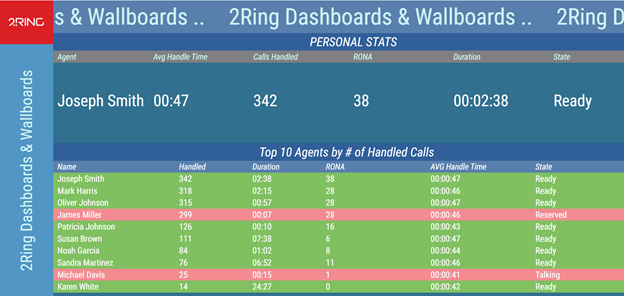 Think of the Agent Power Tool as the "Window" into your existing 2Ring Dashboards & Wallboards. Rather than displaying those layouts on a large screen monitors in the office or on the web browser within your computer screen, we can display personalized layouts in the Power Tool. This opens so many new possibilities for users.
Check out a short demo of the 2Ring Power Tool below and see for yourself how highly customizable this newly introduced application really is. Agents can easily personalize layouts to display the KPIs they would like to view.

Benefits of 2Ring Power Tool?
Ability to be always visible on top of all other windows
Flexible window size with embedded layout auto-resizing to the space provided
Personalized grids – build one layout for every agent seeing his/her metrics only
Supports running of more than one instance of the Power Tool
Remembers its position and window size
The biggest advantage of the 2Ring Agent Power Tool is the flexibility. Now there is no need for a large screen monitor or a dedicated browser window to view real-time layouts from 2Ring Dashboards & Wallboards.
2Ring Power Tool for Agents
Data / Metrics derived from Agents' performance is a key focus of most KPIs that indicate CCTR efficiency and productivity. Whether it is number of agents ready or average wait time, Agents are always on the forefront of those metrics. 2Ring Power Tool allows agents to keep a very close eye on these metrics without constantly keeping their web browser on the top. Agents can size the 2Rring Power Tool window according to their needs and always get a quick view into the metrics. The best part about the Power Tool is that it can be configured to display Agent's personal metrics in the layout.

2Ring Power Tool for Supervisors
Like Agents, Supervisors are also working in Cisco Finesse®, so their screen is limited as well. 2Ring Power Tool is a perfect way to display overall call center metrics – Calls in Queue, Longest Wait Time, Service Level thus freeing up the screen real estate for other applications – such as agent performance details in the 2Ring Team Gadget.
2Ring Power Tool for Management
Upper management within Call Centers is mostly focused on the well-being of a Call Center, and thus need consistent access to real time reports. 2Ring Dashboards and Wallboards allows management to be on top of the Call Center Environment with a constant flow of real time reports.
However, it's hard to keep a close eye without using the full screen real estate in many cases. With the trend of work from home ever increasing, the 2Ring Power Tool brings that flexibility to the screens of management. They can keep a close eye on the Call Center using their favorite metrics without losing valuable real estate of their monitors.
Are you Ready to Experience the 2Ring Difference?
Whether you are existing 2Ring customer with our Dashboards & Wallboards product or a potential customer looking to enhance the functionality of your Call Center, reach out to us here to have a product demo scheduled, and discover the power of 2Ring.