2Ring GADGETS for Cisco Finesse 3.3 is available as of today. To learn more, schedule a live demo over Cisco WebEx.
New Features
ToolBar Gadget

Labels can be added.
Splitters can be added (to create a visual group of buttons).
Buttons can be enabled/disabled using workflow actions (visually changing background color).
All features/options of 2Ring ToolBar Gadget are configured via a new web-based config page.
A more user friendly button click handling has been introduced. Each button has its own clicked event in 2Ring Orchestrator (workflow).

Browser Gadget
Tabs can be configured to defer load of a page until the tab is focused for the first time (lazy loading).
Tabs can be configured to unload a page when loosing focus (when not used). This can save memory and CPU if a page is CPU intensive.
All features/options of 2Ring Browser Gadget are configured via a new web-based config page.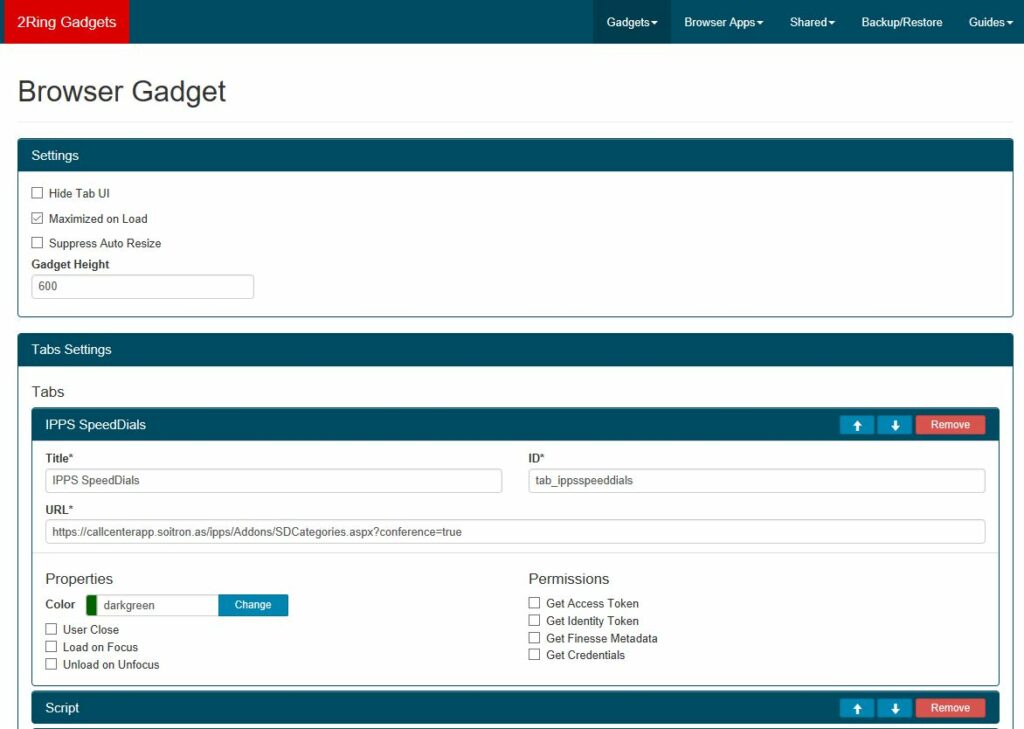 Browser Extension (for Chrome and Firefox)
Introducing a new Automatic Configuration mode that significantly simplifies the initial setup of the Extension.
Agents don't need to login to the Extension manually and thus it is easy for agents to move from one agent profile to another.
The list of CRM Systems is automatically maintained by 2Ring Gadgets.
3rd party CRM systems can now talk to 2Ring Orchestrator – bidirectional communication between 2Ring Orchestrator and a CRM system running in a supported browser is introduced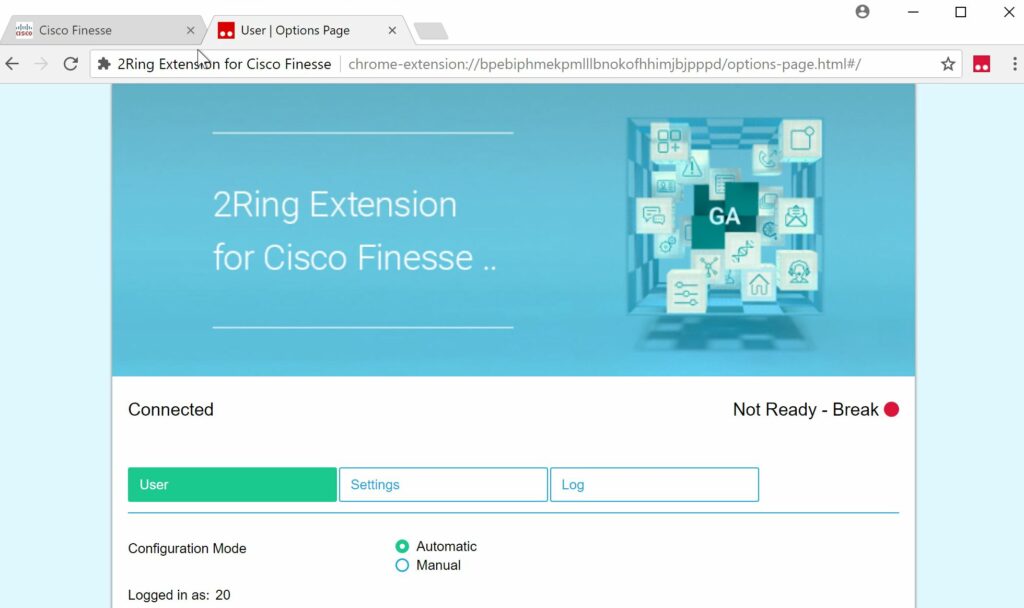 Dialog Gadget
Call Control panel / buttons can now stay visible even when 2Ring Dialog is in a collapsed state.
Contact lookup

section height is now configurable (to better adapt to customer scenarios).
results can contain action links on fields. These links trigger 2Ring Orchestrator (workflow) events.
specific results allow custom actions (displayed with custom icons)
supports any number of result types (if supported by the connector – previously only Account, Person and Lead type were supported out of the box).

Previous contact lookup actions (make call and transfer) now display a progress indicator.
Connection status indicator has been added. If a connection to critical service fails, an indicator is displayed, including a dialog describing the status.
The Dialog Gadget preloads its code at the start to continue working even if the server becomes unreachable

A fallback mechanism was introduced to better handle potential server disconnection (2Ring's Call Variable Editor falls back to native Cisco Finesse layouts)

CRM Connector for SQL (this is the so called Generic Connector for SQL)

The connector can provide open number of result types (entities).
The number of returned rows can be limited.

Call Picking (UCCX only)

The Call Picking application allows selecting which columns to display

General

A new call can be placed even when agent is in READY (applies to all 2Ring Gadgets).
Implemented enhanced caching of Finesse data on the 2Ring's server (effectively reducing the impact on the Finesse server).

Bugs Fixed

Too many teams displayed in Team gadget might have made it stop responding.
Make Call pill could be expanded to display an empty line.
The Dialog gadget stopped working if the 2Ring server became unreachable after the gadget was loaded, but before the first call was handled.
What's Next?
To be the first to know about what's new, follow us on Twitter @2Ring4CX or sign up to our RSS channel.