Cisco Finesse is the future (Express) and present (Enterprise) of agent/supervisor desktops for Cisco Contact Centers. Cisco is still offering Cisco Agent Desktop (CAD) and the CTI-OS Toolkit option, but 4 out of 10 new Packaged UCCE/UCCE projects already include Cisco Finesse (Cisco, May 2013) and Cisco Agent Desktop has already been scratched from the Packaged UCCE offering..

Cisco Finesse, as a completely web-based/server solution, is much more user and admin likable than the other two, but to really understand what it is capable of, you need to use 3rd party gadgets. Only then is the potential of the platform fully exploited.

2Ring GADGETS for Cisco Finesse is one of the major 3rd party offerings out there and is viewed by many @CiscoCCpartners as a must-have piece for their Contact Center projects. The set of features it provides in combination with the pricing model make it simply a "no brainer" offering.

2Ring GADGETS come in two bundles – STANDARD and ENHANCED.

So, what does the STANDARD bundle offer?

As the length of the description below suggests, a lot. 😉

1. 2Ring ORCHESTRATOR
This invisible core of the power pack provides for easy configuration of workflows, something that can be described as an event-rules-action model. The list of supported events in the contact center and the full list of supported actions can be found in this presentation (slides 8-9), but to keep it simple, we are able to listen to just about any call- or agent-related event and perform multiple actions that, for example, result in the agent having the caller's contact card open in the 2Ring BROWSER gadget on the call's arrival. The options are unlimited, and if you think that some event or action is missing, please let us know below in the discussion.
2. 2Ring infoPANEL

2Ring infoPANEL is usually configured as a persistent gadget so it stays with the agent/ supervisor no matter which tab within Cisco Finesse s/he is on. This is very crucial since the gadgets serve to notify agents about various events and include a message ticker – a text area to which a supervisor is able to send messages when needed. It is usually configured to be displayed on top of Cisco Finesse, right under the Cisco Finesse tabs.

The gadget itself is divided into four areas (and we plan on adding two more, so follow this blog to know about them before anybody else does):

On the top right, the agent sees his current state and time in state. This is very handy since the supervisor/admin is able to set unique thresholds for every state – so for example, if an agent goes NotReady with a reason code – CoffeeBreak, a 15-minute countdown can start. The state and time can start in black, then turn to orange once there is 5 minutes left, and if there is less than 2 minutes left in the agent's break, red can be used. Simply, colors and time limits are just a matter of configuration. 
The top left area contains little icon/picture notifications. We see this used in multiple ways, but most often to show a language flag (which language the agent should speak), Skype trunk notification (if a call is secure or not), type of customer calling (VIP or not), and also whether the calling customer has been added to any outbound campaign in progress. Again, these are just examples, and the area is configurable, and thus completely under the supervisor's/admin's control.
The top center is reserved for messages. They can arrive in two ways – first, a supervisor, using the 2Ring TEAM gadget, is able send a text that is displayed there, (more about that later); second, our orchestrator is able to display messages related to the call, e.g. "This is a Skype call -> not a secure channel -> do not provide/request any sensitive information." And the plan is to provide partners with an API that will allow them to integrate the entire infoPANEL with other systems that will be able to send other information that can help an agent on a call (e.g., the voice-biometrics score of the caller) or to display a notification icon telling an agent that an event in a different system has occurred and s/he might want to check it out. 
The bottom of the gadget, or the second row, is reserved for configurable buttons. These can serve as basic bookmarks, send a signal to do something in the background (e.g., mark the caller's phone number as default), log something into a database (e.g., the agent's request for the call to be evaluated by his supervisor), or provide one-click-forward of the current call to IVR (so the customer can do a customer satisfaction survey, authenticate himself, or enroll in a voice biometric authentication – to create his/her voice footprint). Again, the buttons are a matter of configuration, and like every gadget in Cisco Finesse, they can be team dependent so that every team can have a different set of buttons 
3. 2Ring BROWSER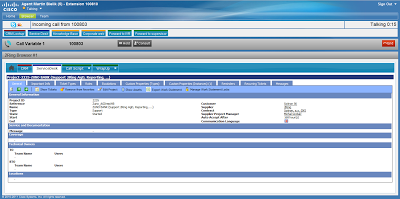 I loved it when one partner asked me, "Do you mean that this allows you to have multiple tabs in a gadget that is hosted in one of the tabs of Cisco Finesse within one of the tabs of my browser?" I just said, "Yes, absolutely." Think about it. You want the agents to focus on the caller and on the navigation among multiple windows, or on scrolling down among multiple gadgets. The easiest way for agents to navigate is the use of a multi-tab browser that allows you to host multiple web-based applications in one gadget. This makes the user interface of Cisco Finesse much neater and easier to use.

The tabs are colorable, which makes it even easier for the agent to navigate – "my CRM is under the green tab" – no need to read the tab names.
4. 2Ring TEAM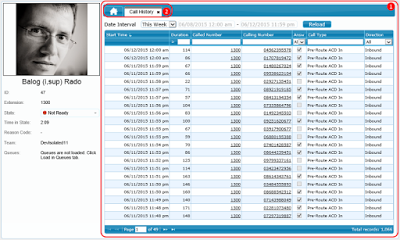 This gadget is a collaboration centerpiece, and here are the main items:

A team-based list of all agents and their current states (supervisors can also see the time in state and not ready reason codes)
A skill-group (queue) based list of all agents and their current states (supervisors can also see the time in state and not ready reason codes)
Agent search – if you know the name of the agent that you want to talk to
List of parties involved in a current call.
An agent profile including the agent's picture, skillgroup memberships, team, extension, etc. All this data except the pictures is taken from the Cisco Finesse server. The profile also includes call, consult call, set ready, and silent monitoring buttons (availability depends on the role of the logged in user)
Option to launch a Cisco Jabber Client based chat with a particular agent/supervisor from his/her profile.
Agent2agent and Supervisors2agent chat (if you are not in a 2Ring TEAM tab, a little bubble in 2Ring infoPANEL will notify you that someone wants to chat with you)
A message sender that allows supervisors to write a short text message or use a template message and send it to any group of agents. The message will then be displayed in 2Ring infoPANEL, and the supervisor can set its expiration time.

The plan is to make it easy to extend agent profiles to include agent-based statistics, so agents know how they are doing and also to let supervisors learn from the profiles whether agents need a little bit of coaching or not.
5. 2Ring COMPACT AGENT FOR Cisco Jabber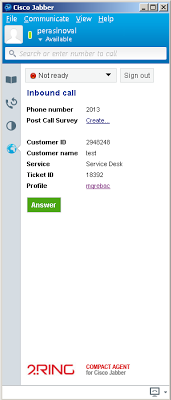 This solution delivers agent state and call control to the familiar interface of Cisco Jabber for Windows. This is very suitable for those who are only occasional/part-time contact center agents. For these users, it doesn't make sense to learn to use a new application – Cisco Finesse. Instead, it is more beneficial if they can work with a user interface that they are probably already familiar with – Cisco Jabber Client:

Subject Matter Experts: Experts manage contact center state (ready, not ready, ..) inside of Cisco Jabber Client (independent from the Jabber presence status), and so your agents see experts' state within 2Ring TEAM gadget and thus can talk to or even "forward" calls to any of these experts in a time of need. The experts receive caller information in the same way as agents in a contact center. You can watch it in this 3-minute video.
Ad-Hoc Agents: When call volumes get higher than anticipated, ask back office workers or staff in your store to log in to the Contact Center via their Cisco Jabber client and have calls immediately routed to them. The most flexible workforce is your own workforce.
Before I write the blog about the ENHANCED bundle of 2Ring GADGETS for Cisco Finesse, feel free to let me know if Cisco Finesse and/or even our GADGETS look appealing to you, or if you are already using it, what other features you would like us to bring to this new platform. Looking forward to seeing you there.

Michal, @MichalGrebac