First-call resolution is a mantra in many modern contact centers. Serving the customer well the first time she calls is the best way to maintain exceptionally high customer satisfaction. It is therefore almost a must for an agent to be able to answer all questions and fulfill all needs. Or is it? Unfortunately there is no such agent. Here comes the remote expert. Agents are a customer's first contact. It is therefore important for them to either serve the customer well or find someone who will. Often the needs of a customer can only be satisfied by an expert within the company. But how do you find her? Is she ready to help the customer? Is she the right one?2Ring TEAM Gadget introduced an Active Directory contact search in version 1.x of its gadget suite. It allowed agents to search for a person inside the Active Directory and once found, to quickly make a consult call, transfer a call or at least ask for help via chat depending on what suited the agent best.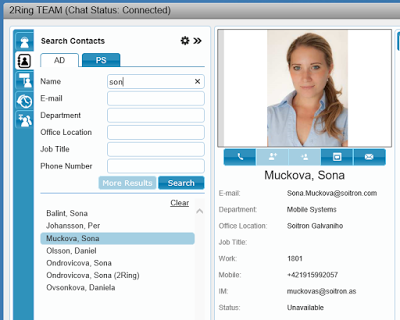 If the company used presence software such as Cisco Unified Presence Server, it also automatically displayed the presence status to quickly see if the expert could help at that time or if another should be asked for help.However, the Active Directory is not always the best place to look for company experts. It may be too slow, too big, or too fractioned to find someone by a single search. To combat this problem, the 2.0 release of the gadget suite extended the search possibilities to query 2Ring PHONE SERVICES, a universal directory importing data from various multiple contact information sources(a CRM, ERP or even Active Directory itself). Similar to Agent Profiles, the Contact Profiles allow integration of 3rd party web applications that extend the possibilities to determine important information about a contact. An often used scenario is to embed the intranet profile of the contact. This helps the agent choose the right person based on previous evaluations, interact with her through means provided by the intranet app, and finally endorse her after a successful call resolution. An example of an app to embed is Claromentis Intranet, as shown below: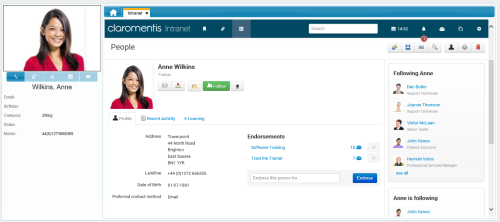 Claromentis Intranet is a cloud based intranet platform that further enhances collaboration possibilities thanks to its integration into 2Ring TEAM Gadget.Finding the right expert is now much quicker and easier. 2Ring TEAM simplifies the call handling and handover to the expert at hand. Integrating with an intranet extends cooperation into areas that have been the domain of stand-alone software solutions until now.
Miro Moravek
Managing Director, 2Ring
Contact us: To learn more, visit the product page of 2Ring GADGETS at www.2Ring.com/GADGETS. You can also schedule a live demo at www.2Ring.com/Webex.