2Ring Phone Services (IPPS) v7.6.6 is available as of today. This release introduces the long awaited integration of Cisco® Call Manager (CUCM) with Salesforce®, so a call-center like integration for companies and departments that are not yet ready to move to a full contact center experience delivered by Cisco Contact Center Express or Enterprise. Additionally, 7.6.6 enhances speed-dials that are used in contact centers with 2Ring Gadgets for Cisco Finesse.
If you are looking to integrate Salesforce with either Cisco UCCX or UCCE, we would recommend you to take a look at our Gadgets for Cisco Finesse. If your goal is to markedly enhance the user and agent experience on any Cisco contact center platform, 2Ring Gadgets for Cisco Finesse can deliver the ultimate unified workspace solution for the needs of your contact center.

Salesforce Integration via 2Ring Power Tool
A small .NET application installed on a user's Windows PC:
To display a small dashboard layout on top of all the application windows (e.g. to show real-time metrics about CUCM hunt groups and simultaneously include a message ticker or status of selected extensions, 2Ring Dashboards & Wallboards – CUCM Connector – is required for the Power Tool to display any real-time KPIs/metrics about selected CUCM extensions. A sample layout using is available at www.2Ring.com/TryitCUCM).


To integrate Cisco CUCM telephony with Salesforce (Classic, Console, Lightning) for users with Cisco telephony who are not covered by a Cisco call center license. On a call's arrival to the user's extension, 2Ring utilizes the caller's ANI to find a phone number match in Salesforce data and then presents the results (matched accounts, contacts, leads, ..) to the end-user inside of Salesforce user interface (2Ring SoftPhone for PowerTool). When 2Ring receives any information about a new call, it automatically creates a Task of subject Call on an entity matching the calling number. When the call ends, the Task is automatically updated with the duration of the call. Users are also able to interact with current the call (e.g. answer, end, put on hold, etc.) directly from the Salesforce user interface and see basic call details such as number, entity type, and entity name.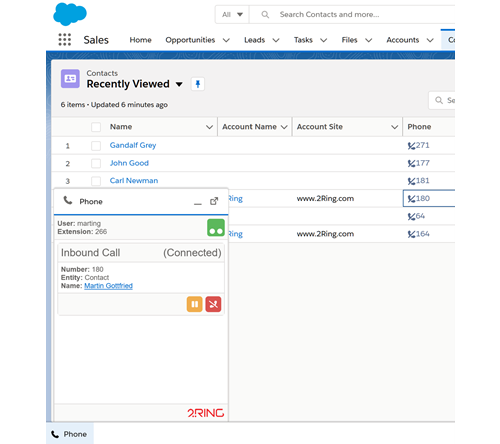 Below are further details on various supported integration scenarios:
| | |
| --- | --- |
| Feature | Salesforce / CUCM |
| Customer Lookup | YES (ANI) |
| Screen Pop | YES |
| Create/Update Records | YES (CALL LOG) |
| Background Queries | YES |
| Click to Call from Salesforce | YES (ACCOUNT, CONTACT, LEAD, ..) |
Better Speed Dials
Added option to show further contact details on each speed dial button:

Added option to change the order in which contacts are listed on the speed dial page. Contacts can be ordered by any contact field (e.g. last name), in ascending or descending order
Made the order of up to four actions listed configurable (e.g. Conference, Consult, Dial, Direct Transfer, Transfer, Voicemail, ..) by the speed dial category owner (or by IPPS admin)
More Contact Custom Fields
On top of standard contact fields, every contact can now also include 10 custom fields (up from 5):

5 custom fields use 250 character limit
5 new custom fields use 4,000 character limit
Multiple IPPS Instances
Run multiple instances of 2Ring IPPS on the same server/VM (helpful for handling in-place upgrades)
Licensing Notes
2Ring Phone Services (IPPS) – Advanced Edition License – is required for the Power Tool to provide screen-pops and CRM screen-pops.
2Ring Dashboards & Wallboards License – is required for the Power Tool to display real-time statistics.