Bratislava, Slovakia and Sacramento, California – 2Ring® has announced the general availability of 2Ring Dashboards & Wallboards Connector for Five9® Intelligent Cloud Contact Center.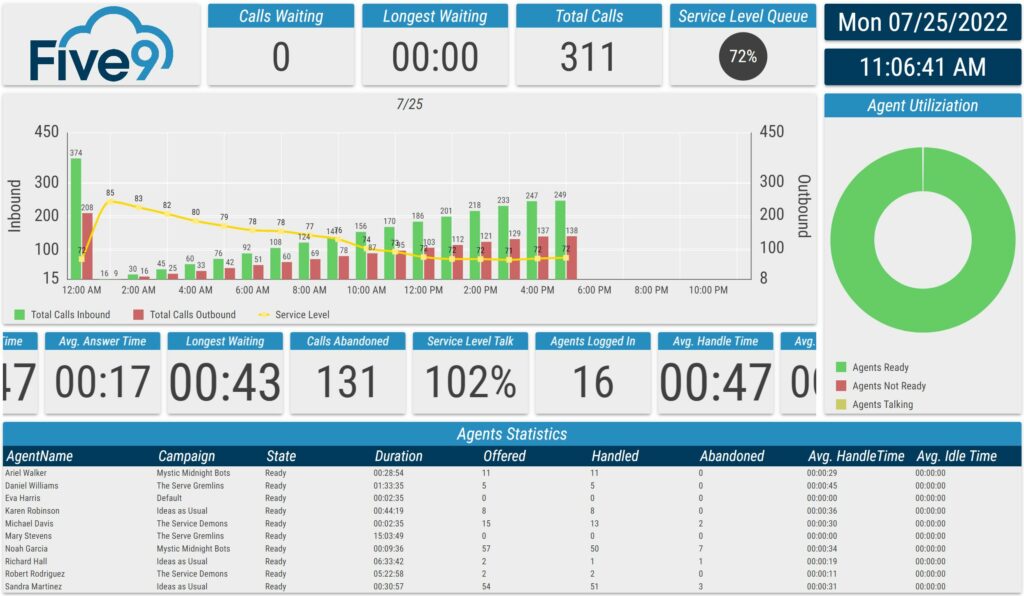 2Ring Dashboards & Wallboards delivers business-user-friendly real-time reporting and alerting capabilities. Business unit administrators, contact center supervisors, and other types of users in need of flexible dashboards can utilize 2Ring to easily create layouts combining various data sources and content for others to use and enjoy. Updating layouts, modifying calculations, and sharing views with other managers can all be done without involving IT. It is intuitive, simple, and easy-to-do.

Connecting 2Ring's versatile real-time reporting solution to the Five9 Intelligent Cloud Contact Center allows businesses to easily stay on top of important contact center and service desk events. It ensures that everyone stays in the know and delivers a state-of-the-art customer experience without any unnecessary interruptions. Businesses benefit from visually appealing dashboards that are accessible even on-the-go and on devices that employees prefer. They can also set up alerts to be delivered via email, text, or IM messages (many major IM clients are supported already, including Webex, WhatsApp, Slack, Discord, and Microsoft Teams), to mention a few.

"2Ring is incredibly excited to collaborate with Five9", says Michal Grebac, Director of Strategic Sales & Marketing at 2Ring. He adds: " Businesses using Five9 can leverage our powerful real-time reporting solution to gain insights into their contact center's performance. With over 220 KPIs available right out-of-the-box, 2Ring offers supervisors and contact center managers the opportunity to create views that are truly their own. The configurability is practically endless, so reach out to us, and see how we can elevate your enterprise to the next level via your favorite web browser."

To view a sample wallboard layout of 2Ring's Dashboards & Wallboards displaying Five9 contact center data in real-time, visit 2Ring.com/TryItFive9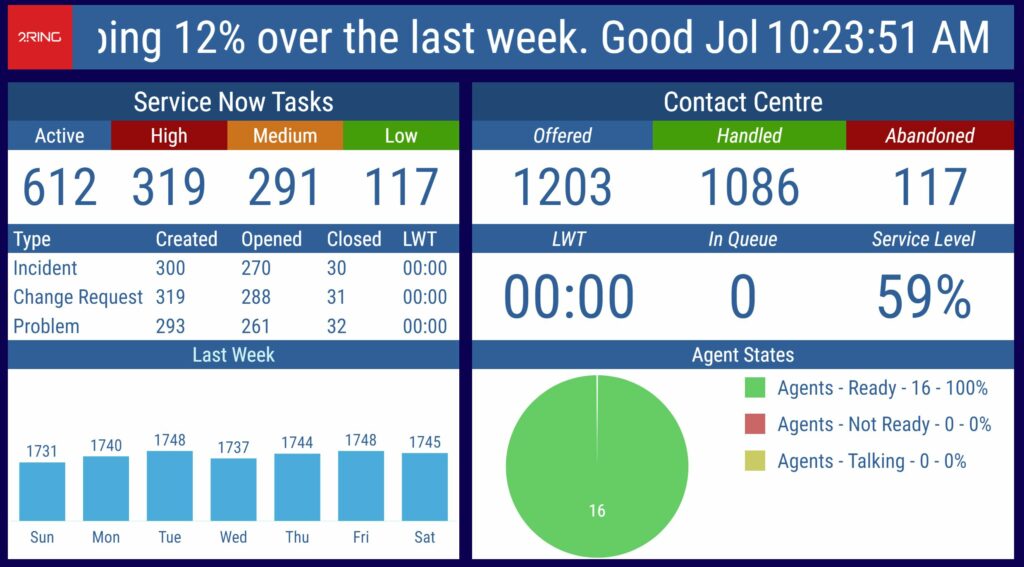 About 2Ring
2Ring understands that real-time reporting must be available on the go and on devices that employees love to use. 2Ring Dashboards & Wallboards has been developed with these two key points in mind. 2Ring is a truly global organization with dual headquarters in EMEA and the USA, while our ever-expanding partner network offers reach into even the most remote of locations.
Follow 2Ring on social media: LinkedIn, Twitter, Instagram.
Contact
If you would like to get in touch with 2Ring, please view the contact details below.
​
USA/APAC
2Ring America, Inc.
3626 Fair Oaks Blvd. Suite 100
Sacramento, CA 95864
USA
EMEA
2 Ring, spol. s r.o.
Galvaniho 15/C
821 04 Bratislava 2
Slovak Republic