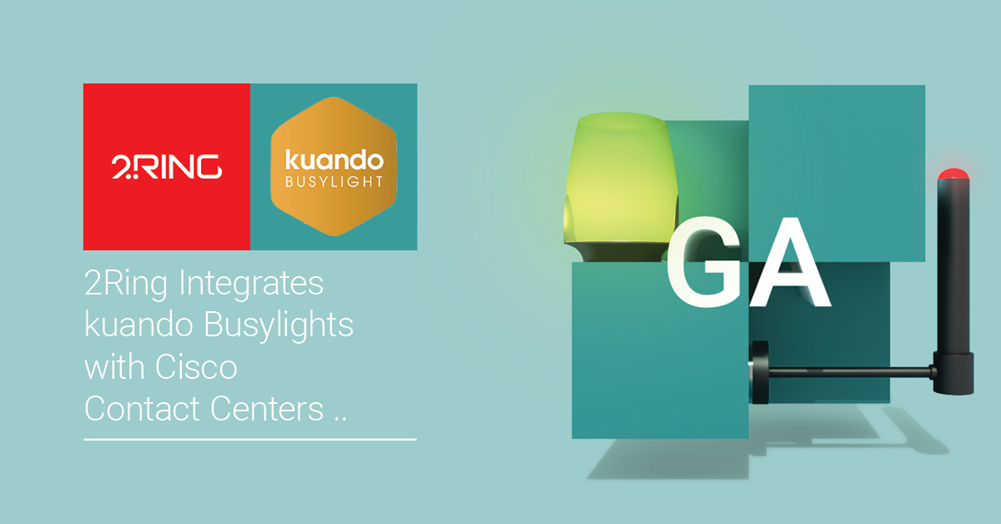 Sacramento, CA – 2Ring (www.2Ring.com) is proud to announce the general availability of kuando Busylight integration with Cisco® Contact Centers via 2Ring Gadgets for Cisco Finesse®.
Busylight is a small external device used in contact centers. The device connects to a call center agent's PC via USB port and it changes its color based on signals from external systems. 2Ring Gadgets listens for Cisco Contact Center events and changes the color of Busylight based on what is happening – agent state, time in state, metrics reaching pre-defined thresholds, etc.
Busylight is large enough for agents to easily notice the light and thus be aware what state they are in or to notice that a call is coming in. This is very useful especially when agents are not actively looking at their PC screens. Busylight also acts as a "Do Not Disturb" signal to fellow agents and supervisors to reduce distractions and eliminate interruptions. Busylight can also be used to signal what team an agent belongs to or what queue the current call is from.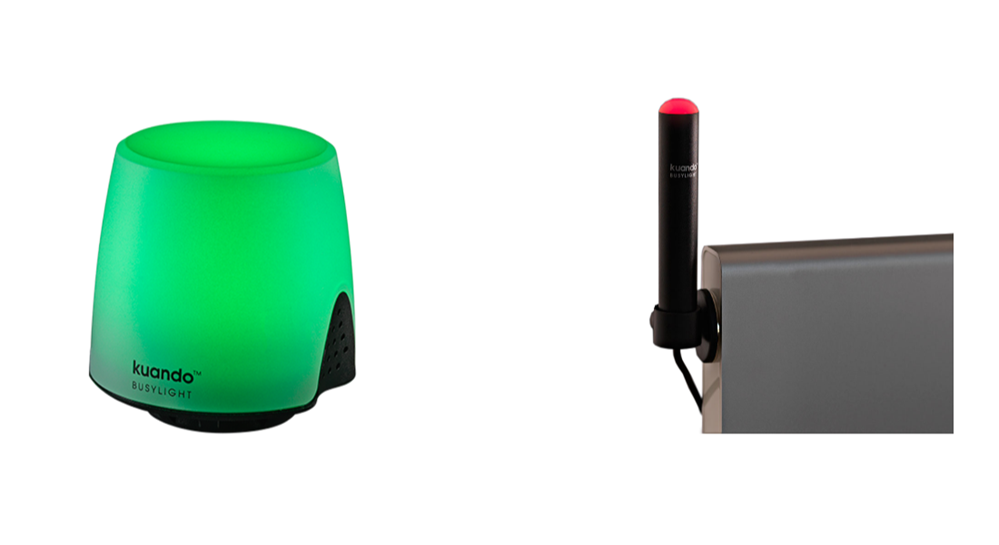 Busylight Omega (Left) and Busylight Alpha (Right).
2Ring Gadgets for Cisco Finesse is a software solution that enhances the user experience of agents and supervisors in Cisco Contact Centers. One of the enhancements are very versatile alerts and notifications. Based on standard contact center events and also based on real-time data from 2Ring Dashboards & Wallboards, 2Ring can pop alerts directly on agent and supervisor screens – for example, when agent fails to answer a call in time or when s/he should go ready because there are too many callers waiting. 2Ring Gadgets can also send email alerts to supervisors, or post an alert to a space / room in Cisco WebEx Teams, or even send a text message to a pre-defined cell-phone number via API of a chosen texting provider.
And now, thanks to 2Ring Gadgets for Cisco Finesse, Busylight Omega and Busylight Alpha are both coming to Cisco Contact Centers. These plug-and-play devices can provide a visual and audio indicator for incoming calls, eliminating the risk of calls getting missed by agents, and creating a more productive work environment. "Our customers have been asking us to integrate Cisco Finesse with Busylight, so we are very happy that we are able to bring this option to every Cisco Contact Center that also utilizes 2Ring Gadgets for Cisco Finesse v5.0 or later," says Michal Grebac, Strategic Sales & Marketing Director.
"We're very excited to be working with 2Ring and to have Busylight support integrated into their suite of Gadgets for Finesse. Knowing an agent's status is very important and helps create an efficient contact center environment." said Mitch Friend, President at Plenom.

About 2Ring
2Ring, a Cisco Preferred Solution Partner, has been active in the field of services for contact centers and IP telephony since 2001. 2Ring Gadgets for Cisco Finesse is a solution that is available globally to all Cisco resellers – orderable from Cisco's global pricelist. For more information, please visit www.2Ring.com.

About kuando Busylight by Plenom
Plenom is a Danish design and engineering company specializing in creating workspace solutions, no matter the environment or layout. After creating kuando Busylight's presence, call alert, and notification system in 2003, office spaces across the globe have saved time and money. The simple but effective color-coding system allows users to display their UC platform status to surrounding colleagues without having to be interrupted or distracted. With a built-in speaker for audio alerts and customizable mounting options, kuando Busylight can be incorporated into any hard or softphone environment. Create the ideal workspace anywhere, with kuando Busylight by Plenom.