2Ring Gadgets for Cisco Finesse is a set of simple, open, and smart tools for improving productivity and user experience across all Cisco Contact Centers platforms (Express, Enterprise, and Packaged UCCE). To see what 2Ring can do for your contact center, schedule a demo with one of our product experts.
What's New in 3.6?
Agent State History profile app (displayed within 2Ring Team Gadget) is a lot more powerful and versatile than ever before. The agent state trace has been re-implemented to store data for all users and become independent of 2Ring Dashboards & Wallboards (note: call history still requires Dashboards & Wallboards). This means that the previous limit of agent history only being available to 100 named agents (a limit introduced by Cisco's agent state trace) is not in place anymore. Every agent or supervisor can have current and historical state data auto-refreshed and displayed in multiple ways – grouped by Date (the former view), State, or State and Reason Code.

Team Gadget – Advanced State History
Custom Action Buttons are now available for Agent/Contact profiles. These buttons, similarly to buttons in 2Ring ToolBar Gadget, can perform actions configured in 2Ring Orchestrator (workflow); however, these buttons should be used for actions that are related to a specific agent/contact. This can be used to automate many agent specific actions; for example, 1) a button can start a continuous silent monitoring session of all an agent's calls (instead of having to start a silent monitoring session manually for every new call), 2) a button can send a specific chat message to an agent and have the message displayed on the agent's workstation in the form of a toaster (to pop on top of all the other application windows), or 3) a button can reach out to a 3rd party service and start the process of sending a text message or sending a page to the contact.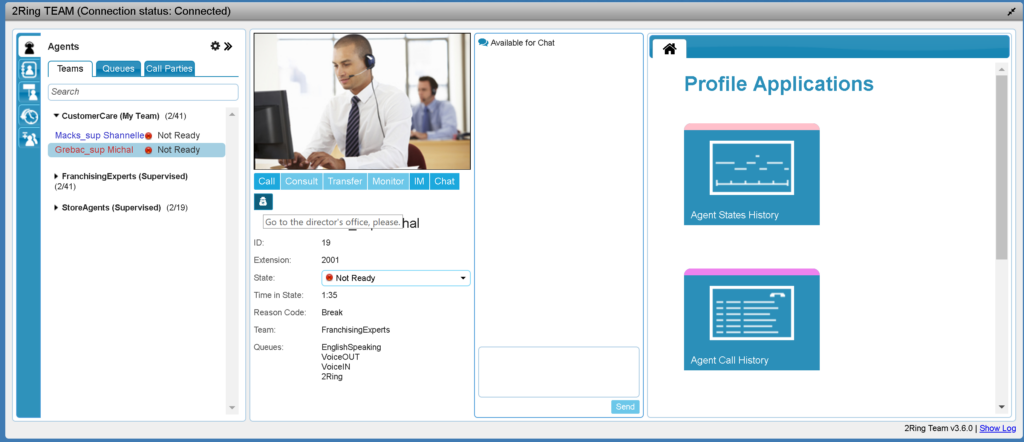 List of Agents (by Teams or Queues/Skillgroups) – it is now possible for an Agent to only see himself or to only see himself and his/her supervisors.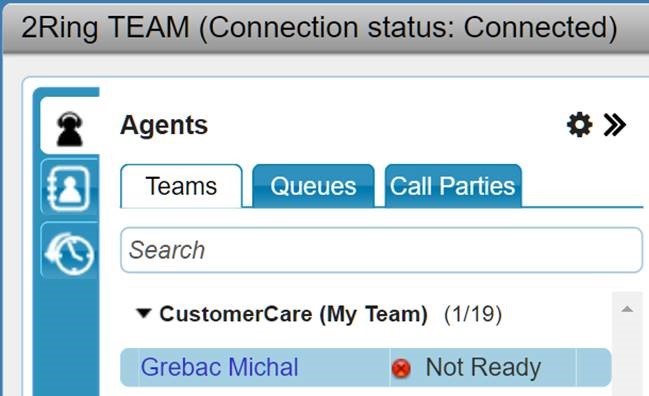 Support for Cisco Finesse SSO has been added, and thus, companies using Cisco Finesse in SSO mode can now use 2Ring Gadgets for Cisco Finesse.
Connector for Salesforce has been enhanced to provide data for an unlimited number of entities of any type (the previous version allowed only Account, Person and Lead entities to be searched). Ordering of results can be defined and all entities can have child collection queries. This means that the account preview section can, for example, also include a list of open opportunities or other account related data available in Salesforce.
Improved Availability of 2Ring's Integrated Chat – our integrated chat was ported from XMPP on Finesse to SignalR, so agents logged into different Finesse nodes can now chat cross Finesse nodes. This architectural change improves the availability of 2Ring's integrated chat in CCE deployments, especially during failover periods.
Integrations with 3rd Party Applications are now more secure. A new proxy for calling 3rd party web services with elevated privileges has been introduced. This provides for safe integration with 2Ring Staffino Feedback Service and / or similar 3rd party applications using 2Ring Orchestrator (workflow).
Any Impact on Ordering/Licensing?
This release is not introducing any changes to 2Ring licensing.