2Ring GADGETS for Cisco Finesse version 2.0 is available as of today. This means that Cisco Resellers and 2Ring partners working on new Cisco Unified Contact Center projects (Express/Enterprise/Packaged UCCE) or migrating existing CAD (Cisco Agent Desktop) customers to Cisco Finesse, can improve their customer collaboration offerings with these new features:
Note: To learn more, schedule a live demo over Cisco WebEx or meet us at Cisco Live! 2015 in San Diego – Booth #3027.
New Features
GENERAL

New web-based CONFIGURATION Tool for 2Ring GADGETS for Cisco Finesse

Note: This initial version includes the configuration of a few technical parameters. The flexibility of existing configuration files has been preserved, and we will watch closely for feedback from administrators on what else should be added to this tool.

New simplified installation package for secondary nodes in HA environment
Added (out of the box) support for Cisco Finesse v10.6
Added support for Finesse HA (High Availability) with the exception of the following:

Presence status in Contact Search in 2Ring TEAM Gadget is not CUPS fault tolerant
Chat feature of 2Ring TEAM Gadget is not fault tolerant for UCCE and Package UCCE
Reason codes for UCCE and Packaged UCCE with Cisco Finesse 10.5 and below are not AWDB fault tolerant

Use of JSON format instead of JavaScript in the configuration systems. The benefits are an improved detection of errorsand the pinpointing of exact problems
Added export and import of configuration settings of 2Ring GADGETS for Cisco Finesse for backups and for applying configuration to HA node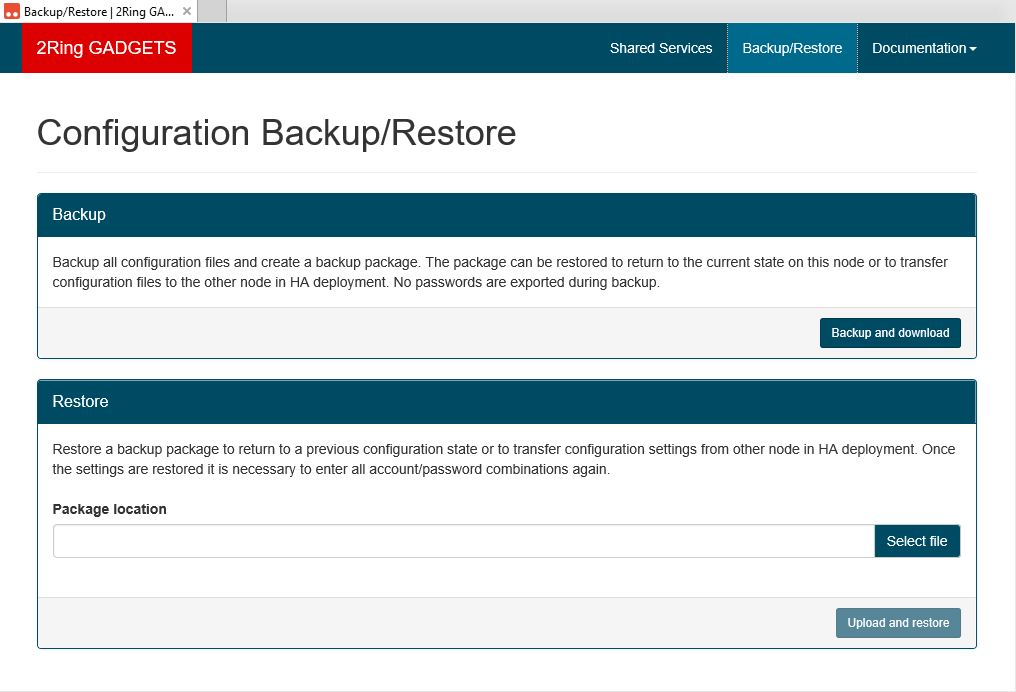 2Ring infoPANEL Gadget 2.0 (includes 2Ring ORCHESTRATOR)

Audible Alerts have been added to 2Ring ORCHESTRATOR (workflow). Audible notifications are, for example, handy for many types of contact center events: 1) Agent receives a message in the marquee, 2) Agent receives a chat from a supervisor or a fellow agent, 3) Agent is in a NotReady state for longer than desired, and needs 2Ring workflow to play a specific sound (mp3 file) every X minutes to remind him to switch to a Ready state, and last but not least, 4) Agent receives a new call, 5) …
DB Lookup allows 2Ring ORCHESTRATOR (workflow) to read data from various databases including MS SQL, Oracle, MySQL, Informix, DB2, PostgreSQL, Excel, csv, Access, .. Use case examples include: 1) letting an agent know who is calling before answering the call by providing caller identification based on contacts available in 2Ring PHONE SERVICES or in some other internal database (DB), 2) letting an agent know if there is any outage reported in the area where the customer is from, and 3) letting an agent know if the caller is part of a promo campaign. And yes, this means that even if you only have ENHANCED Agent Seats from Cisco, you can benefits from DB lookups via 2Ring GADGETS for Cisco Finesse!
While on a call, agents can edit Call Variables in 2Ring infoPANEL. This is handy when, for example, agents are expected to 1) leave a note for the agent to whom they are transferring a call, 2) update ClientID, CaseID, or CallerID so the correct ID is available for reporting purposes, 3) mark a call/recording for evaluation by the supervisor, 4) mark a call to be sent back to the IVR/CVP for a customer satisfaction survey (if the customer opted out in the IVR before he was connected to an agent, but while being served by the agent, the customer changes his mind and asks to be sent to the survey – this way an agent can only add people to surveys, but s/he cannot remove them).
While on a call, agents can also copy any or all call variables to the clipboard. This can be used to send all the information via email or chat to someone else as well as to provide for the manual passing of client information to applications that have not yet been integrated with Cisco Finesse via the use of 2Ring ORCHESTRATOR.
Agent State Thresholds can now even be based on NotReady reason codes

2Ring PHONE SERVICES (IPPS) – Contact Center Edition (Part of Collaboration, Enhanced, and Premium Bundle)

Use Cisco Unified Communications Manager – CUMC; MS Exchange incl. Office 365; Lotus Notes; Gmail; MS SQL; and many other common corporate contact data sources as a source for advanced contact search in 2Ring TEAM Gadget:

Yes, contacts can be automatically synchronized in regular intervals from any combination of supported sources
Yes, for each internal contact, agents also get to see user's status as reported by CUPS (Cisco Unified Presence Server)
Yes, synchronization comes with transformation rules, so all numbers are available in a dialable format
Yes, you decide how often contacts are synchronized
Yes, synchronization can automatically split contacts into various address books / directories
Yes, you have many contact fields available. Here is the list: 1) First Name; 2) Last Name (Surname); 3) Company; 4) Phone; 5) Fax; 6) Mobile; 7) Extension; 8) Skype; 9) Jabber; 10) Agent Extension; 11) Email; 12) Person ID; 13) Photo/Picture; 14-18) Custom Variables (yes, we reserved 5 fields for whatever you might need them for)
Yes, you decide which search fields are available to agents
Yes, 2Ring IPPS can also provide personal directories, but until we add native support for personal directories to 2Ring TEAM Gadget, this is how personal directories work:

2Ring IPPS gets its own tab in 2Ring BROWSER Gadget
If an agent logs in to 2Rng IPPS using his/her domain identity, s/he can create multiple personal address books and synchronize contacts to IPPS from Gmail or Outlook/Exchange/Office365, or import contacts manually via a .csv file
The agent can also share his/her contacts with other domain users and thus create team directories.

Yes, agents can do many actions from the selected user profile / contact – call, direct/blind/single step transfer, add to a consult call, start IM session via Cisco Jabber/MS Lync/Skype, send email, ..

IPPS contacts can also be used to auto-generate a list of speed dial buttons to do a direct/blind/single step transfer (yes, even if you have Cisco UCCX – Express), a consult call, and/or to place a call.
2Ring TEAM Gadget v2.0

Agents and supervisors can search contacts from 2Ring PHONE SERVICES (IPPS). Contact profiles also include user status as reported by CUPS (more info above).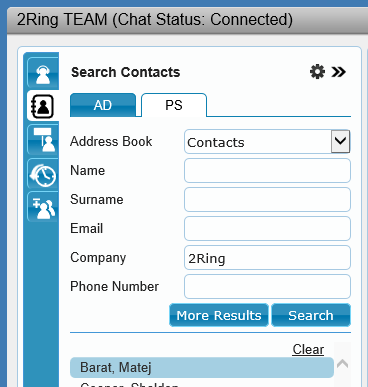 Active Directory (AD) search now uses server stored identity so no explicit user login is required before the user conducts his first search. The display of contact status from CUPS has been preserved.
Lists of Agents have been significantly improved:

Inline Search has been added to all agent views (List of Queues and List of Teams)
Agent's (own) Profile has been added. This can be used to access personal statistics and logs served by CUIC (Cisco Unified Intelligence Center).
All contact profiles can display contact specific apps/reports. It doesn't matter if a contact is from MS AD, 2Ring PHONE SERVICES, or Finesse.
Profiles of other Agents/Supervisors can now also offer access to/display specific apps and reports. The use cases include a display of agent state history (state logs) or call history (call logs) from CUIC, reports built in other platforms – such as MS SQL Reporting Services, or any other web-based apps that can be configured to display agent/supervisor specific information.

Note: The upcoming release of 2Ring DASHBOARDS&WALLBOARDS (DW) v4.6 will offer easier creation of such personal views, and these views served by 2Ring DW will not require the agent to enter any credentials.

If allowed, Agents can see profiles and state of agents from other teams

Note: Agents cannot see NotReady reason codes and Time in State for their fellow agents. These options are only available to supervisors.

State names can be hidden to provide more space for the names of agents/operators.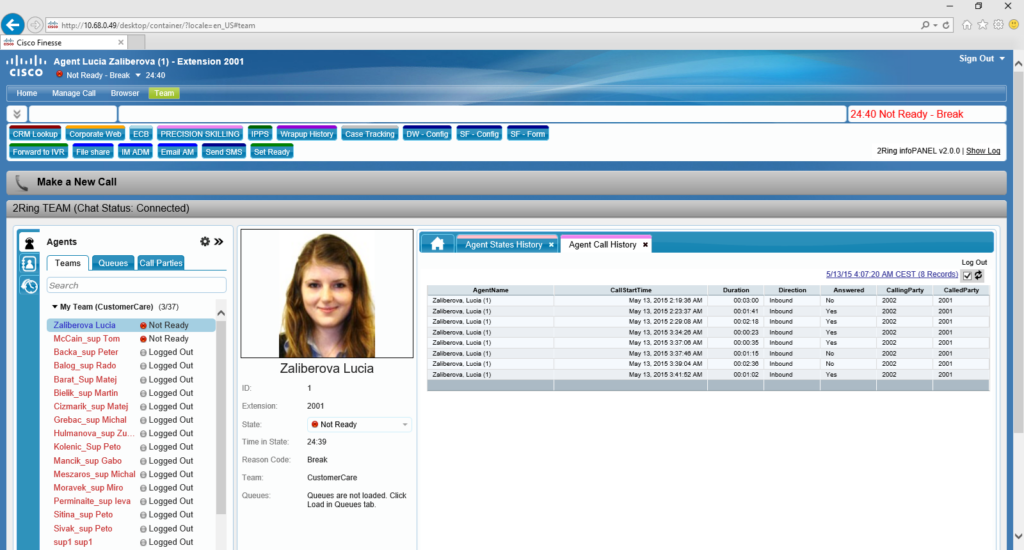 Profile apps can send messages to 2Ring ORCHETRATOR or to Cisco's workflow for processing. This enables support of click2call scenarios from apps hosted in the agent profile (e.g. a call history list report)
On top of sending text messages to a marquee in 2Ring infoPANEL and to marquees in layouts built via 2Ring DASHBOARDS&WALLBOARDS, supervisors can now also send message to themselves (to see how the message looks or when it expires).
Integration of 2Ring DASHBOARDS&WALLBOARDS (DW) with 2Ring TEAM Gadget uses more secure access and thus a Finesse supervisor role is required to access the list of banners
Significant memory usage and CPU usage improvements are introduced. This means less memory consumed, quicker load times, and faster responses.

Queue members are not loaded automatically anymore. Explicit load is required.
Bugs Fixed
IE11 no longer crashes on agent search in 2Ring TEAM Gadget.
2Ring infoPANEL Gadget decreases its height when only buttons are configured.
2Ring BROWSER Gadget expands the tab list if tabs wrap to a second line.
Licensing Refresh
3 new bundles are now offered – COLLABORATION, INTEGRATION, and PREMIUM. Here is a break down of all of the currently offered bundles:

There are no changes to the price of the original two bundles – STANDARD and ENHANCED. Customers with ENHANCED Bundle now also get to use 2Ring PHONE SERVICES – Contact Center Edition.
Mixing license packages / bundles is not supported.
Limited use is possible – UCCX customers can limit the use of 2Ring GADGETS to agents from certain queues, and UCCE and Packaged UCCE customers can limit the use to selected SkillGroups and/or to selected Precision Queues.