2Ring DASHBOARDS & WALLBOARDS (DW) v5.3 has been released, and our public demo environment running on MS Azure has been upgraded too – request your full access here.
You can also access one of the screen groups without any credentials by clicking this link – www.2Ring.com/TryIt.
New Features
KPI Intervals

This is a new mechanism for tracking a KPI value in a configured time interval. An interval can be set to 15, 30, 60 minutes or a day. For each interval, the first, last, lowest and highest KPI values are tracked. It is then possible to display results for an interval in the past. You can use this to display closing SLA for the previous day, the maximum # of calls offered half hour ago, SLA today 2 hours back, the highest number of agents ready today/yesterday/2days back, the lowest number of calls in queue from 10-11AM, and many others. To define such source, you pick a KPI, choose the length of the interval, choose if you want to see the highest, lowest, first or last value, and offset it from the current time.

Server Based Caching

All entities now use a server based caching mechanism. This decreases the number of requests per seconds to be served. Formerly only Grid and KPI used caching. This is another step for 2Ring DW to handle even larger deployments.

DESKTOP Client

All product documentation is now available via DESKTOP client.
DESKTOP Client supports logout mechanism.

Advanced Support for Deployments with Multiple Time Zones

Time zone is now a native attribute of the connector and of calculations.
It is no longer needed to pass the time zone to individual calculation parameters.

Default Values for KPI and Grid Calculations

Default values can be set for KPI and grid calculations.

Background Image Support

New background images with HD resolution have been added. HD resolution is now default. See an example here: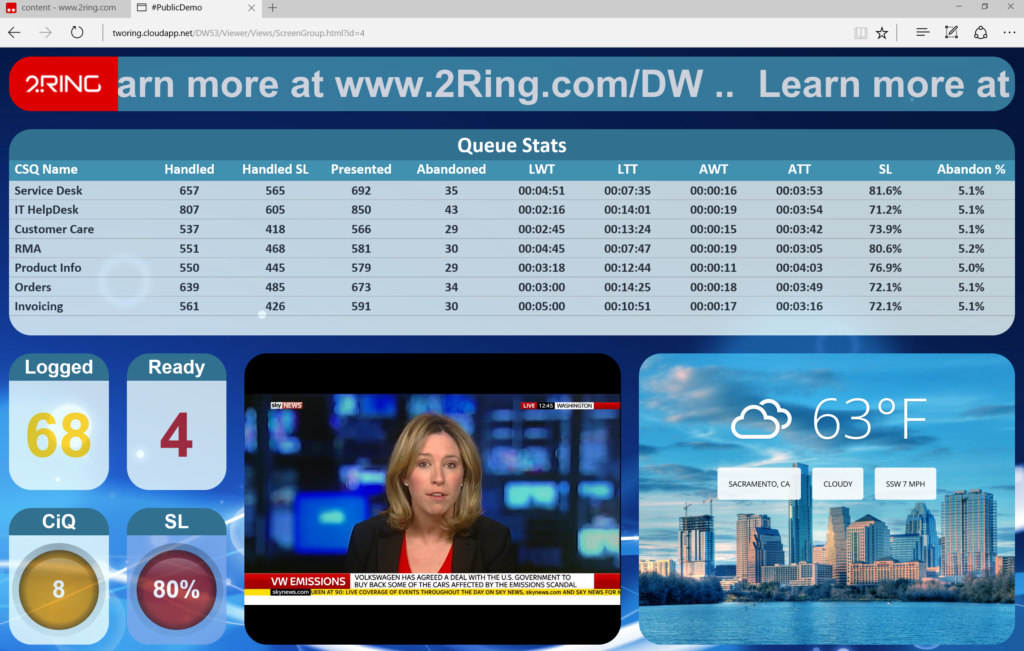 Enhancing UCCX Connector with

enhanced Agent States Grid that now also comes with

Login time
Average NotReady Time since Login
RONA Calls

new KPIs

Agents – Average Not Ready Time since Login
Agents – RONA Calls
Agents – Logged in Time

Enhancing UCCE Connector with

new KPIs

Calls – Avg Answer Wait Time for Precision Queues
Calls – Avg Answer Wait Time for Skill Groups
Bug Fixes
Iteration date of derived calculation was set with a precision in minutes. This resulted in unnecessary KPI calculations to be recalculated more often.
Rounded Corners were always enabled for KPIs displayed in a ticker.
Grid Conditional Styles Screen properly handles low window condition by showing scrollbars.
KPI Calculations can be deleted even after some values have been calculated.
Performance is not affected by a high number of performed grid calculations in the past.
What's Next?
The next release is going to be a major release, so we will be moving to version 6.0. Among other features, this release will introduce a new lightweight design (frameless) to better work in Cisco Finesse and also the concept of "Personal Tiles" – individual tiles showing multiple stats about one person in one segment.
All of the features above were added based on feedback received from our customers and/or prospects, and so, please do not hesitate to reach out to us with any feature suggestions (https://www.2ring.com/Contact). Also, please note that 2Ring DASHBOARDS&WALLBOARDS is available in two of the bundles of 2Ring GADGETS for Cisco Finesse (Enhanced and Premium), and so if used with Finesse, 2Ring DASHBOARDS&WALLBOARDS provides even more features. To schedule a live demo, please visit www.2Ring.com/Webex.