What's new in 2Ring COMPACT AGENT v1.5.1?
New Features
Support for UCCX 10.6 – UCCX 10.6 is the newest member of the Cisco Finesse family of products
Positioning of Embedded Browser – you already had the option to place a web-based application above 2Ring COMPACT AGENT, and this release allows you to create a unified view where COMPACT AGENT is either above, under, or next to a web-based application that supports iFrames (including but not limited to a layout from DASHBOARDS&WALLBOARDS, a wrap-up form or a guiding script served by SCRIPTS&FORMS, a full interface of Salesforce, ..)
Splitter's Position – the relative size of COMPACT AGENT and the app hosted in its embedded browser is now remembered between sessions so that agents do not have to fiddle with the size every time they start COMPACT AGENT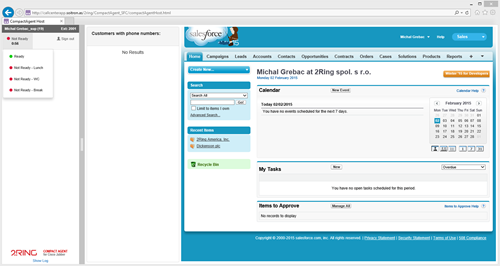 Advanced Workflow – the set of workflow triggering events and actions has been greatly expanded to match the vast possibilities of the workflow engine in 2Ring GADGETS.

Events:

Logon
User Data/State Change
New Call
Call Data/State Change
Call End
Message from web application

Actions:

navigateEmbeddedBrowser
navigateExternalBrowser
postMessageToBrowser
getCurrentExtension
getCurrentDialogs
getCurrentCalls
getCallByState
getCallByParticipantState
getActiveCall
getCallVariable
setCallVariable
makeDirectTransfer
holdCall
retrieveCall
answerCall
dropCall
transferCall
consultCall
getUser

Integration with 2Ring SCRIPTS&FORMS – this version is ready to receive a notification of form submission from 2Ring SCRIPTS & FORMS and trigger a workflow in 2Ring COMPACT AGENT. This allows 2Ring COMPACT AGENT to react to finishing and submitting a form by changing an agent to Ready state or delivering some other automation
Support for Finesse High Availability – COMPACT AGENT falls over to another Finesse node when the active node becomes unavailable. COMPACT AGENT is also highly available from multiple CA nodes in an NLB fashion.
Login Name Support – UCCE (and Packaged UCCE) agents can now use both their login name and login ID to log into 2Ring COMPACT AGENT. Formerly only the Login ID was supported
Time in State – similar to the infoPANEL Gadget in 2Ring GADGETS for Cisco Finesse, COMPACT AGENT now displays time in state with thresholds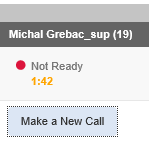 Bugs Fixed
An attempt to change state while in the talking state caused an error that was not handled correctly
Call variables and Custom Call data are now aligned to the same horizontal position
Splitter did not work correctly when hosted in Cisco Jabber (fixed in 1.5.1)
2Ring COMPACT AGENT is an alternative agent desktop to Cisco Finesse for all deployments of Cisco Contact Centers (Express, Enterprise, Packaged UCCE). It is built on top of Cisco Finesse API.