Contact centers are an integral part of any business, providing a vital link between the company and its customers. As such, it is important to stay up-to-date on the latest trends in the industry to ensure that you are providing the best possible service. In this blog, inspired by contact center predictions made in industry publications CMSWIRE (https://www.cmswire.com/customer-experience/top-call-center-trends-to-watch-in-2023/) and Call Centre Helper (https://www.callcentrehelper.com/contact-centre-predictions-for-2023-215826.htm), we will discuss and unpack some of the key contact center trends for 2023 from 2Ring's perspective, including agent empowerment, the integral importance of the agent experience, the growth of omnichannel communication, the increasing adoption of artificial intelligence, the rise of self-service tools, and the use of analytics to assess business efficiency.
Analytics and Real-time Reporting are taking Center Stage
Now more than ever before, analytics and real-time reporting are becoming increasingly important in the contact center industry. By tracking key metrics, such as call volume, wait times, and customer satisfaction, businesses can identify areas for improvement and make informed decisions about how to optimize their operations. Please feel free to have a look at our business user friendly real-time reporting tools compatible with the following platforms: Cisco® on-premise contact centers, Webex® contact center, Five9®, Amazon Connect, Genesys Cloud CX™, Genesys Engage™, and CUCM/CallManager.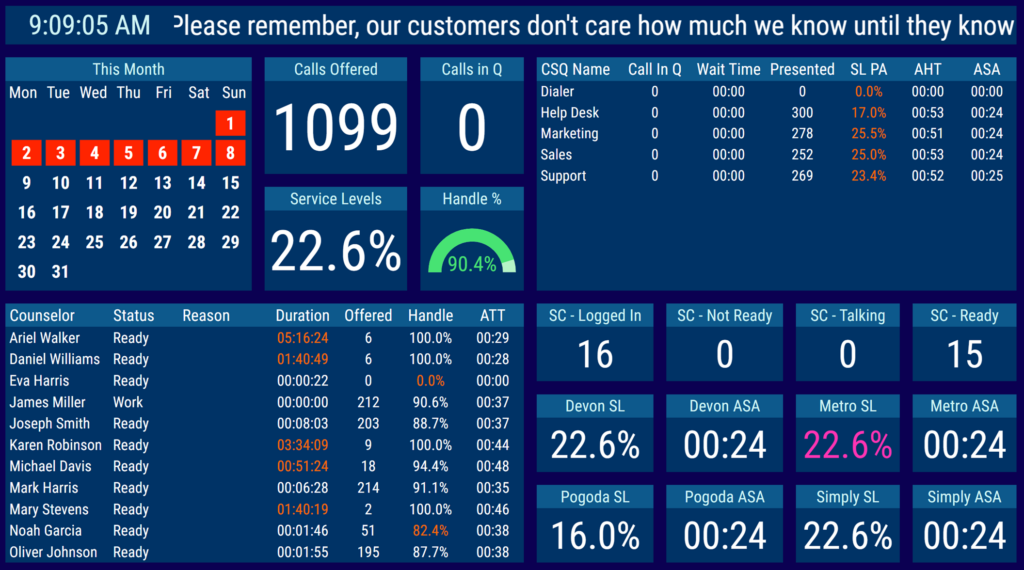 2Ring Dashboards & Wallboards sample layout with KPIs and metrics.
Agent Empowerment: A Crucial Component of the Equation
A key trend in the contact center industry for 2023 is the focus on agent empowerment. This involves giving agents the tools and support they need to succeed, including the ability to access relevant information and resources, as well as the freedom to make decisions and solve problems on their own. By empowering agents, businesses can improve customer satisfaction and loyalty, as well as reduce turnover and increase operational efficiency.
Agent Experience: Elevating Efficiency & Boosting Employee Satisfaction
Another important trend in the industry is the emphasis on the agent experience. In order to provide top-notch customer service, businesses must ensure that their agents are happy, motivated, and engaged. This can be achieved through training, support, and recognition programs, as well as by providing a positive and supportive work environment. In light of this, 2Ring and Staffino have partnered to provide an easily integrated feedback solution that can be used to assess the agent experience and performance, and contrast that with customer sentiment, all in one comprehensive view. With Staffino, you can collect customer feedback and gain valuable insight to improve your operations. Your customers will feel heard and valued, and your call center staff will benefit too. Thanks to complex (yet intuitive) dashboards, call center managers will be able to analyze processes, engage and motivate agents through gamification, and much more. To find out more, visit our 2Ring Staffino product page here.
Omnichannel: Varied Communications Options offer Diverse Solutions
Omnichannel communication is also becoming increasingly essential in the contact center industry. This involves the use of multiple channels, such as phone, email, chat, and social media, to communicate with customers. By offering a range of communication options, businesses can make it easier for customers to reach out and get the help they need, regardless of their preferred method of communication.
AI: Streamlining the Experience for Customers and Agents alike
The adoption of artificial intelligence (AI) is also on the rise in the contact center space. AI can be used to automate routine tasks, such as answering frequently asked questions, as well as to provide personalized recommendations and support to customers. By leveraging AI, businesses can improve efficiency, reduce costs, and enhance the overall customer experience.2Ring and Nettle have joined forces to bring exceptional solutions to our customers' contact centers, with the goal of building enterprise-grade conversational artificial intelligence solutions that create impactful customer service experiences, all while improving operational efficiencies. To learn more about the 2Ring and Nettle collaboration, read our co-authored blog here.
Self-Service Empowers Customers
Lastly, tied in with the proliferation and evolution of AI, self-service tools are another trend that is gaining popularity in the contact center industry. These tools, including chatbots and knowledge bases, allow customers to find answers to their questions and resolve issues on their own, without the need to speak to an agent. This, in turn, can free up agents to focus on more complex or urgent issues, as well as help in streamlining the efficiency of contact center operations.
Closing Thoughts
In conclusion, the contact center industry is evolving rapidly, and it is important for businesses to stay up-to-date on the latest trends in order to provide the best and most comprehensive service to their customers. By focusing on agent empowerment, the agent experience, omnichannel communication, the adoption of AI, the growth of self-service tools, and the use of analytics, businesses can stay ahead of the curve and deliver the highest quality customer service.
To request a demo of 2Ring's solution portfolio, including our popular Dashboards & Wallboards and our Gadgets for Cisco Finesse, click here for a free and no obligation consultation. We will walk you through our products in under an hour and will provide appropriate recommendations for your particular use cases. Reach out today and experience the 2Ring difference.