Data from Many Data Sources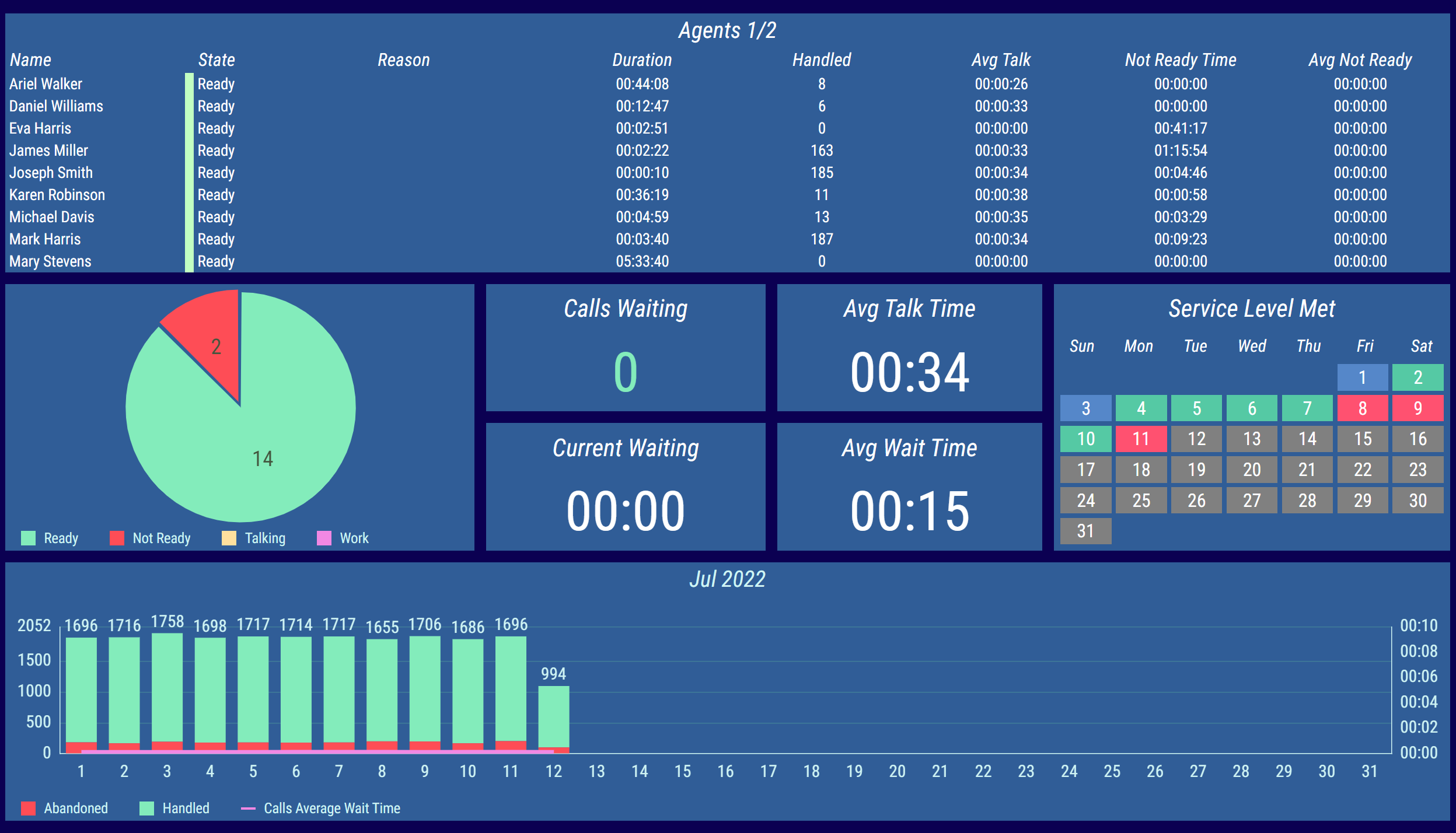 2Ring Dashboards & Wallboards comes with support for multiple data sources / connectors:
| | |
| --- | --- |
| 2Ring Cloud Subscription | 2Ring Self-Hosted Subscription |
| Five9* | Cisco Webex Contact Center |
| Amazon Connect®* | Cisco Webex Contact Center Enterprise |
| Cisco Webex® Contact Center (WxCC)* | Cisco Unified Contact Center Express (UCCX) |
| Genesys Cloud CX* | Cisco Unified Contact Center Enterprise (UCCE) |
| ServiceNow® | Cisco Packaged UCCE |
| | Cisco CallManager – CUCM Hunt Groups |
| | Cisco Unity - VoiceMail |
| | SQL Based Databases – homegrown systems |
| | ServiceNow |
| | Salesforce |
| | CSV Imports |
* Requires a separate subscription for each contact center platform.
If your data source is not listed, please contact us, as we are always looking to add new capabilities and features.
Your layouts can merge data from a variety of data sources. The screenshot above shows contact center data and also data from ServiceNow, this ServiceNow connector can be used to obtain details on Tasks, Assignment Groups, Chats, Scorecards, and more.
On top of that, a variety of content types can also be used to provide all the information that contact center users need (learn more under "Wide content support").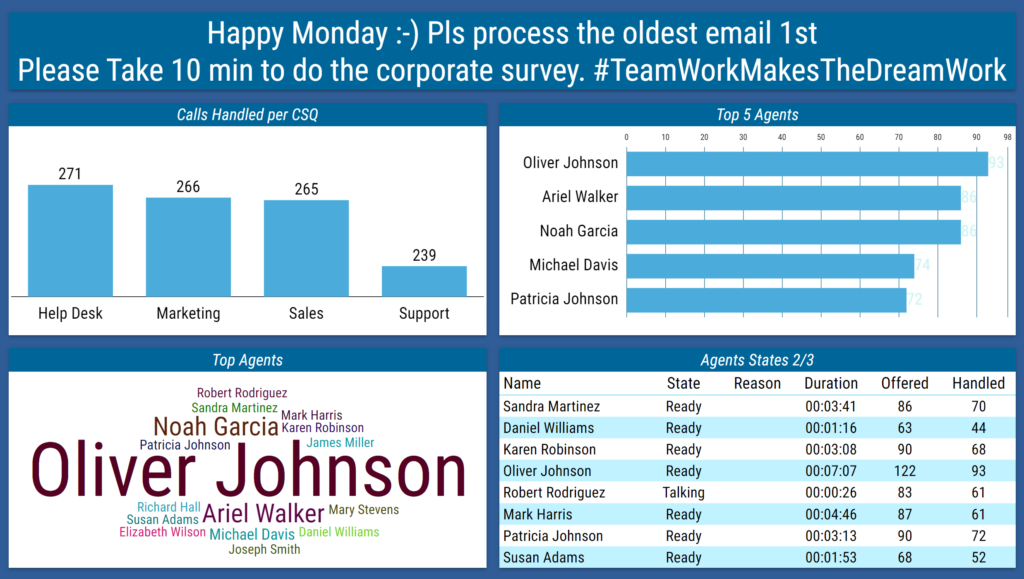 All the connectors mentioned under "Data from Many Data Sources" make your data available in a form of KPIs with thresholds (good, neutral, and bad) and grids (tables with data). In addition to KPI's and Grids, your layouts can also include Banners (Marquees, Tickers), Web-Based Content (Weather, social media feeds,..), YouTube videos and streams, pictures and photos, and PDFs (slides):
Banners
Banners can be a static message or a scrolling ticker with support for text and current time/date. Keep your contact center team in the know with 2Ring's multi-line banners.
Web-Based Content
Just about any kind of web-based content can be displayed in 2Ring Dashboards & Wallboards. Content can be information from an Intranet site, a report viewable in a web browser, weather (current & forecast), or other web sites such as stock or exchange rates details, social media feeds and other.
Videos
Static and live video streams, including YouTube, can be displayed with or without sound in 2Ring Dashboards & Wallboards. Videos could display news or training information for the team.
Pictures & Images
Pictures, photos, and logos can be included as well. Some examples we have seen are: employee of the month, client visits, or just to make the wallboard more visually appealing to view.
PDF documents
Display PDF files such-as PowerPoint slides that have been saved in PDF format. Even better, 2Ring Dashboards & Wallboards can take care of auto-paging through your content. Examples we have seen are: training information, employee of the month, lunch menus, and word or concept of the day.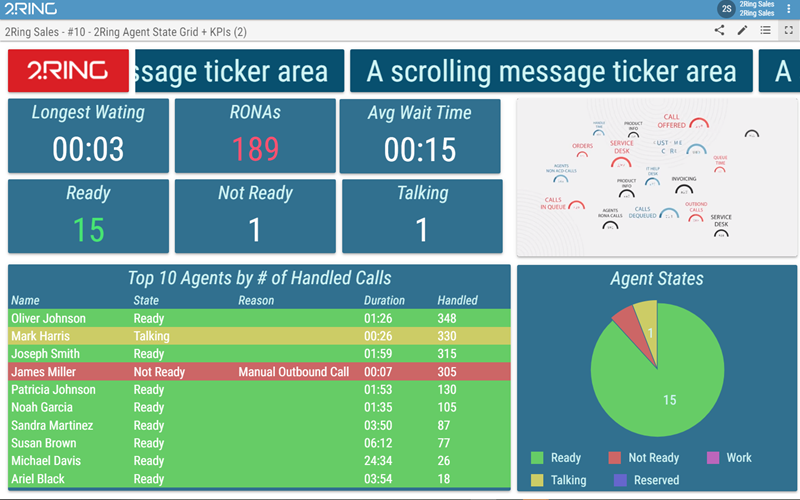 There is no limit on the number of KPI's displayed - on the number of objects/frames that you use in your layout. In fact, you can embed entire layout into a layout and run a sequence.
There is also no limit on the number of dashboard layouts that you create. You are free to create multiple layouts for every site, department, and user group.
Last but not least, there is no limit on the number of users viewing your layouts. You can display your layouts on as many screens, monitors, devices as you need, so go ahead and provide access to your layouts to as many users as needed.
Create and Adjust on the Fly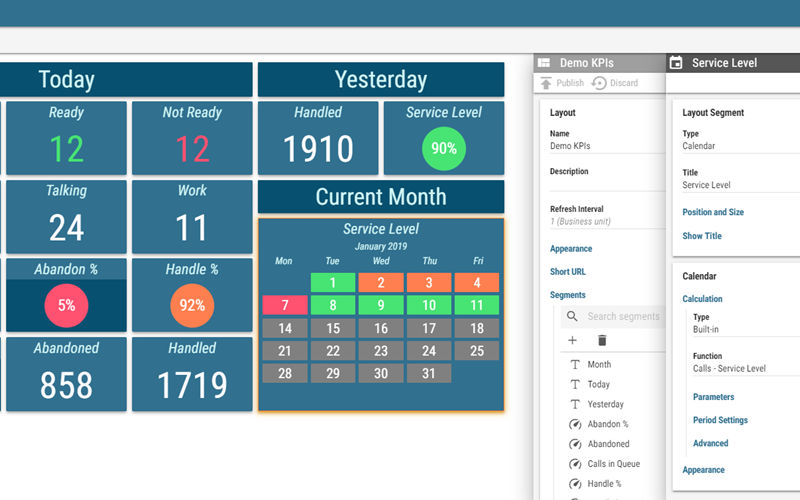 2Ring Dashboards & Wallboards is a fully web-based tool that is available to power-users including contact center supervisors. The tool was designed with business users in mind. A lot of every day operational changes in a contact center can be implemented without having the IT department involved.

Create and Adjust Key Performance Indicators (KPIs) / Metrics
Pick one of many existing KPIs, use it as it is, or adjust its calculation if needed. You can also set up thresholds - good, neutral, bad values and make visual /design changes - adjust background color and font type, size, color, ..

Create and Adjust Grids
Every layout can contain one or even multiple grids. Each grid can be filtered to a different skillname, username, or campaign (see connector guide for specific filtering options for each grid). Auto-paging (e.g. show only 10 rows/records at a time), sorting (by any of the grid columns), and color changes based on thresholds are all also supported. This makes it very easy to create views showing top10 or bottom 10 agents by any of the contact center metrics, and to also compare performance by skillnames (queues) or campaigns.

Create and adjust Message Tickers / Marquees
Send text messages to message banners that are part of your wallboards in real-time, adjust scrolling speed, or even text direction (left-right, right-left).

Create and Adjust Layouts
Pick one of many layout templates, adjust it, or build your own from scratch by drag & dropping content. Building Wallboards cannot get any easier.

Create and Adjust Content Sequences & Layout Sequences
Assign appropriate content to each frame and have it displayed for desired time and then let us rotate you content / sequence indefinitely.

Register External Content
Your layouts in 2Ring Dashboards & Wallboards can display pictures, PDF files (export your PowerPoint slides to PDF - 2Ring delivers auto-paging), YouTube Videos (incl. live streams), Weather (current & forecast), and any of your web-based content (stock info, exchange rates, menu in your cafeteria, ..).

Touch Screen Friendly (incl. mobile devices)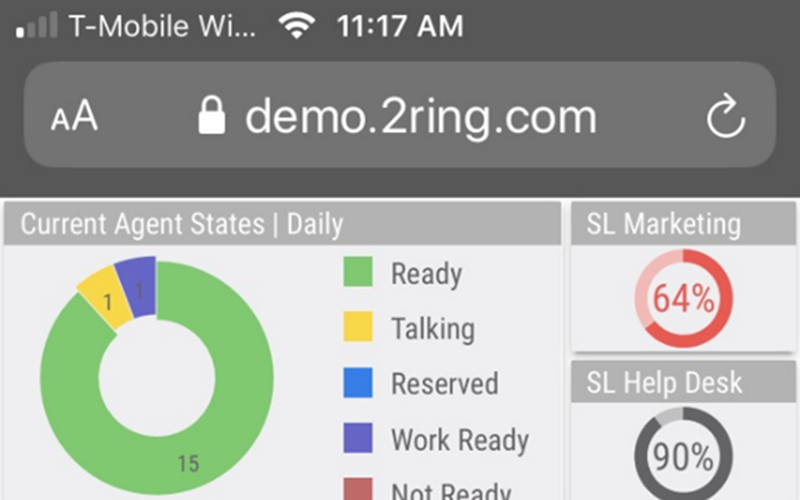 2Ring Dashboards & Wallboards was made to provide real-time statistics in a browser. It is ideal for accessing information on the go - on cellphones and tablets (no need to download and install an app). Also, one layout fits all the screens thanks to automatic resizing of content to the screen's resolution or to the window's size. You can test using our sample layout at www.2Ring.com/TryItFive9.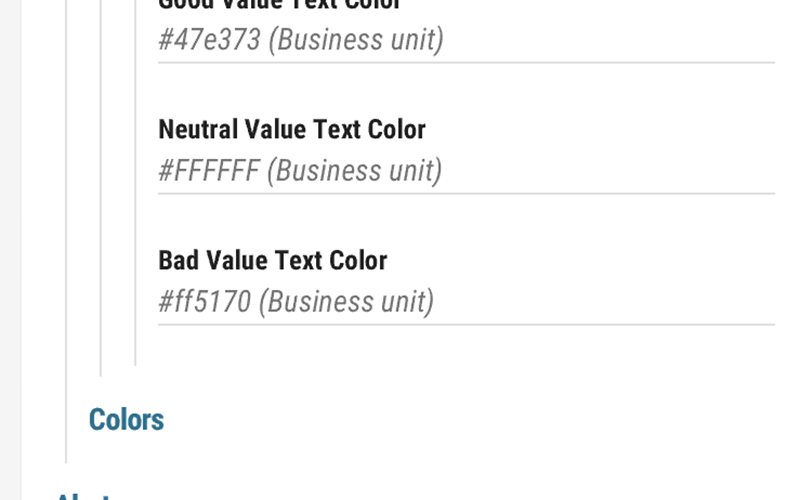 Define email, IM, and texting alerts based on thresholds set for KPIs (service level goes under X, # of calls in queue goes over Y, ..). Alerts can be automatically sent via email, or to IM clients such as Discord, Slack, Microsoft Teams, Cisco Webex®, and WhatsApp. It is also possible to text alerts straight to cellphones using texting APIs from various providers, incl. EZ Texting, Bandwith.com, Tropo, Trumpia, Twillio, or Webtext to name a few.
Merging and Summing Metrics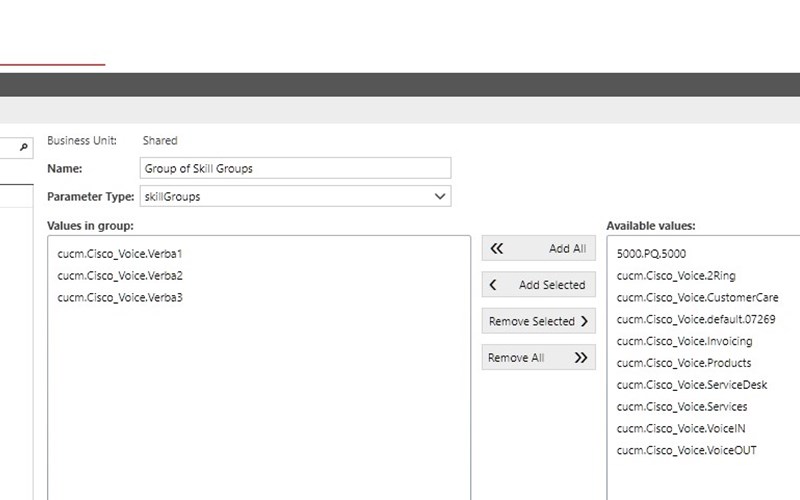 With 2Ring Dashboards & Wallboards, it is possible to for example create a grid showing total values for multiple queues. Also, it is much easier to filter KPIs and grids in general as users can create parameter groups and thus apply multiple parameters at once. It is all really a matter of checking a few checkboxes.
Bookmarkable Layouts - Permalinks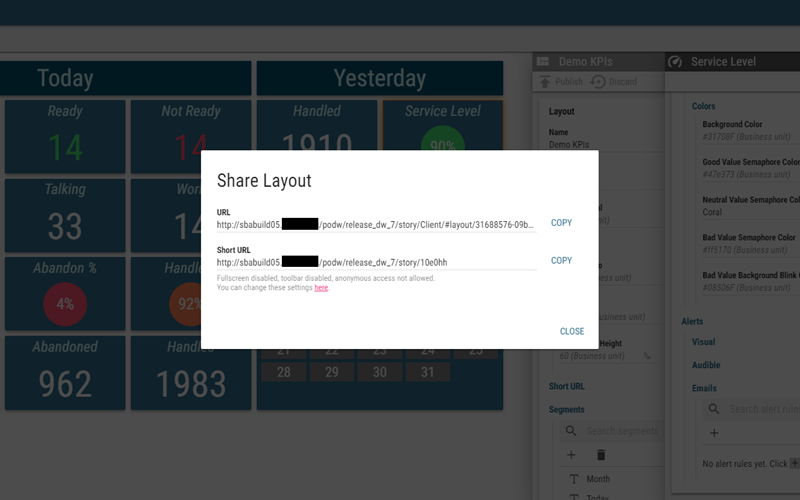 If you use a certain layout often, bookmark it and easily share it with others.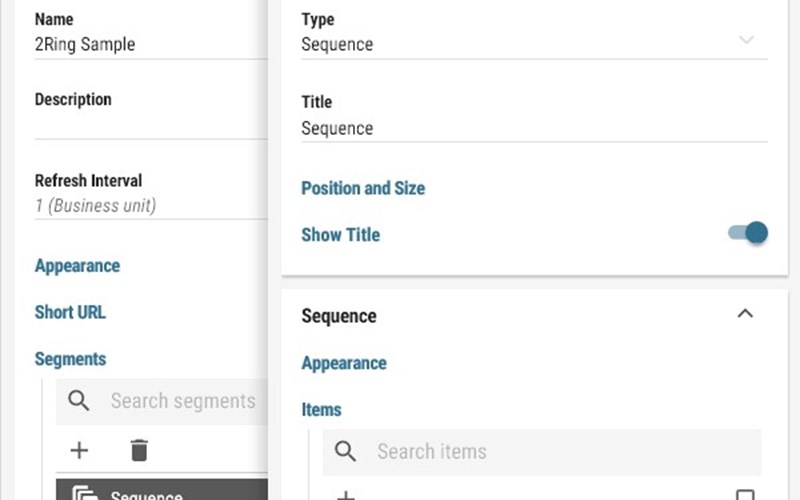 Sequence means that the entire screen or a portion of the screen can automatically flip to different content. You can rotate a sequence of layouts which can look like this: layout A for 10 seconds, then switch to layout B for 15, and then to layout C for 25 seconds. You can also sequence multiple KPI types or Grids within a layout's frame - e.g. show a list of top 10 performing agents for 20 seconds, and then have same area/frame to show stats of all the contact center queues. You can check out a sequence of three layouts within a layout (a sequence is nested above a static banner at the bottom of the layout) at www.2Ring.com/TryItFive9.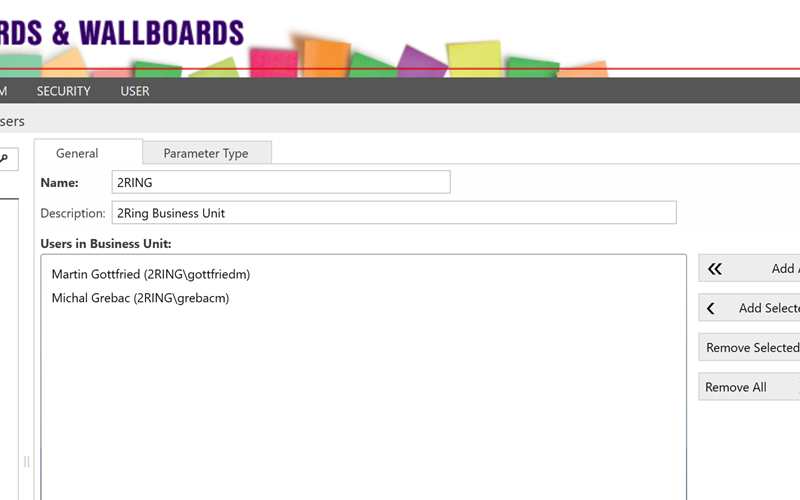 Create tenants (business unit silos) so tenants would not have access to each other's layouts/content.
Use 2Ring Data for Node-RED Workflow Actions (IFTTT)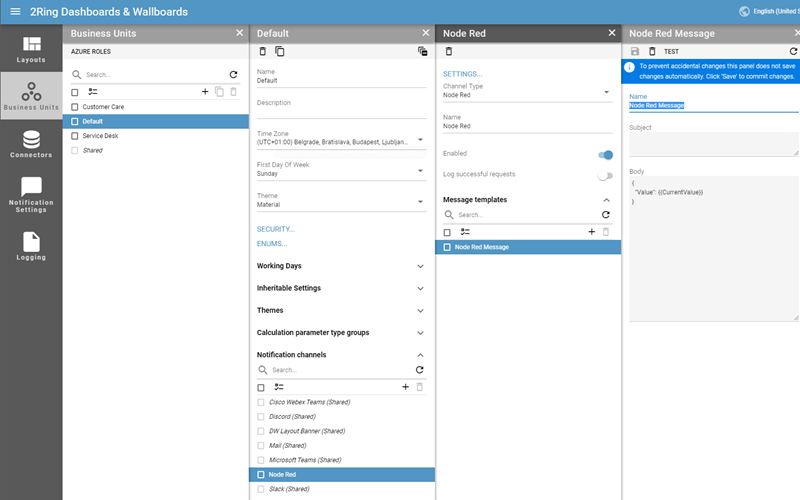 2Ring Dashboards & Wallboards provides audible, and visual alerts, but if you need to build a workflow that would trigger other system to perform an action based on data in our Wallboards, such as tell the siren light on the floor to go off when the number of calls in queue is over X, then 2Ring Dashboards & Wallboards can send such request to Node-RED, and similar solutions.
Embed Layouts in Other Apps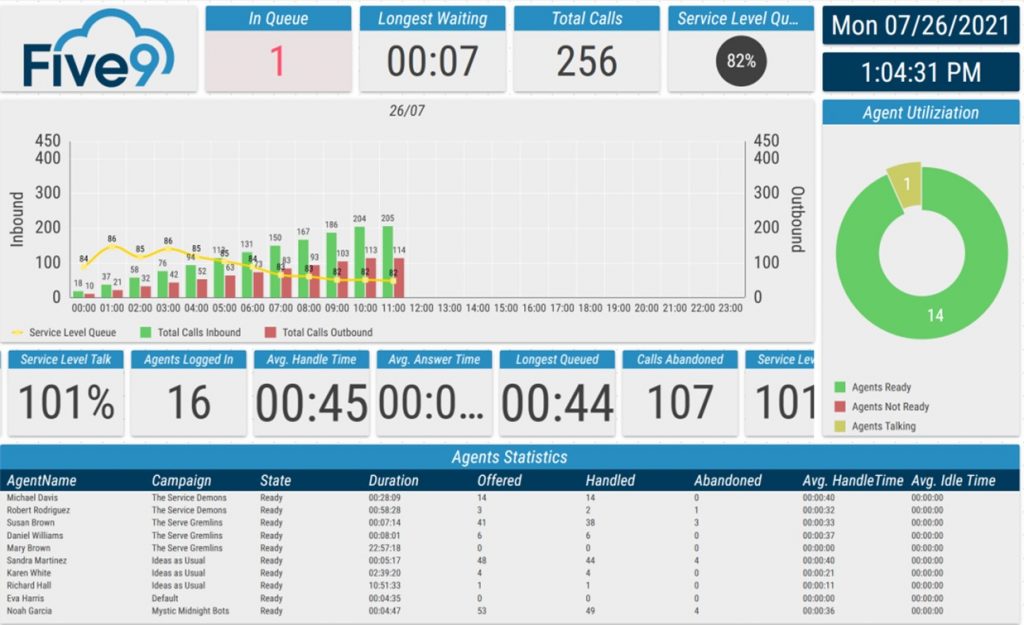 2Ring Dashboards & Wallboards makes it easy to embed your layouts to other applications.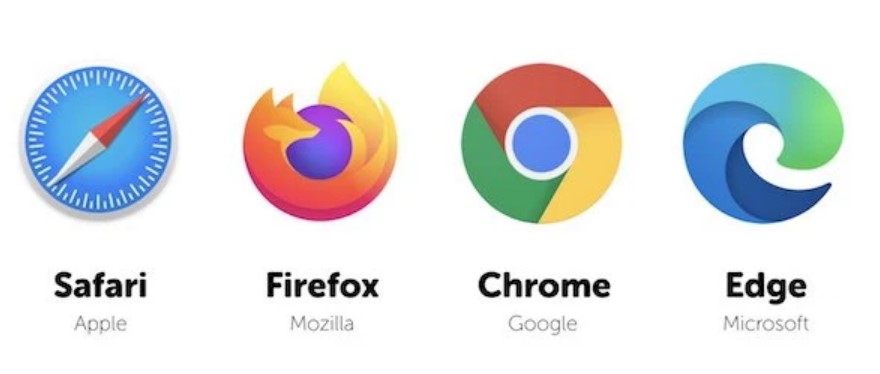 The latest versions of Microsoft Edge, Chrome, Firefox and Safari are all supported by 2Ring Dashboards & Wallboards.
Azure AD Authentication Support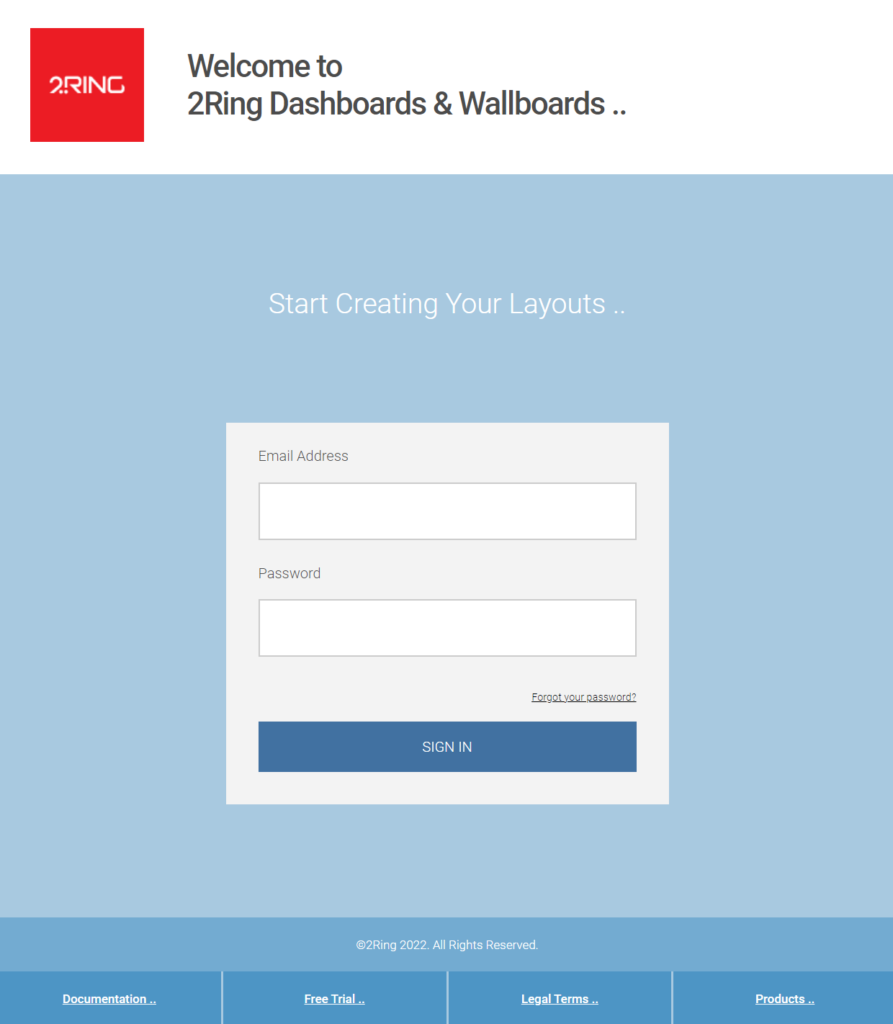 There is the option to authenticate users It is possible to use Application Local Accounts (Login/Password) or 2Ring Dashboards & Wallboards can integrate via MS Azure AD (which then also offers two-way factor authentication). Azure AD (cloud) credentials.