2Ring Gadgets for Cisco Finesse is a set of simple, open, and smart tools for improving productivity and user experience across all Cisco Contact Center platforms (Express, Enterprise, and Packaged UCCE). To see what 2Ring can do for your contact center, schedule a demo with one of our product experts.
What's New in 4.3?
State Control Gadget – a new gadget for managing agent state in Cisco Finesse 12 with thresholds. It is part of Cisco Finesse header area to optimize use of space.

Note: This new gadget for Cisco Finesse 12.x replaces the previously available state control that was part of 2Ring Ticker Gadget. Customers with Finesse 10-11.x can still keep state control/ thresholds in 2Ring Ticker gadget, but those on Finesse 12 can move agent state control (with thresholds) to Finesse 12 header, leaving more space for displaying broadcast messages in 2Ring Ticker Gadget.

Broadcast Gadget – a new gadget for sending one to one or one to many messages for supervisors to target ad-hoc selection of agents, multiple teams, multiple queues, or Dashboards & Wallboard tickers (available banners are respecting Business Unit rights).

Note: This gadget for Cisco Finesse 12.x replaces the previously available broadcast feature in 2Ring Team / 2Ring Ticker Gadgets. For customers on older release of Cisco Finesse (10.x and 11.x), broadcasting functionality is not invoked from Finesse header, but from 2Ring Ticker Gadget.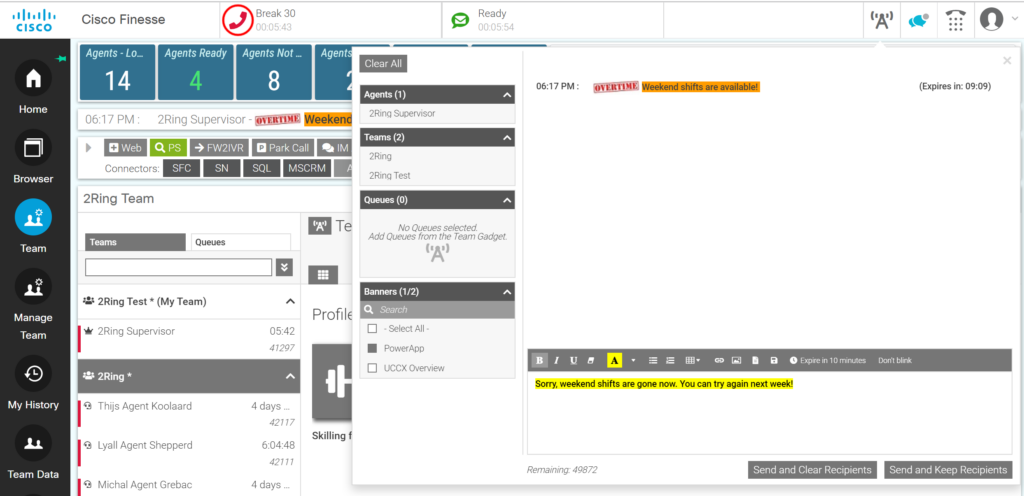 Generic Connector for SQL – used for ad-hoc integrations of Cisco Finesse with applications when a direct access to application's database is available. A support for performing arbitrary queries and CRUD (Create, Read, Update, Delete) operations has been added in this release. These options make these integrations even more flexible and powerful at the same time.
ServiceNow (SNOW) CRM Connector (requires PREMIUM bundle) – added support for the latest ServiceNow, New York release.
Dialog Gadget – used by agents to handle all interactions (voice inbound/outbound, and on uccx chat/email via Cisco SocialMiner) and this is what's new in 4.3 release:

Enforce Wrap-up Code Selection – agent cannot change his/her state (for voice until) a wrap-up code is selected for the most recent call.

Note: This is available in Finesse 12.x out of the box, and 2Ring has added this feature so no functionality loss would occur when customer switches from using Cisco Call Control gadget to 2Ring Dialog Gadget. The difference here is that 2Ring can enforce the selection per team, while Cisco wrap-up code enforcement is a global setting.

Ad-hoc Integrations (Custom Connectors & Custom Apps) – enable ad-hoc integrations of market niche apps and homegrown applications with Cisco Finesse – this is ideal for integrating with not globally used CRM and ticketing systems. In other words, it is now possible to integrate Cisco Finesse with applications that 2Ring doesn't offer an out-of-the-box connector for – and the best new is that this option is available under all 2Ring bundles (Standard, Enhanced, or Premium). Our Generic SQL Connector requires direct access to the application's databases, but this direct access is not necessary anymore. Instead API provided by the application can be used. On top of that, it is now also much easier to customize the Dialog Gadget's inner user interface, bringing possibilities to host homegrown integrations there and even full forms, and dedicate more space to data from 3rd party systems. This is how it gets done:

Custom Connectors SDK (a sample connector available) adds the possibility to access homegrown and market-niche ERP/CRM systems for customer lookup via their native APIs has been added. Connectors can be built by 2Ring professional services team, but also by reseller's or customer's dev teams.
Custom Apps SDK (a sample app available) can be part of 2Ring Dialog Gadget and display data from the source CRM/Ticketing application. A working sample app for Salesforce (see screenshot below) is available. This makes a lot more real estate inside of Cisco Finesse available for Salesforce data. This sample app can be used as is, or it can be further customized by 2Ring, reseller's or customer's dev teams.

Note: SugarCRM sample app will also be available shortly, and it is expected that more and more custom connectors and apps will be made available as built by 2Ring professional services team.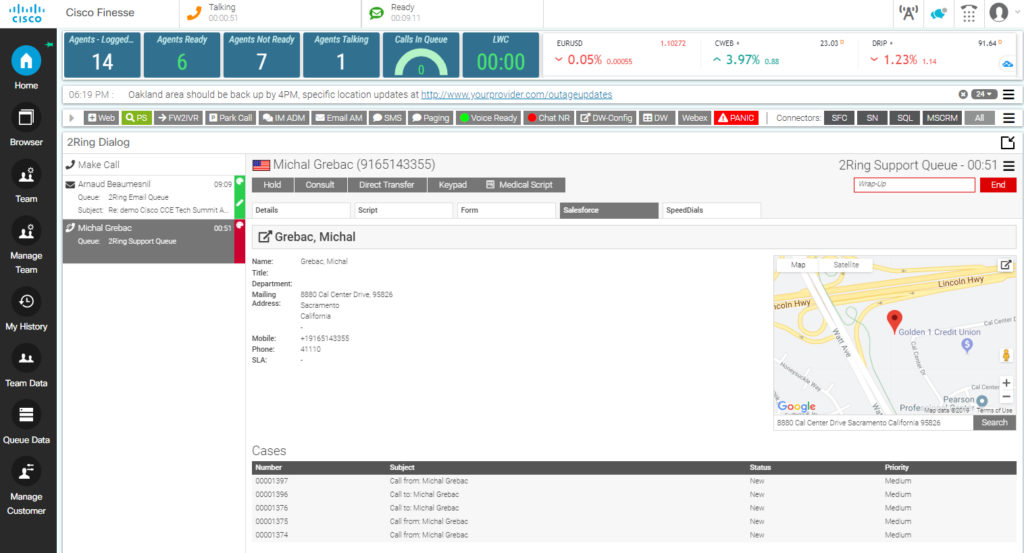 Orchestrator / Workflow – a powerful workflow mechanism that is capable of listening for 40+ contact center events and perform about 40 different actions has been enhanced with these two new actions:

Select agent profile and app – the use case for this is to similar to navigation in the Dialog Gadget where a particular customer interaction and dialog gadget app can be brought to the front automatically. Here, this allows you to bring agent profile with integrated chat to the front when you receive a new message.
Request data from 2Ring Dashboards & Wallboards – this can be used for delivering real-time alerts – for example, display a toast alert on top of all the application windows to inform agent that number of calls in queue and longest wait time are above acceptable thresholds.
Team Gadget – a cockpit for supervisors providing every possible detail on performance of their agents and a great tool for agents to check on their own performance or find help.

The Gadget was fully rewritten to match the new Finesse 12 look and feel:
Agent Roster now shows a lot of more information about agents right there in the roster itself. In other words, the panel on the left side possibly showing agents from multiple teams or queues at once can show the following real-time details about every agent:

Agent Name
State with a Reason Code (log out reason code is session dependent)
State Duration / Time in State
ACD Line
Call DNIS
Call Dialed Number
Call From Address
Call To Address
Call Type
Direction
Login ID
Login Name
Queue
Team ID
Team Name
Wrap-Up Reason(s)
Any of the 10 call variables (to be used to show CallType on UCCE for example)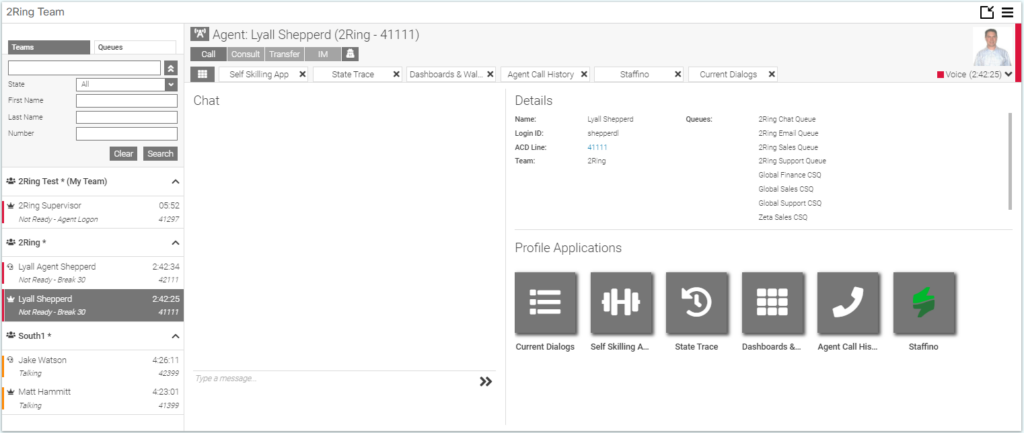 Addressbooks from 2Ring PS (Phone Services) – these are no longer available on a separate tab, instead frequently used addressbooks can be set as preloadable which makes them available to the agents right after they login within 2Ring Team roster.
Personalized Settings – a lot more features of Team Gadget are user-based, have a look at this screenshot to see how much every agent/supervisor can change by simply using gadget's settings: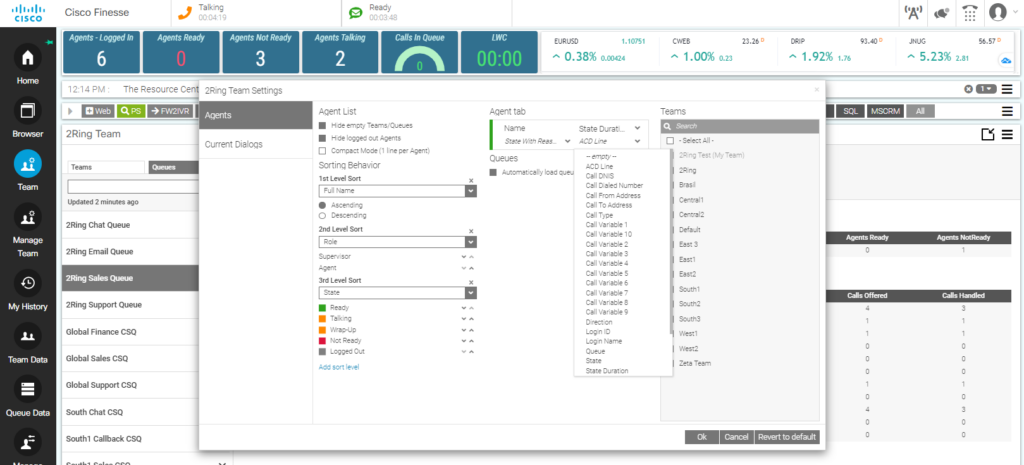 Agent Profiles with External Data – agent profiles do not only show info from Cisco Finesse, but those can now include data from external systems. Data such as email address, IM address, mobile phone and more can be now accessed and used directly from the agent profile. On top of that, data from 2Ring Dashboards & Wallboards or from 2Ring Phone Services can further enhance information available on Agent Profile.
Team and Queue Profile Apps – apps, apps, and more apps. These Team Gadget apps can be associated with a team and queue profile. This is very handy when used with 2Ring Dashboards & Wallboards – show stats for the entire team/queue in the exact place where you would expect it.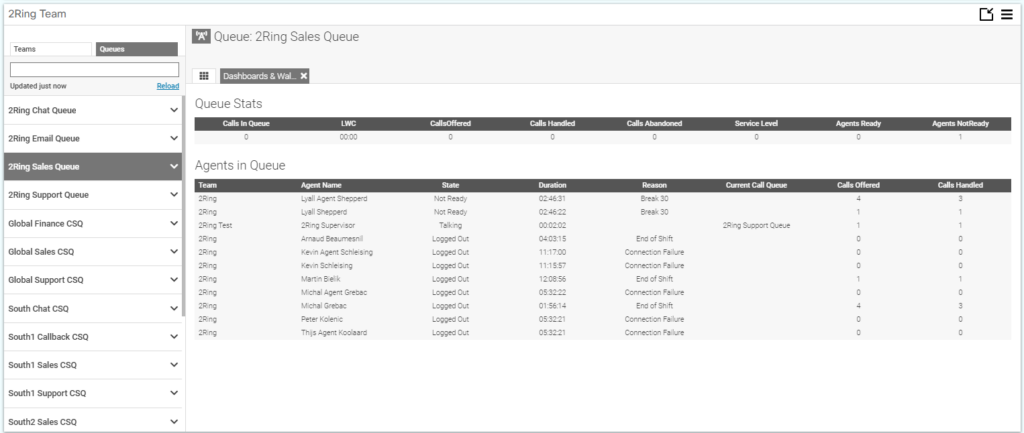 Current Dialogs App – the biggest addition of this release, brings an unified view about the agent's current conversations and dialogs over all channels together with a truly real time chat and email monitoring with live transcripts (UCCX Only – UCCE and Package UCCE customers will for now benefit from details about current calls – chat and email will come in one of the future releases). Supervisors can review details of each interaction in real-time:

Calls – more information about calls than before + if agent has more than 1 call at a time, see info about all calls (calls on hold etc.):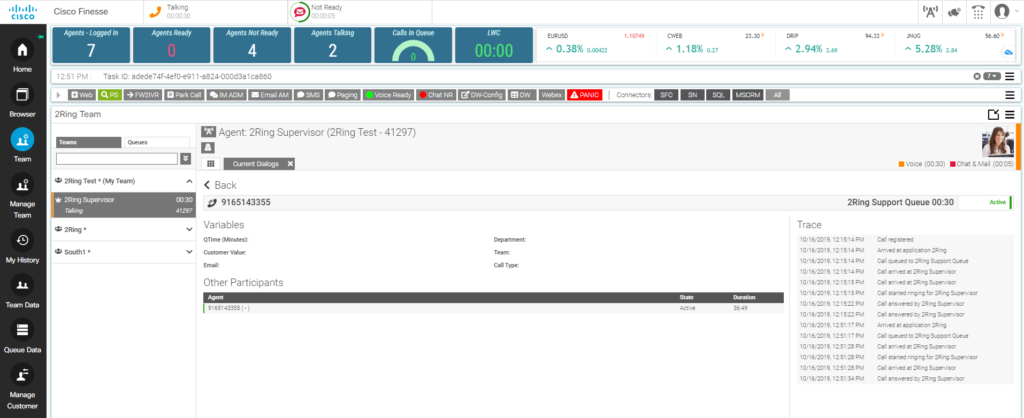 Review chat conversations in real-time (UCCX Only):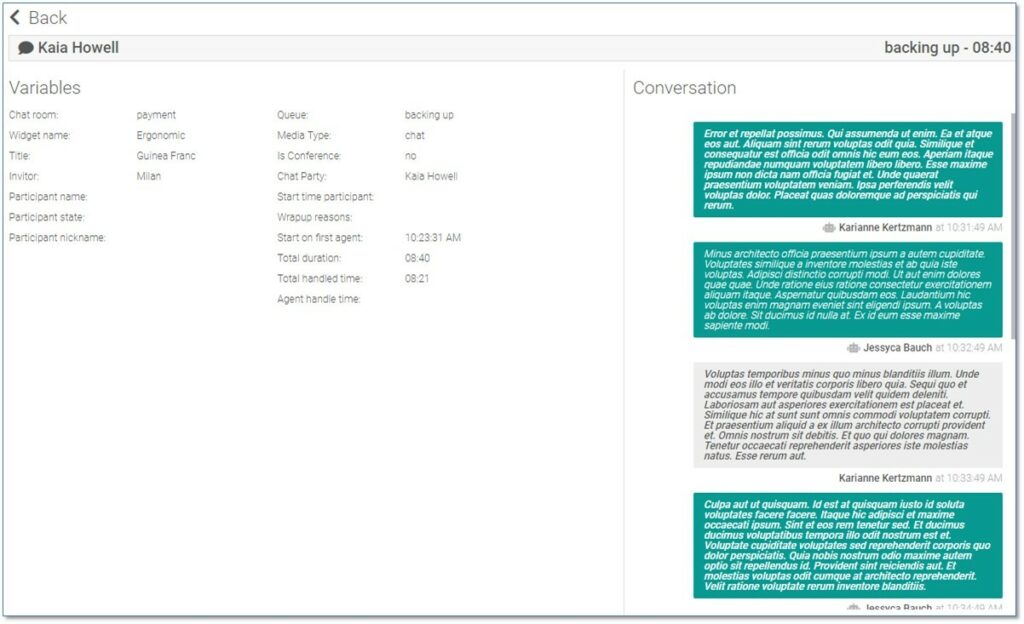 Review emails in real-time using small resolution/window (UCCX only):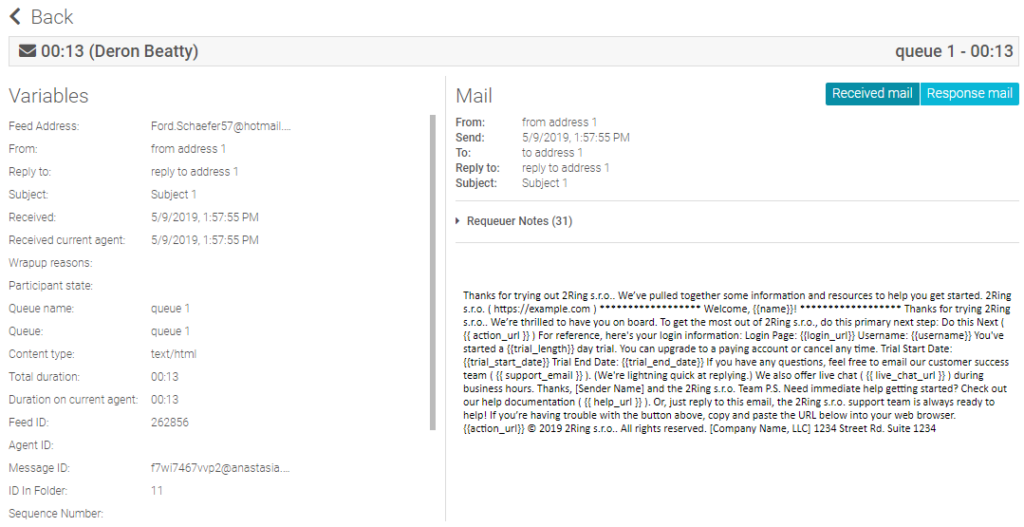 Review emails in real-time using a bigger resolution/window (UCCX only):

Administration / Config Page – profile apps and buttons used on agent profiles are now fully configured through the user friendly config page: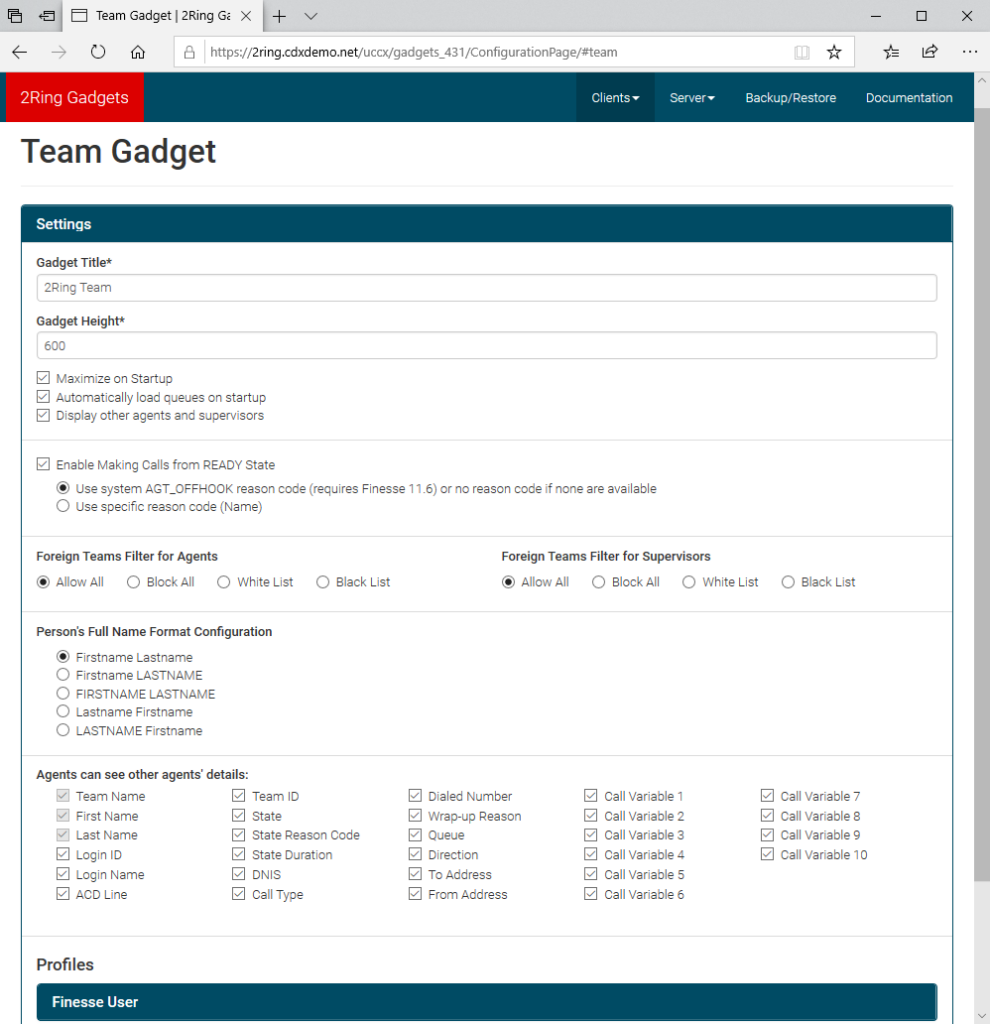 Documentation – product docs are no longer available in a form of PDF files and docs can only be access in a form of a wiki-page.
Upgrades
To request an upgrade of your system to the latest release, please contact us.
Licensing
Since there is a couple of new gadgets, here is an updated list of our three bundles: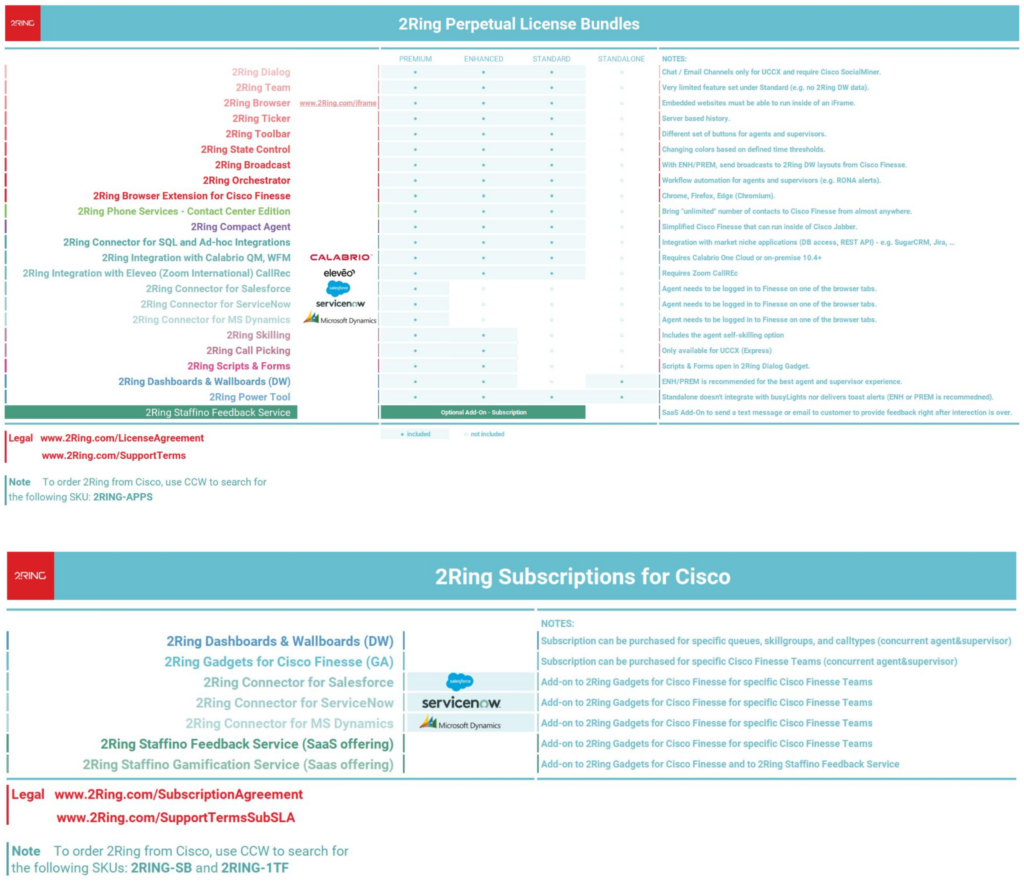 What's Next?
The next releases will bring customer journey.
Feature Requests
All of the features above were added based on feedback received from our customers and/or prospects, so please do not hesitate to reach out to us with any feature suggestions. To schedule a live demo of 2Ring Gadgets for Cisco Finesse, please visit www.2Ring.com/Demo.