Companies lose revenue because of customer churn – customers who either stop purchasing products and services from your company or switch to a competitor for various reasons. Detecting all customers that are about to churn, so your company can do its best to retain them, can be a tricky task. Moreover, once these customers are identified, being successful at retaining them requires a quick action.
Using the right feedback solution can help you overcome these challenges. Let's look at a case study with a telco company Orange that achieved high retention rate of 70% via Staffino and also recognized Staffino as an essential tool to detect customers about to churn.

Case Study
Orange's goal was to identify customers thinking about leaving and to retain them. To be able to do that they needed to perform a quality check on as many call center and retail interactions as possible.
Before Staffino they mostly used random recalling that obviously couldn't identify all unhappy customers. They also used other feedback solutions, which turned out to be low performing – not only with low conversion rates but they were also lacking the tools enabling effective and fast resolution of customers' complaints and customer retention.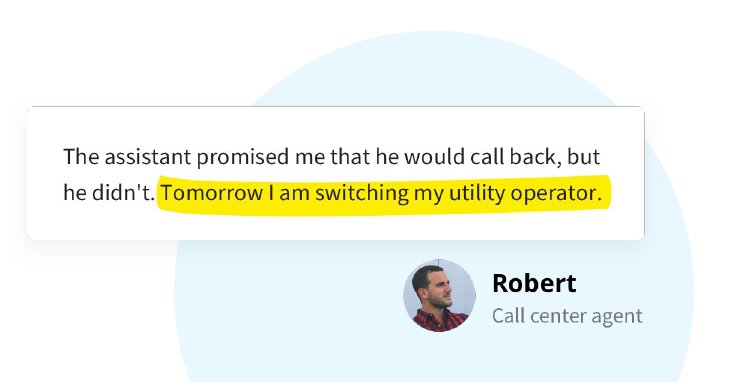 Customer about to churn detected – agent related cause.
You can identify churning customers by asking them about their recent experience with your agents and contact center. The agent may answer all customer's questions on the phone but that doesn't necessarily eliminate the issue of the customer thinking about going to your competitor. And without feedback you'd never know.
Customer churn may be linked to your agent's performance directly. But also, when given the chance, customers like to mention issues that are not related to the agents, further uncovering retention cases and causes, as in this example: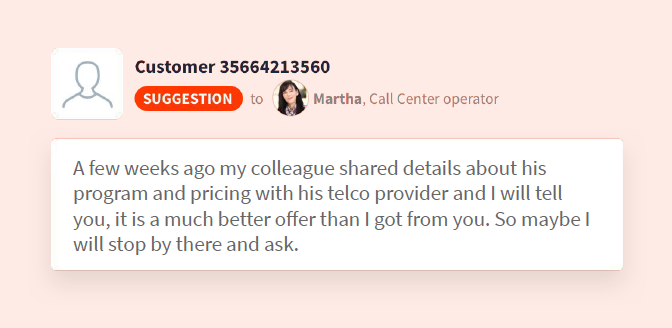 Customer about to churn detected – agent unrelated cause.
Orange requests feedback by email and text messages (SMS). Besides CSAT metrics, they provide customers with the option to give spontaneous insights. Customer feedback appears in Staffino as soon as customers submit it and retention cases can be therefore flagged instantly. Orange uses automated semantic analysis that identifies customers about to leave and these flagged customers are immediately contacted by a retention team. The early identification and quick action help Orange save most of the customers thinking about terminating the service.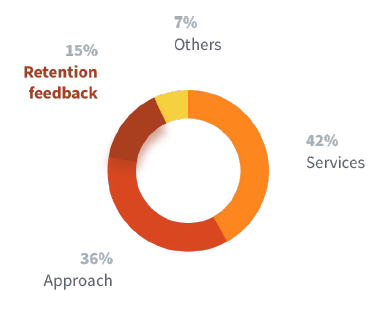 Out of all negative feedback that Orange received on their call center through Staffino, approximately 15% was retention feedback.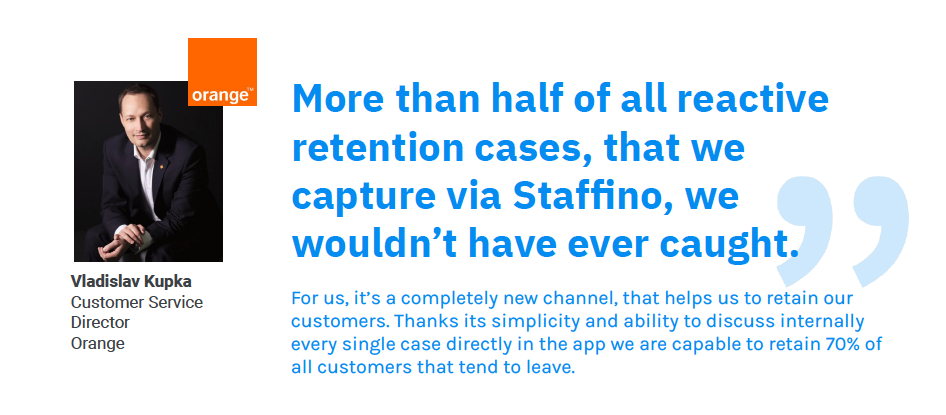 Orange reported that more than half of the retention cases they captured via Staffino, they wouldn't have been able to detect otherwise.
Customer feedback can be flagged either automatically by using Staffino's semantic engine or manually by supervisors as well. Supervisors are often the ones in charge of managing their own team's feedback. Staffino provides supervisors with different helpful features to handle negative or retention feedback like being able to flag feedback, discuss feedback internally with other supervisors/managers and even the agents, tag retention team, add notes, label feedback accordingly, and most importantly to see customer and interaction details right in the interface and the ability to respond to any customer right there and then via Staffino.

ROI Calculation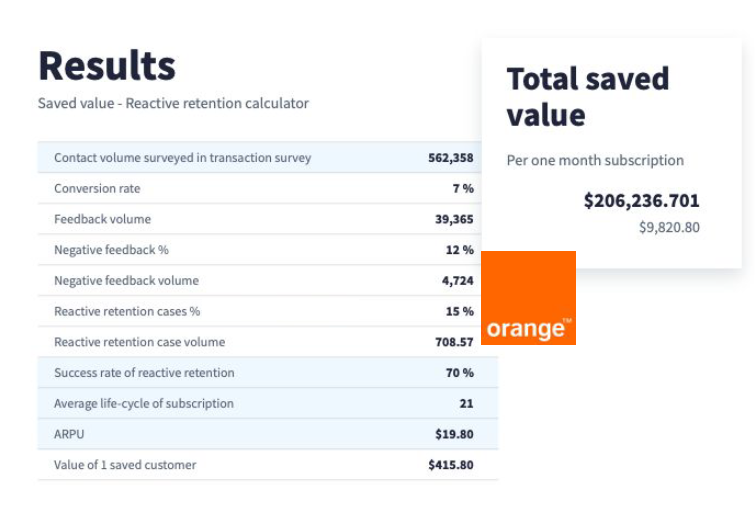 Orange was able to retain 70% of the customers thinking about leaving and based on their ARPU that saved them around $200,000.
We call customer retention a quick win as most of Staffino's clients see ROI from retention cases soon after launching Staffino. We can help you calculate a ROI estimate once you launch Staffino or even beforehand based on our benchmarks. To do so, we'll only need this information: Average number of customer interactions at your call center, average life cycle of subscription, ARPU and your current success rate of reactive retention.
Would you like to see a demo and learn how your call center can benefit from 2Ring's add-on Staffino?
Reach out to us by visiting the Contacts page or schedule a Webex demo here.