If you need to monitor your staff or if you need to provide a bit of desktop automation for them, but you are not yet ready to go with a Contact Center, take a look at adding 2Ring PHONE SERVICES v7 to your deployment of Cisco® Unified Communications Manager.
Some of the features that you will find there:
Silent monitoring that allows you to listen to the calls of your team;
Whisper coaching that you can use to guide your team without being heard by the customer / other party.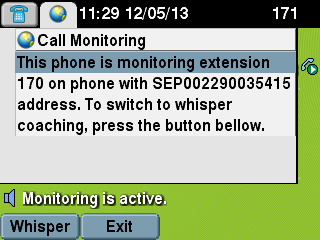 Directly on your Cisco IP Phone, you can see when a call is being made or is coming in so you can decide if you want to monitor the call or start whisper coaching, and then switch between these two options while listening to the call.
The list of ongoing calls in your team is also available in the web UI of 2Ring PHONE SERVICES, which is more comfortable for the supervisor, especially if there are many calls in progress.

On top of this, the supervisor may also send messages to team members (a text, image or even a page) and access basic call and message reports at any time (how many seconds do employees let the phone ring before they answer?). Of course, if you need more detailed call reporting, take a look at 2Ring CALL ACCOUNTING, which is a much more robust reporting package.
As mentioned in the opening paragraph, 2Ring PHONE SERVICES is also able to bring a bit of automation. This means that for an incoming call, 2Ring PHONE SERVICES can pop-up a small Windows Client application that will provide your team with detailed information about the caller, including a link to the contact card on your web-based LOB (Line of Business) system (such as MS CRM, Salesforce, and others).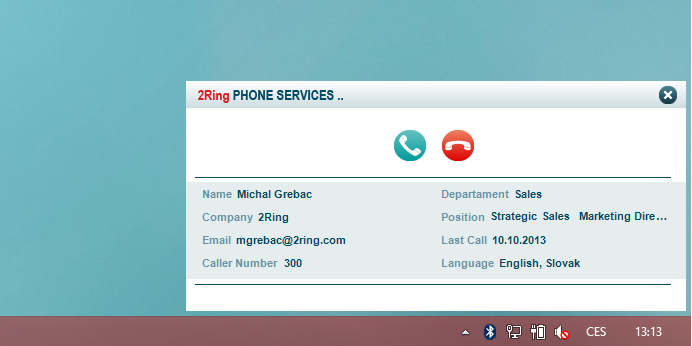 Last but not least, 2Ring PHONESERVICES also brings Black Listing functionality, so go ahead and build a list of customers who asked you not to call them or a list of those numbers from which you do not want any calls.
Is there any other contact center functionality that you would like us to bring to Cisco IP telephony? If so, let us know! If you would like to test the above, download a 60-day free trial of 2Ring PHONE SERVICES here.

2Ring Team