2Ring PHONE SERVICES (IPPS) v7.5.2 is available as of today. To learn more, schedule a live demo over Cisco Webex.
v7.5.2 (release date – April 28, 2016)

– – New Features

Phone IP address cache is implemented now. It can be used to avoid exceeding CUCM request limit.
SpeedDial page improvements.
E.164 format support.
New CLID option 'Hide when call is answered' for Desktop Client.
Exchange import wizard synchronize photos only when it is enabled by configuration.
2Ring Call Monitoring (v2.0) – rewritten to improve stability and to show errors in user friendly way.

Bug Fixes

Numbers under call softkeys on phones contact detail page are now translated by Numbering Plan rules.
-Change background alert saves files to correct folder now. It means the alert works now.
Users cannot access restricted address books by direct URL address without permissions.
Group of Numbers used by any temporary paging/messaging template can by deleted now. Also user can be deleted during synchronization when he/she have any such group associated.
Proxy symbol [CompanyName] works again in CLID.
Submit button does not miss on the Notification page, when no prayer is defined.
Next button works now. It means the directory pages behave as expected when Next is pressed during browsing.
Exchange 2010+ autodiscovery will work even for impersonation.
Occasionally, the monitoring info page was not shown on IP phone display. It is fixed now.
v7.5.1 (release date – February 18, 2016)

New Features

CUCM contact import uses paging when requesting end users.
Czech 'ch' character (and many other country specific characters) are now handled by IntelliSearch. The 'ch' character is now associated with button 4.
Speed Dial Category page for 2Ring Gadgets for Cisco Finesse. ATTENTION: ActionButtons are moved to a new location.
Team Call Notifications are handled by TAPIReporting service now. ATTENTION: Remove Team Call notification rule from TAPIObserver after an upgrade.
Jabber Team Call page can now activate monitoring on any other user devices when Jabber is not in softphone mode.

Bug Fixes

MoH does not fail when incompatible device is present in device pool.
Prerecorded paging works again on Messages page (menu Messaging -> Messages).
Update picture for prayer is now working.
Scheduler job is planned with concrete IP address instead of localhost for prayers.
Fixed 'PA sound with a bad ID is created when the Scheduler is unavailable' in Prayer form.
Team leaders can now see calls of the subordinates correctly when team members have more than one extension on their phones.
Fixed Options edit page for eRates.
Ajax error handling improved on Contact List page.
Cart button will not be displayed on the Order Tree list page.
Validate references to templates before deleting group of numbers.
Trouble with prayer version selection from an IP phone (assignment of the right lines to the appropriate group of numbers).
Edit page on IPPS for prayer version selections.
Missed call notifications are now send to all users who have DNIS in associated lines (through associated devices).
Fixed logging in using Windows Authentication for Desktop Client and MS Office Addins.
It is possible to edit/manage group of numbers assigned to a prayer without any problems.
When SD BLF contact name is longer than 30 characters, no error is emitted. The string is truncated.
New Features in 7.5.0
A New Icon Page (Service Shortcuts)

Create a fully customized icon page for your Cisco IP Phone with each icon providing a shortcut to a selected service of 2Ring PHONE SERVICES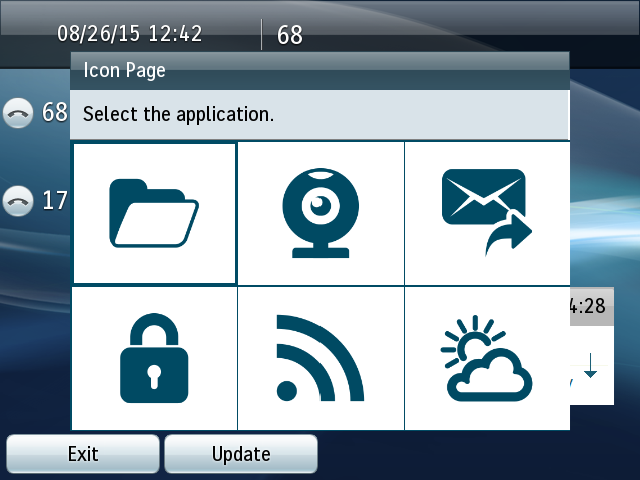 DESKTOP Client (Contact Center-Like Automation / Pop-Ups)

Review full contact details of callers before answering the phone
Enjoy contact center-like pop-ups thanks to a workflow action that can open a caller's contact card in your CRM system (any system that can be navigated via URL)
If you are not ready to invest in a contact center, add 2Ring PHONE SERVICES to your CUCM and enjoy contact center-like automation on user desktops without forcing users to act as contact center agents.

CLID for Cisco Jabber for Windows

Review full contact details of callers before answering the phone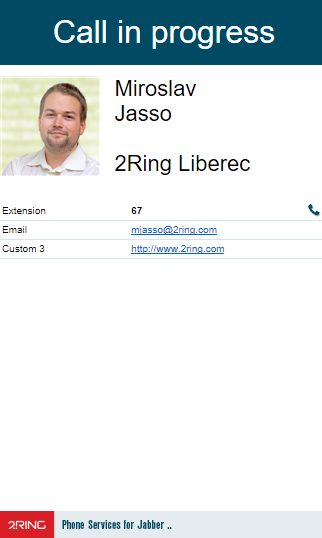 Contact Details Page for Cisco IP Phones

Access contact details from the contact search page by pressing a soft key button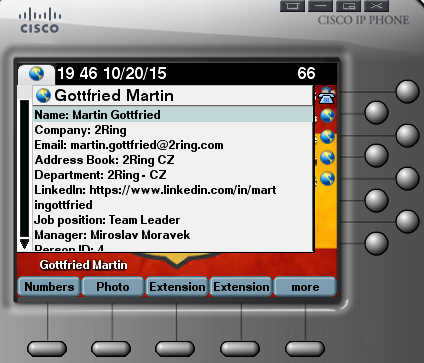 DB LookUp for CLID

CLID service is now able to use a third party database. If you already have a fully centralized contact data storage, there is no need to sync data to 2Ring PHONE SERVICES (IPPS)

Contact Synchronization

Users can receive email notifications every time their private contacts are automatically synchronized to 2Ring PHONE SERVICES (IPPS)
The existing contact synchronization with Gmail uses a new improved API from Google

Weather Services

World Weather Online API is supported now on top of Yahoo Weather API
Bug Fixes
ActionButtons CSS files are now part of the distribution package
PhoneFinder and Streaming server services can be installed on the same system
Directories and all pages with paging work with 69xx Cisco IP Phone series
It is possible to login to Import Wizards again
Impersonation works in private contact import
Calendar service works properly
Links in Jabber open in a new browser window
DESKTOP Client – links to IPPS Contact Card work now
Rendered CLID takes into account the 'Used by CLID' check-box on address book configuration page (not 'Display on web')
CUP Wizard shows total number of calls
HT Statistics page does not offer future dates in calendars
Historical Calls, HT Calls and Current Calls pages can be opened in different tabs now
Unified Installer checks if .NET 4.5 is installed (the supported IIS versions are 7.5 and above). This also means that support OS is  Windows 2008R2 and above.
To be the first to know about what's new, follow us on Twitter @2RingCX or sign up to our RSS channel.