2Ring PHONE SERVICES (IPPS): just one month after the release of version 7.3, we are happy to inform you that version 7.4 is already available – this time it also brings some additional integration with 2Ring COMPACT AGENT and 2Ring GADGETS for Cisco® Finesse. 
New Features
New MS Office Add-Ins – a couple of releases ago, the 2Ring IPPS for Outlook add-in brought one-click dialing via Cisco WebDialer, Skype, and other VoIP applications to MS Outlook. Now, the same one-click dialing is available in MS Excel and MS Word. To install these add-ins, users only need to click on links in the web user interface of 2Ring PHONE SERVICES – no admin rights are needed since Microsoft ClickOnce is used.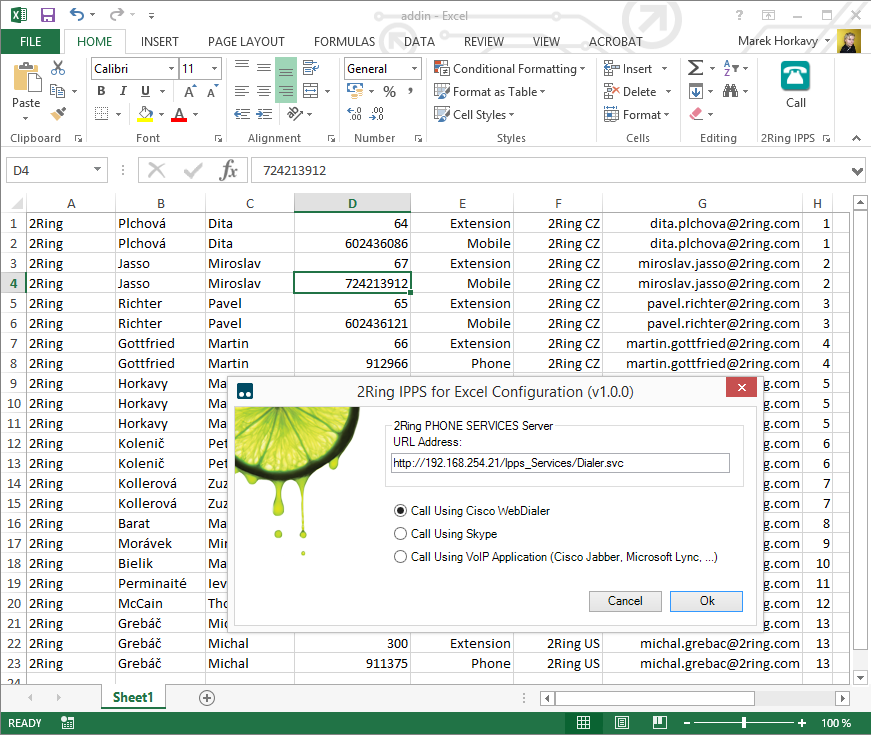 Usability Improvements

Contact cards of users that use Cisco Jabber also show users' presence status as known to Cisco Presence Server (CUP)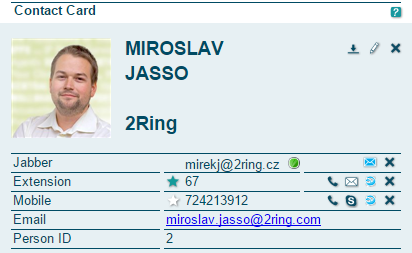 Call History and other reports in 2Ring IPPS support click2dial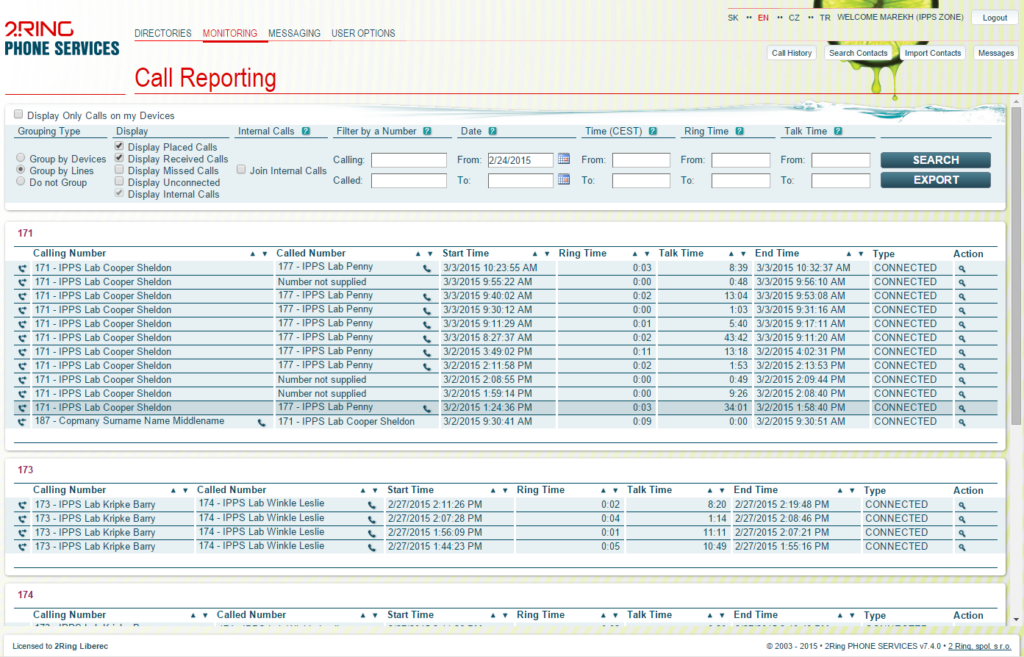 The IPPS administrator can decide if the main contact search field in 2Ring IPPS should be using the "contains" or "starts with" setting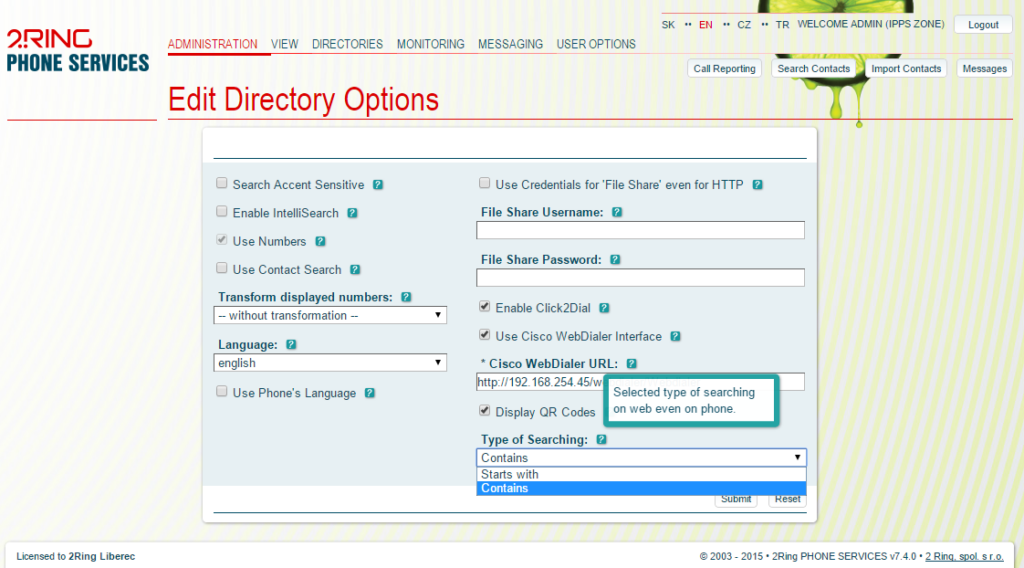 Contact Import Wizard Supports Cisco Jabber (CUP) – besides syncing contacts from Facebook, Exchange/Outlook, or Gmail, or importing data from csv files, users can now also import custom contacts from Cisco Jabber. All these contacts are then available in the address books of 2Ring IPPS, and thus available to the caller identification service of 2Ring IPPS.

Public RSS Resource – in the previous releases of 2Ring IPPS, an RSS resource had to be created manually by users. Now IPPS administrators can create public RSS resources and assign those to any subgroup of users.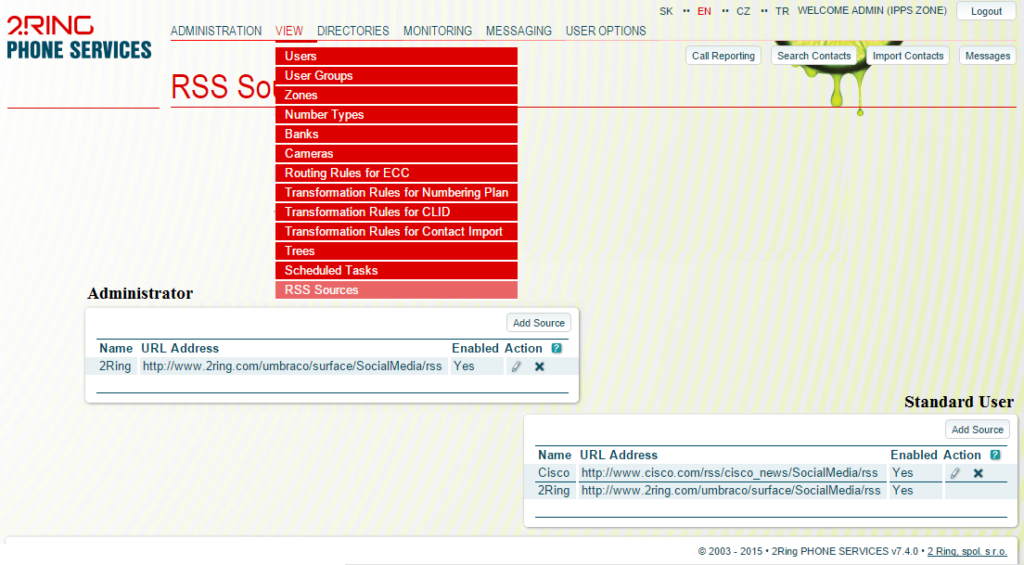 New & Improved Integration with Cisco Jabber for Windows – users could already search IPPS contacts in Cisco Jabber for Windows. Version 7.4 is bringing the following set of improvements:
the contact search page has an improved design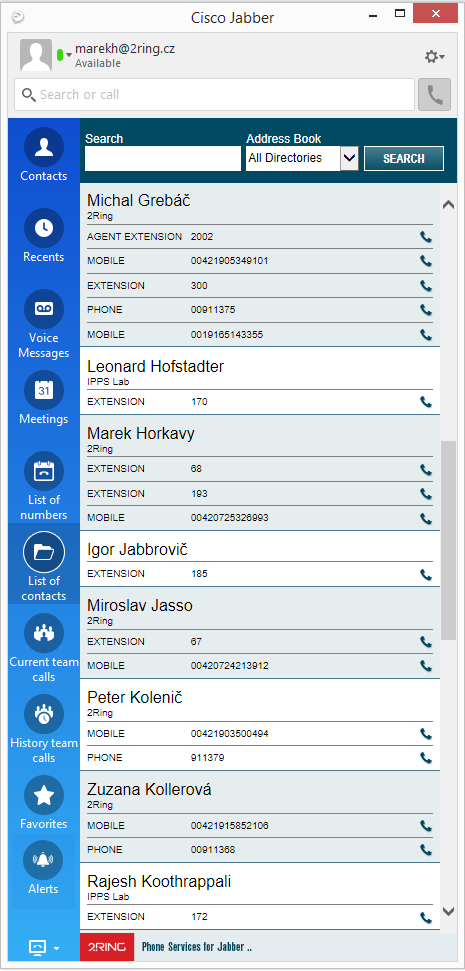 favorite contacts can also be available in Cisco Jabber for Windows
team leads have access to a list of current calls – this is a super easy way to start call monitoring and/or whisper coaching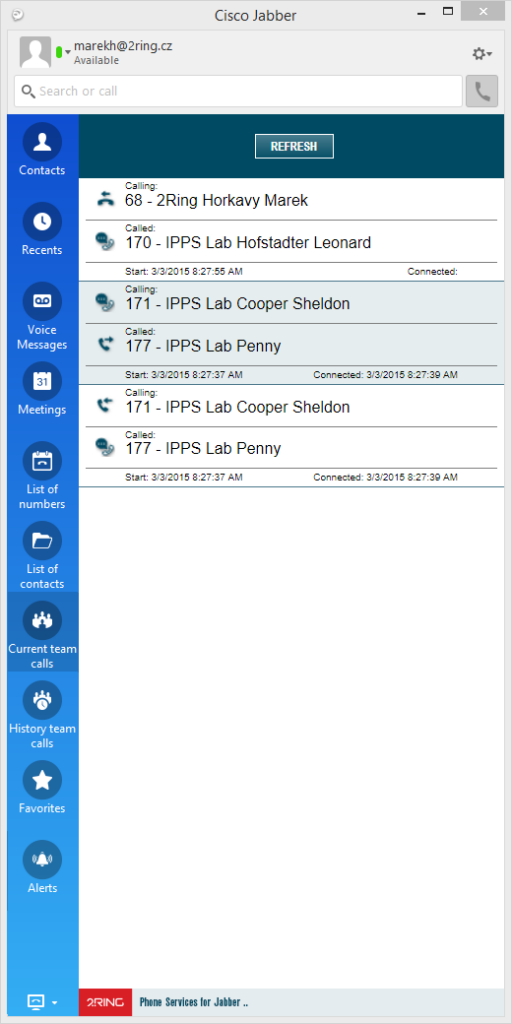 team leads have access to the call history of all team members and users can review their own call history. The list also displays caller identification information for every (internal or external) call.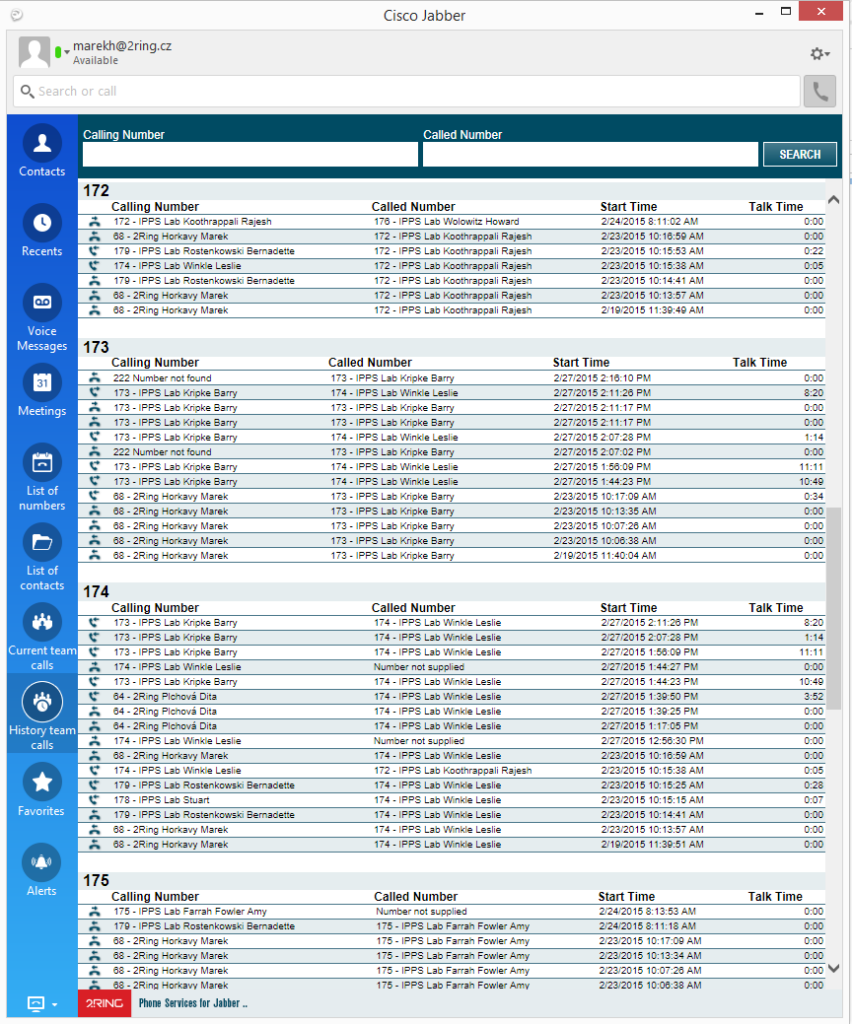 alerts – administrators can assign IPPS alerts to users who can then launch these alerts (e.g., emergency broadcast/messaging) from Cisco Jabber for Windows.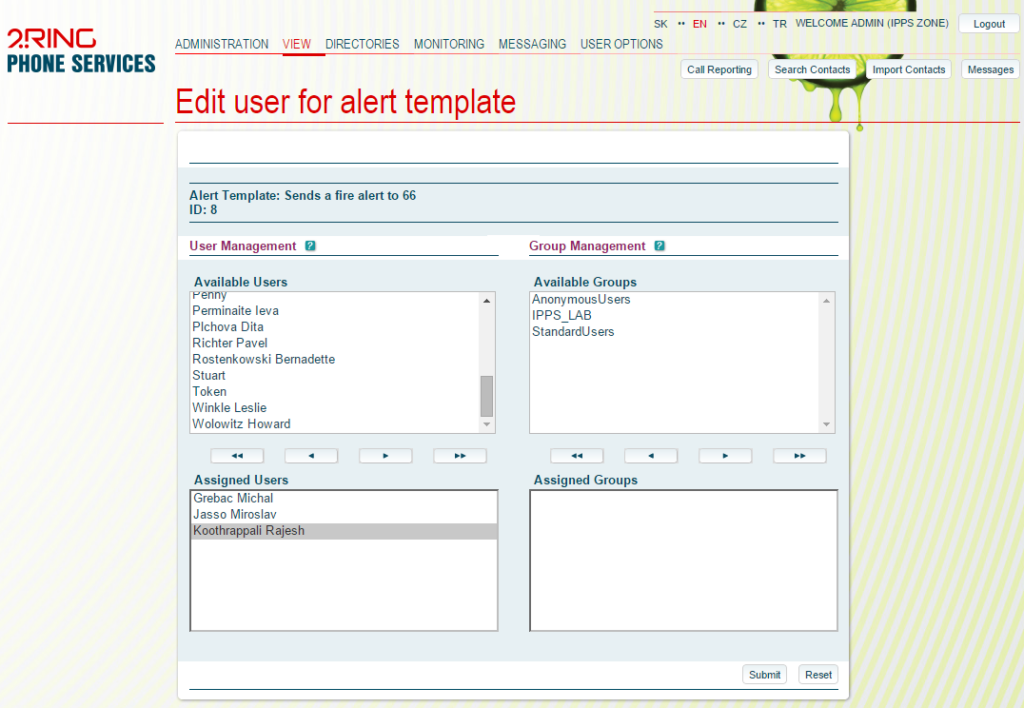 Contact Center Edition – to make the use of 2Ring IPPS and the purchasing process easier for organizations using contact centers, we are creating a new edition which will be available within some of the 2Ring GADGETS for Cisco Finesse bundles – more details coming soon. In the meantime, here is a sneak peak of the features that will be available in this edition:

Corporate Address Books – one place for all of your business and corporate contacts. Synchronize contacts from multiple information systems (MS Active Directory, OpenLDAP, DC directories on CUCM, MS Exchange, IBM Domino, ..) to IPPS and then search those contacts with ease (extensions, cell phones, partners, customers, etc.). The contact search can be conducted in 2Ring TEAM Gadget (click2dial, consult call, blind/single step transfers) or in the web UI of 2Ring IPPS (which can be available in a tab of 2Ring BROWSER Gadget).
Personal Address Books – create an unlimited number of personal directories (optionally protected by a PIN code). Contacts can be imported from MS Outlook (MS Exchange, Office365), Gmail, Outlook.com, Cisco Presence, or an MS Excel file. Photos can be taken from MS Exchange and/or from Facebook. If needed, personal address books can be shared with other agents / users.
Action Button Pages – if agents need to transfer calls to certain numbers quickly, place all these contacts into an address book and have IPPS create a list of buttons that can be easily integrated into 2Ring BROWSER Gadget in Cisco Finesse or that can be part of 2Ring COMPACT AGENT.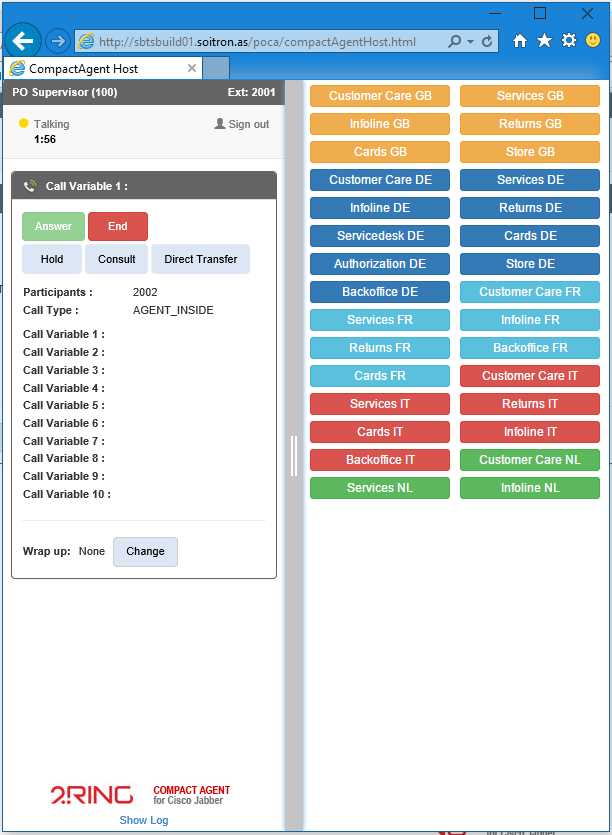 Bugs Fixed
ECC rule add page shows alert templates now
TAPI Reporting Cache is cleared when server configuration changes (CLID info is updated in new reporting data)