2Ring PHONE SERVICES (IPPS) is a popular package for enhancing the feature set offered by Cisco® Unified Communications Manager (CUCM). So, what's new in version 7.3?
New Features
Hunt Group Reporting – the entire reporting UI was optimized. Data can be exported to MS Excel for further processing, and 3 brand new hunt group reports were added:

List of Calls to Hunt Groups – list of calls to a hunt group pilot number over a selected time period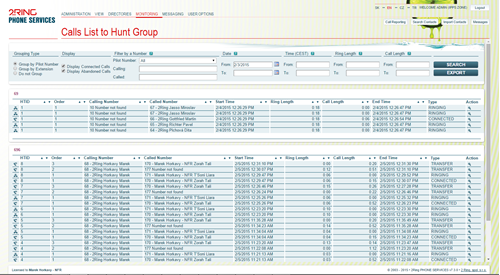 Statistics per Extensions – use this report to fund out which extension answers HT calls: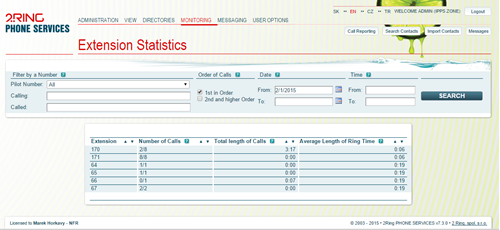 Statistics per Pilot Number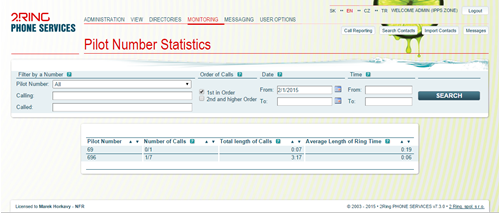 Sidecar Management – Cisco IP Phone Expansion Modules, or sidecars as these modules are called by many, can now be managed by regular users (a role given by IPPS Admin). Instead of waiting for the internal IT department / service desk to process your change request via CUCM Phone Configuration Pages (CUCM Admin only), use the user-friendly web UI of 2Ring IPPS to add a line or change any of the existing BLF – Busy Lamp Fields on modules that are part of devices associated with your user profile on CUCM. Here is what the UI looks like: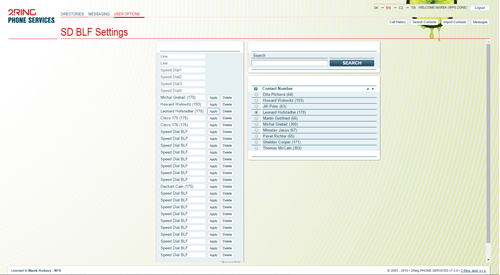 Music on Hold (MoH) Management – do you need to flip back and forth among multiple MoH (Music on Hold) files? Use the user-friendly web UI of 2Ring IPPS to add change MoH for a specific device pool. Note: To assign a brand new MoH file to a device pool, the file needs to be uploaded via CUCM Admin (MoH Audio File Management) first.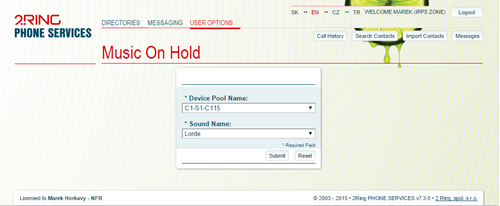 Missed Call Alert includes Caller ID Info – missed-call emails can now also include caller ID info – such as the caller's number, his first & last name, and the company name (CLID settings are used). See an example email alert below: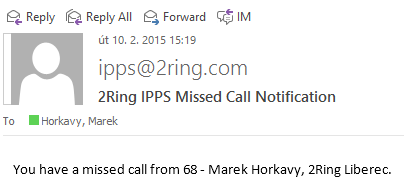 Alerts about Calls from Blacklisted Numbers – IPPS administrators can also set an email alert for calls from blacklisted numbers. Here is what the rule looks like: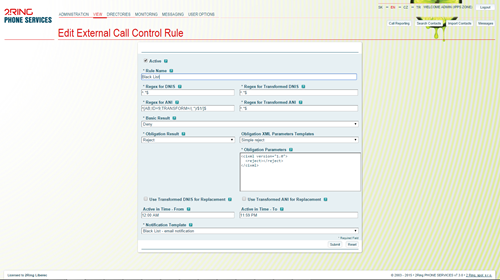 Preserving address book contacts after a user is deleted/disabled – contacts in address books created by IPPS Admin can be preserved even after an IPPS user is deleted / disabled.
New Version of Outlook Add-in – the new version of 2Ring Outlook Add-in allows users to set sources of contact data and the order in which these should be searched.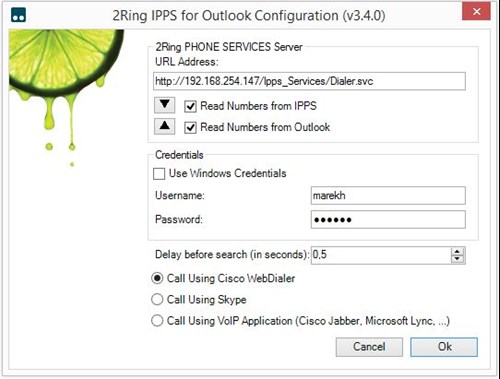 Bugs Fixed
Action icons in the IPPS contact list wrap correctly even if IPPS is hosted in an iFrame
RSS Source can be edited by its owner only
Optimization of user synchronization from CUCM
Phonelock support for Extension Mobility (EM) has been improved
What's Next?
Call Monitoring & Whisper Coaching on calls conducted on Cisco Jabber for Windows
New address book design for Cisco Jabber for Windows
Showing the presence status of contacts in the contact list (web UI of IPPS)
Adding a wizard for importing contacts from CUCM IM&Presence Server to IPPS. This can be used for syncing non-jabber contacts to IPPS