What's new in 2Ring GADGETS for Cisco Finesse v1.8?
New Features
Russian and German Localization – the UI of 2Ring GADGETS has been localized to Russian and German. The product guides are available in English only.
Force Agent to NotReady State – a new NotReady button has been added to 2Ring TEAM Gadget, so supervisors can now remotely change agents' status to Ready or NotReady, and Log them out.
Hide Buttons – all buttons that are part of agent and contact profiles in 2Ring TEAM Gadget can now be hidden.
Multiple Rows of Buttons – 2Ring infoPANEL Gadget now allows for the creation of multiple rows of buttons and it also supports dynamic resizing. These buttons can serve as bookmarks, opening systems in the 2Ring BROWSER Gadget tab or in a new tab of the browser hosting GADGETS. They can also open thick/external applications (IE only), change agent state with one click, deliver blind transfer to a pre-defined number (customer satisfaction surveys), and much much more.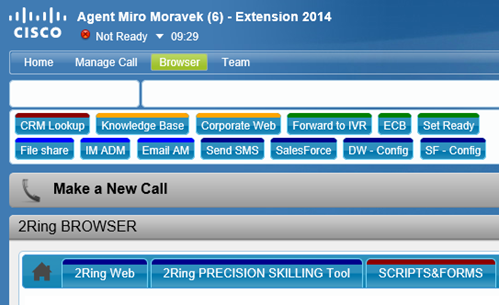 Message Delivered Event – the number of supported events in 2Ring ORCHESTRATOR (workflow) has been extended, and now it is also able to fire an action based on the event of agent/supervisor receiving a message to the message ticker (2Ring infoPANEL Gadget) or a chat message (2Ring TEAM Gadget). Possible usage scenarios include making the browser with Finesse blink when an agent receives a new message.
Switch Finesse Tabs Action – this new action in 2Ring ORCHESTRATOR (workflow) allows you to automatically switch agents to a selected tab of Cisco Finesse upon a certain event. For example, on an incoming call, you can take agents to the Finesse tab with 2Ring BROWSER Gadget, navigate the Salesforce tab in 2Ring BROWSER Gadget to the caller's account detials,and bring the Salesforce tab to the front if the agent left 2Ring BROWSER on some other tab.
Reason Codes – for those with Finesse 10.5 and above, the reason codes displayed in a list of agents and on agent profiles in 2Ring TEAM Gadget will be shown immediately and not with a 5- to 10-second delay.
Single Step Transfer / Blind Transfer Support for UCCX – despite the fact that Finesse API for UCC Express doesn't support single step transfer, 2Ring infoPANEL comes with an option to add blind transfer buttons.
Disable 2Ring Chat – agent to agent and supervisor to agent chat can now be disabled in 2Ring TEAM Gadget while it will be still possible for the supervisors to send messages to the message ticker in 2Ring infoPANEL.
Agent Profile Width – it is possible to set a different width for agent profiles displayed within 2Ring TEAM Gadget.
Agent Profile URL – the profile photo URL used in 2Ring TEAM Gadget can now be created using any profile variable.
Dialog Actions – 2Ring ORCHESTRATOR (workflow) now also supports dialog actions, such as makeCall, Answer, Hold, Retrieve, Consult, Transfer, Direct Transfer, and Drop.
Bugs Fixed
2Ring COMPACT AGENT: Multiple login triggering and X-UA-Compatible has been set to IE=edge
Licensing
2Ring GADGETS are offered in two bundles. STANDARD Bundle includes the following gadgets: 2Ring infoPANEL, 2Ring ORCHESTRATOR (workflow), 2Ring TEAM, and 2Ring COMPACT AGENT that can be embedded into Cisco Jabber for Windows, or that can run on its own in all major browsers and be used to bring contact center agent state and call control to other web-based applications. ENHANCED Bundle adds 2Ring SCRIPTS&FORMS (advanced wrap-up forms), 2Ring DASHBOARDS&WALLBOARDS, and 2Ring PRECISION SKILLING Tool (this tool is only available for customers using UCCE or Packaged UCCE). Request a live demo at www.2Ring.com/Demo.