2Ring Dashboards & Wallboards v7.3 is available as of today. This is a smaller release mostly focused on Azure AD authentication capability.
You can request access to our public demo environment here.
Most of 2Ring customers can get their wallboards upgraded under their existing support coverage without any additional charges. All existing customers can request their wallboards to get upgraded by opening a ticket requesting upgrade here.
What's New in 7.3?
Azure AD Authentication Support – adding the option to authenticate into the app using Azure AD (cloud) credentials. Note: Integration with on premise AD is not supported in this release.
Multiline Banners – adding the option to use banners that have more than one line: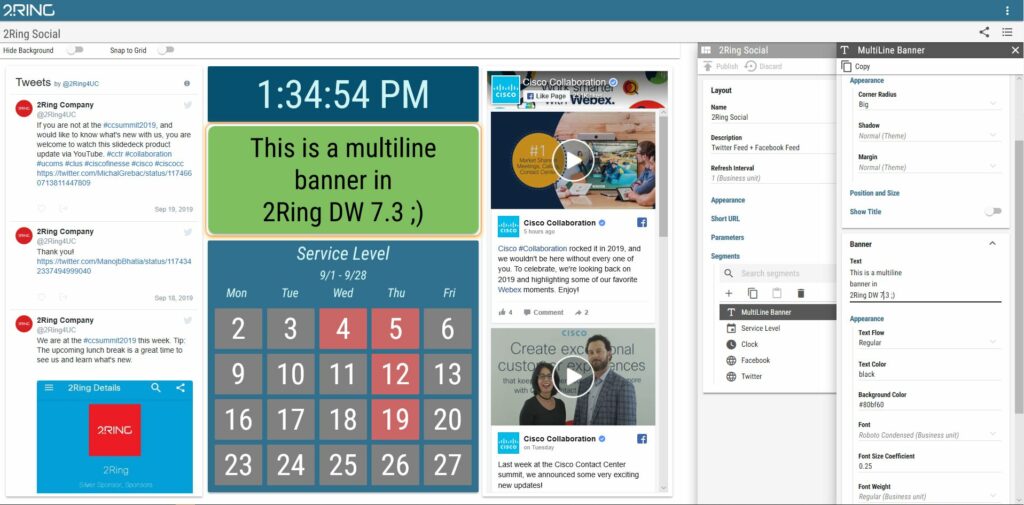 Some other minor yet useful enhancements:

OAuth Based Login Mechanism
A few Accessibility Enhancements
Grid Value Caching – optimizing serving of data and thus making grids faster
Logging – no more log hunting, all server logs are in one place
Centralized Settings – eliminated duplicities, and minimized the number of files with settings, so e.g. you don't have to change DB connection in multiple locations
Server Settings Validation – the server setting files are now validated against a schema
What's New with Connectors in 7.3?
UCCX Connector

Added new Grids

Current Outbound Calls
Team Statistics

Added new KPIs

Agents – Reserved Time
Calls – Average Handle Time
Calls – Average Wait Time Monthly

Added new Grid Columns to Agent State Grid

ACD Sum Reserved Time
Non-ACD Calls
Non-ACD Talk Time

Starting from Uccx 11.6, the Uccx ReasonCodeLabelMap table will be used to provide voice reason code labels should they not be found in our ReasonCode table
The CSQsCurrentCalls Grid now displays all CSQs the call is queued to as additional rows.
Bugs Fixed
Interval Values are not cleaned up correctly
Grid does not show values after time zone change
PDF do not finish loading
Public ID of a source copy does not change
Edit mode cannot be opened if a specific URL filter is used
A layout cannot be deleted in some situations
A layout with a theme cannot be copied to another BU
Need More Info? Would you like to Upgrade?
A sample layout of 2Ring Dashboards & Wallboards is accessible at www.2Ring.com/TryIt (no credentials needed), and full access to our public demo environment can be requested here. To receive a list with all the available KPIs/metrics for all of our connectors (UCCX, UCCE, CUCM, Unity, Staffino, Salesforce, and ServiceNow), or to request an upgrade of your system to the latest release, please contact us.
What's Next?
The team is currently working on removing the last pieces of the solution's dependency on Microsoft Silverlight. If you would like us to add new features, KPIs, or connectors, please contact us with details.
Feature Requests
All of the features above were added based on feedback received from our customers and/or prospects, so please do not hesitate to reach out to us with any feature suggestions (https://www.2ring.com/Contact). Also, please note that 2Ring Dashboards & Wallboards (DW) is available in two of the bundles of 2Ring Gadgets for Cisco Finesse (Enhanced and Premium) – remember the best user experience is achieved when 2Ring DW is used in conjunction with 2Ring Gadgets for Cisco Finesse. To schedule a live demo, please visit www.2Ring.com/Demo.