After 14 months of development, 2Ring Dashboards & Wallboards v7.0 is here!
This is the biggest release of 2Ring Dashboards & Wallboards in 2Ring's history and the first release that enables end-users to manage layouts directly in the web client. Users do not need to go to a separate configuration tool anymore!
What's New in 7.0?
Built-in layout editor – create & edit layouts in your favorite browser (Chrome, Firefox, Safari, Edge, IE11):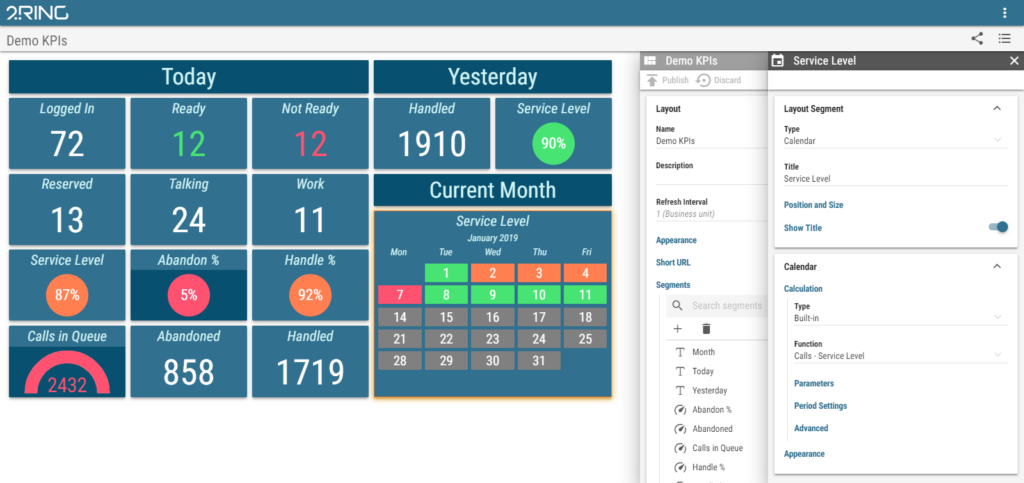 Layout segments can now overlap and can include titles. This is how you add a title to a picture frame: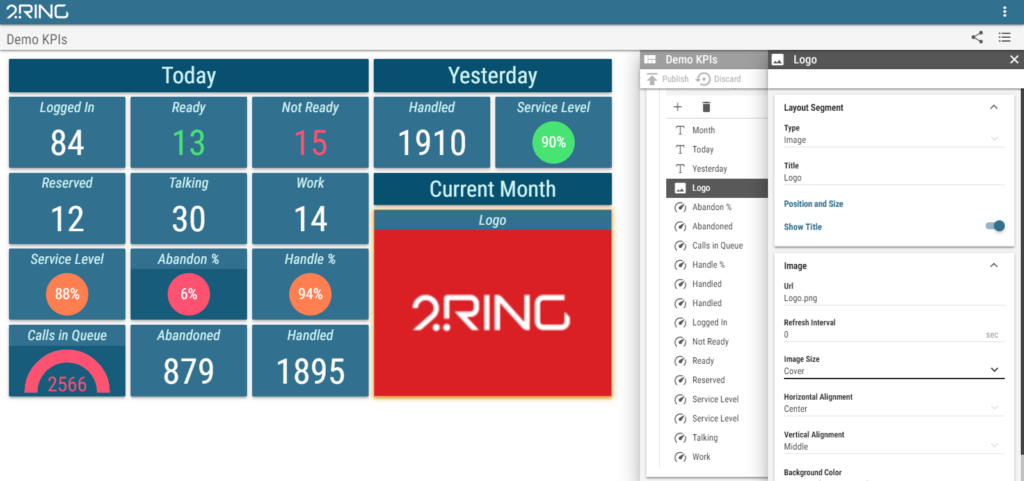 Share your layouts with ease: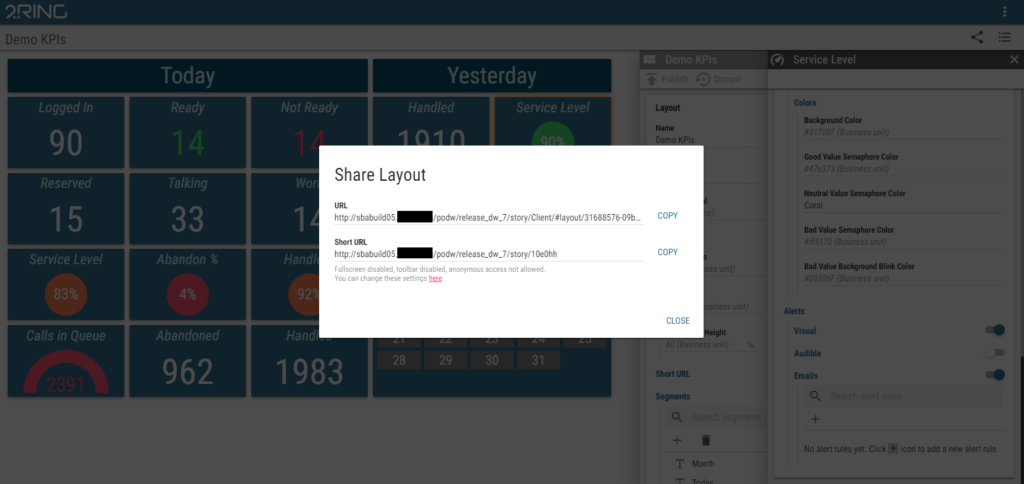 Integrated notification settings – right there on the KPI you turn on/off any alert types: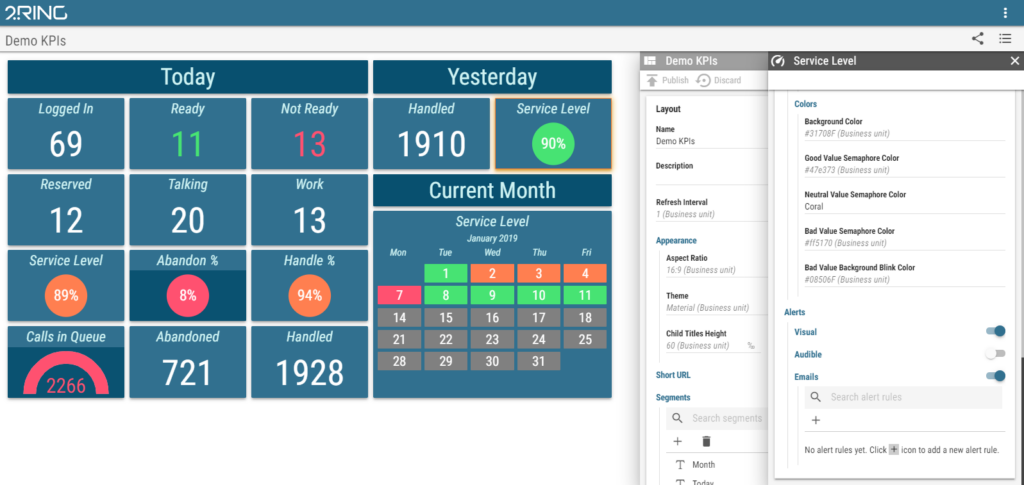 Email Alerts are more flexible – email subject and body can be edited: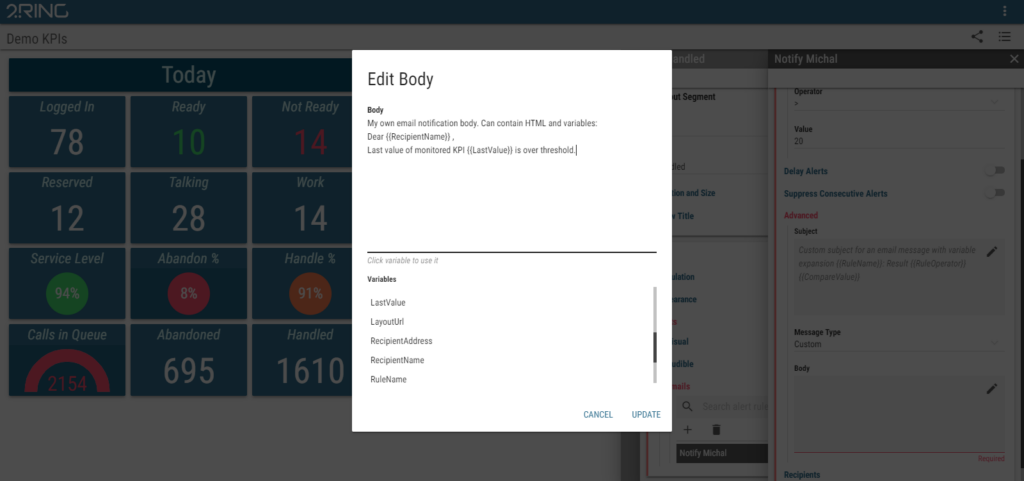 Create a copy of any of the existing layouts directly in the web client
KPI and KPI interval sources are now merged
Grid paging has been reworked (e.g. you can set max. page count)
Grid headers can now be hidden
Simplified stacking for series on timeline chart
Client performance improvements
Upgrades
Please note that this release of 2Ring Dashboards & Wallboards does not support upgrades from previous releases. Full upgrade mechanism from 6.x and from 7.0 will be available in next release. Note for admins: The administration of connectors and the management of business units still requires the use of the Configuration Tool and thus requires the use of a browser that supports Microsoft Silverlight.
Need More Info?
A sample layout of 2Ring Dashboards & Wallboards is accessible at www.2Ring.com/TryIt (no credentials needed), and full access to our public demo environment can be requested here. To receive a list with all the available KPIs/metrics for all of our connectors (UCCX, UCCE, CUCM, Unity, Staffino, Salesforce, and ServiceNow), or to request an upgrade of your system to the latest release, please contact us.
What's Next?
The next release will introduce a full upgrade mechanism, searchable pull downs, and drag&drop layout management.
Feature Requests
All of the features above were added based on feedback received from our customers and/or prospects, so please do not hesitate to reach out to us with any feature suggestions (https://www.2ring.com/Contact). Also, please note that 2Ring Dashboards & Wallboards (DW) is available in two of the bundles of 2Ring Gadgets for Cisco Finesse (Enhanced and Premium) – remember the best user experience is achieved when 2Ring DW is used in conjunction with 2Ring Gadgets for Cisco Finesse. To schedule a live demo, please visit www.2Ring.com/Demo.