2Ring PHONE SERVICES is currently running in version 6.3.1. Most of our customers are primarily interested in the core features of our latest update, which are – Caller Identification, Voice and Text Paging & Directories. However, I am not going to discuss these features here.
Let's step aside and look at the 2Ring SERVICES from different angle (yes, I have omitted the word "PHONE" deliberately).
First, I would like to reveal our concept of Monitoring. It all started with the new CLID feature. While discussing how to make CLID even "cooler," we have realized that if we save the calls monitored by CLID, it could bring us a new exciting feature. After thinking it through, we came up with our first ideas how to help companies which are using Cisco or Avaya IP Telephony in a completely different way than we have originally intended, via basic Call Reports and Notifications.
The next step was a "proof of the concept" that involved creating a call history for users. This filled several niches like creating contacts directly from the phone, supplying a lasting call history (missed, placed, received calls) for Cisco Extension Mobility, and the main purpose of this PoC is adding a call history to the web portion of 2Ring PHONE SERVICES.
Based on the web call history, we have created a basic log report with quite robust filtering options. This makes it easier for our clients to find out what has happened in their VoIP environment. In case you need more sophisticated reporting system with information like ports/gateways or calculating price per call, then you should check out 2Ring CALL ACCOUNTING (link). Nevertheless, if you are only looking for basic features, then 2Ring PHONE SERVICES is suitable for you. It is easy to set up and ready to go. Most of basic requests can be easily fulfilled – e.g. to list after working hours calls, just specify Time Interval (e.g. from 17:00 to 7:00) in the filter.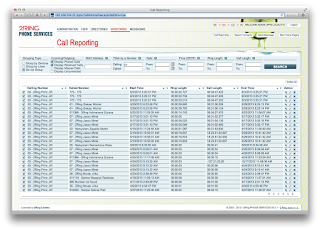 We are very content about the result and truly proud of it. But, that isn't all. We have pushed ourselves even further and created something that even CUCM, IPO or our CALL ACCOUNTING does not provide. We filled another niche in the reporting area with a special report for active,ongoing calls. For example, at one of our 2Ring offices, we are using one of our production instances of CUCM for lab purposes as well (do not ask why :)). In other words, we enjoy playing with it a lot. In case we need to restart the system, just to make sure that no important calls are lost, we use our real-time report to check it out.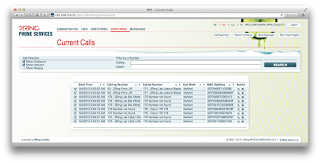 Now, thanks to 2Ring PHONE SERVICES 6.3, administrators have a full overview of past and current calls. Maybe our next challenge should be predicting future traffic, and thus prepare a future calls report 😉
Simply said, we keep tweaking, exploring and developing. Stay tuned for further updates!
PS: Follow and talk to us on Twitter @2RingCX. @princatko We only tweet good stuff. You won't be disappointed!