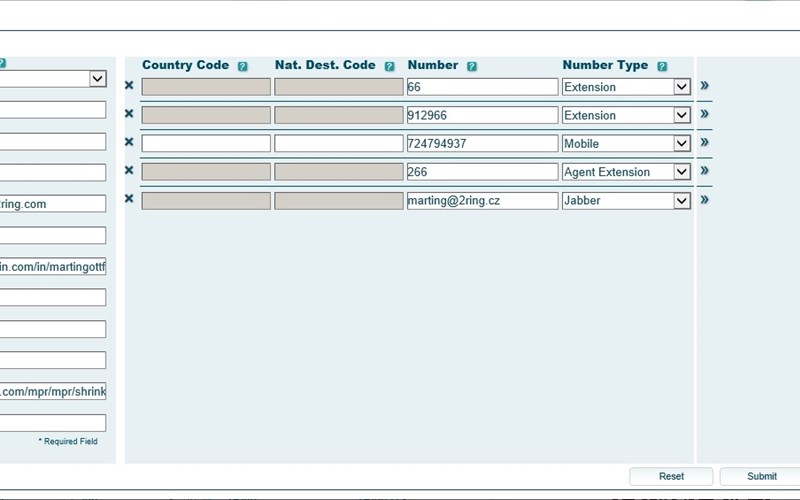 Corporate Address Book
Do not limit the 'Directories' button to a list of local extensions and the usual lists of missed/placed/received calls. Instead, collect contacts from multiple information systems and then search with ease within a directory structure (extensions, cell phones, partners, customers, etc.) on corporate IP phones, in Cisco Jabber, on IPPS Web Portal, or through the IPPS Android App.
Corporate Synchronization
with its robust support for transformation rules, IPPS can be synchronized with almost any source of contact data: LDAP (MS Active Directory, OpenLDAP), DC directories on CUCM, MS Exchange, IBM Domino, and more.
Personal Address Book
Create an unlimited number of personal directories (optionally protected by a PIN code). Personal directories are only available to their creator (on his/her Cisco IP Phone or in the IPPS Web Portal). The personal contacts are then also used for caller identification on calls coming to the creator's extensions.
Personal Synchronization
Import your personal contacts from MS Outlook (MS Exchange, Office365), Gmail, www.outlook.com, or an MS Excel file. Photos can be taken from MS Exchange.
Sharing Address Books
Share your private contacts easily with coworkers. The contacts stored in shared address books are then used within caller identification as well.
IntelliSearch
Speed up contact searches on Cisco IP phones. Just hitting a phone key once immediately associates the directory search with all the letters under the key. All that is left is to pick up the receiver and the number will be dialed.
Favorites
Add numbers called most to your personal Favorites address book, order them as desired, and access the list on your Cisco phone without conducting any search.
Structured Address Book
When you need to provide contacts in a structured way, e.g. by departments, so your clients and/or employees can call somebody from a certain department, it is very easy to set up a structured address book. These address books are automatically created from the information stored with the contacts (company -> site -> department -> office …).
Team/Group Address Books
Special address book which is only available to a selected group of users.
Hiding Address Books
Hide contacts that you don't want to be available to users at all, or not available only on Cisco IP phones, or only on IPPS Web Portal, or if you don't want these contacts to be used for CLID. IPPS has very easy but robust address book settings to meet your requirements.
Advanced Number Presentation
Show numbers to users in expected formats which can differ from the technical format required to call such numbers (the way the numbers are displayed can be specific to location or branch).
Change User Location from Cisco IP Phone
When you travel from one site to another, you can switch your location and view numbers in the correct format wherever you go.
QR Codes
To place a call from your cell, do not write down the phone number from the IPPS Web Portal; instead, use your cell-phone to scan a QR code that's automatically part of the contact's detail information in the IPPS Web Portal and dial the number.
vCard
Each contact stored in 2Ring PHONE SERVICES can be downloaded as a vCard and thus added to any other address book system.
Fax Numbers
2Ring PHONE SERVICES makes your contacts' fax numbers available to fax systems
Click2Dial for IPPS web
Dial your numbers directly from the IPPS Web Portal via your Cisco IP Phone. Simply click the Click2dial icon next to the number in the IPPS Web Portal.
Click2Dial for Skype/Jabber
Dial your numbers directly from the IPPS Web Portal via Skype or Jabber.
Call Management & Call Routing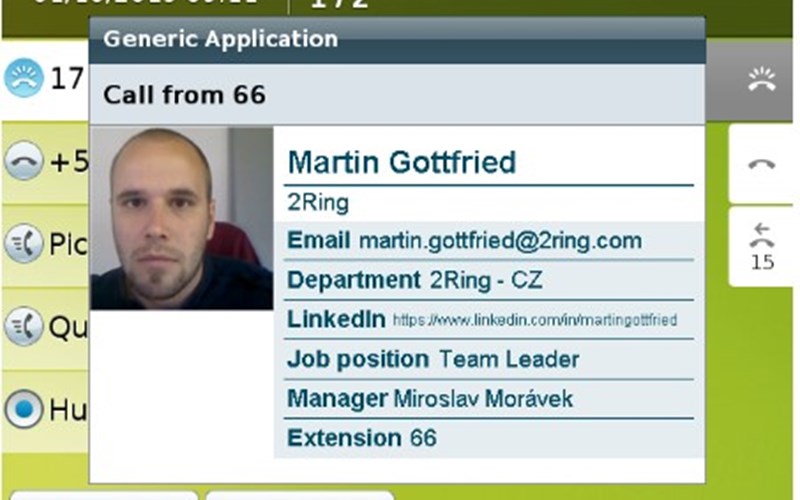 Caller Identification (CLIP/CLID)
benefit from immediate caller identification for calls from your partners, customers, co-workers' cell phones, and even family members. The more contacts stored in 2Ring PHONE SERVICES, the more calls are identified. 2Ring IPPS manages the standard Cisco's caller identification dialog, and/or it displays its own dialog that can also come with a lot of additional information about the caller (incl. a photo).
External Call Control (Cisco UCM Only)
call routing can be managed by IPPS – calls can be rejected, diverted to a different number, sent to a voice mail, etc., thanks to an unlimited number of defined rules.
Black Lists
by using external call control and a directory within 2Ring PHONE SERVICES, it is easy to set up a black list to handle inbound and/or outbound calls from such contacts in a certain way (give them a busy tone, reject such calls, etc.)
Call Responder
when a company has fewer public numbers than internal extensions, it is possible to have inbound calls redirected to the last extension that called the calling number.
Monitoring, Alerting, and Reporting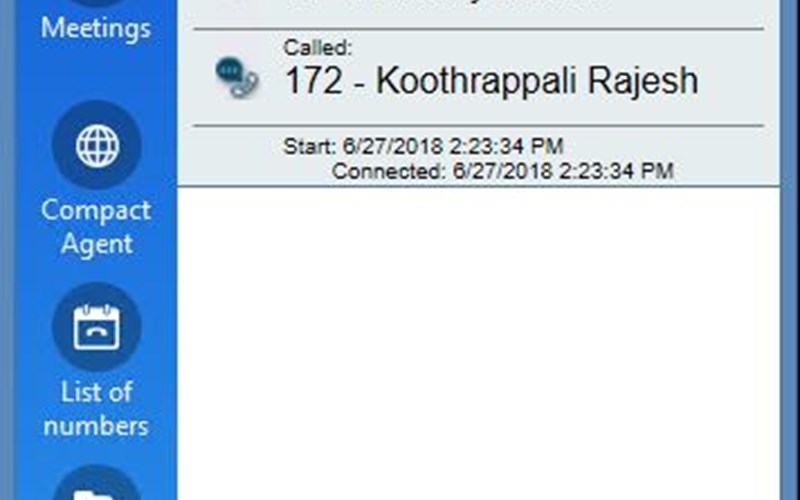 Silent Monitoring & Whisper Coaching
Every team supervisor has the option to listen to the team's calls, and if necessary advise team members without being noticed by the remote party. This feature is well known in traditional call centers; 2Ring PHONES SERVICES makes it available for CUCM environments.
Call History
Do not lose information about your calls after your phone is restarted or upgraded. Plus, if you use Cisco Extension Mobility, thanks to Call History, all of your directories will travel with you. The missed calls directory will include advanced CallerID information (name, last name, company) for all calls.
Current Calls
View all current/ongoing/active calls at a certain moment via a list of all current calls (including those that are just ringing).
Call Reporting
An easy to use report that lists all calls with rich filtering options. It is easy to find out who called whom in a specified time interval. Administrators can view all records, while team leaders can only access those related to their teams. For advanced call accounting needs, please check out 2Ring Call Accounting (AC).
Message & Page Reporting
A simple report that lists all messaging and paging activity. Find who used the messaging tools that are part of 2Ring PHONE SERVICES and when they were used. Administrators can view all records, while team leaders can only access those related to their teams.
Alerts
Have administrators, device owners or other specified users notified about certain IP telephony events (e.g., a call to 911, a missed call from a particular client/number, an outbound call to premium numbers, an unusually long call, a number of parallel calls exceeding a predefined threshold, ...). The alerts can be distributed by a combined use of multiple channels – this includes email, text messaging, displaying an image on a phone, playing a prerecorded message, launching a voice page, dropping a call, etc. 2Ring Phone Services is a powerful alerting system.
Alert Scheduling
Some alerts are note set off by specific call activity, but are caused by human activity and/or processes already in place. You can use such knowledge and plan alerts so users know about such events in advance (e.g., you can send an alert before a CUCM maintenance window starts, servers are rebooted, and/or a fire drill begins).
Emergency Alerts
For some special occasions such as an intruder on the site, fire or gas alarms, or other emergency situations, you can prepare the alerts to be used in advance and make them quickly accessible on selected IP phones. An employee can then just start the alert from an IP Phone (press a button or navigate within the service menu and select the Alert), and 2Ring Phone Services will do the rest automatically as configured (e.g., play a prerecorded message and send SMS messages to security personnel).
Missed Call Alerts
Users can be notified about missed calls to their extension via email and or SMS.
Weather Alerts (US only)
Automatically notify employees about upcoming situations like tornadoes or other events reported by the National Weather Service.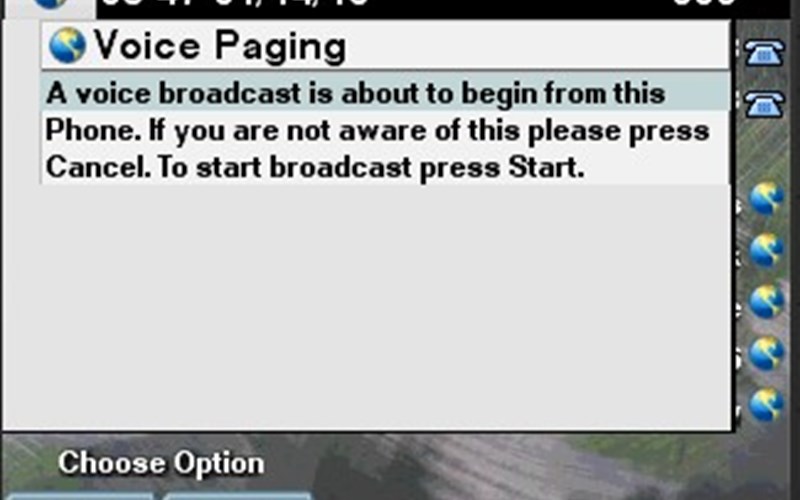 Text (And Image) Messaging
Texting to one, many, or even thousands of "targets" is easy with 2Ring PHONE SEVICES (IPPS). Send texts to cell phones and Jabber Clients; send emails; or even send texts and images to Cisco IP Phones by using easy to use but powerful templates or ad-hoc messages. Texting to external numbers outside of your corporate network requires the presence of a 2N VoiceBlue Next (a GSM gateway) or a subscription service to a 3rd party service of a selected SMS service provider.
Paging / Public Announcement (PA) System
Say no to analog paging systems or just connect them to your IP network by using devices such as 2N NetSpeaker. Page (a live one-way voice broadcast) and or broadcast a prerecorded announcement to a named group of extensions. There is no easier way to call people to attend an impromptu meeting or make an announcement. Paging targets can be Cisco IP phones, IP speakers, overhead systems, particular IP addresses, and even external numbers (then the paging is sent as a standard call).
Messaging Templates
You can prepare templates for pre-recorded announcements or for live paging that include text, image, and audio. Have a template ready for a time of need.
Push2Talk (Walkie-Talkie)
Press and hold a button on your Cisco IP Phone so others can hear you, and once you are done, release it to let others speak.
Paging by the Call (Cisco UCM Only)
You can associate desired targets (IP speakers, IP phones) to a phone number and thus allow users call the number to start a page even from their cell-phones
Record the Page before Broadcast (Cisco UCM Only)
Users can record a page and listen to it before the broadcast. Messages can also be saved for later or repetitive use.
Muslim Prayers
Muslim prayers can be delivered to Cisco IP phones when necessary. Users can sign in and out of such broadcasts on their own.
One Click Paging/Texting
Does your staff need quick access to a certain message, prepared page, or a messaging template? Nothing is easier than to assign such an action to one of the speed dial buttons.
IP Phone & Device Management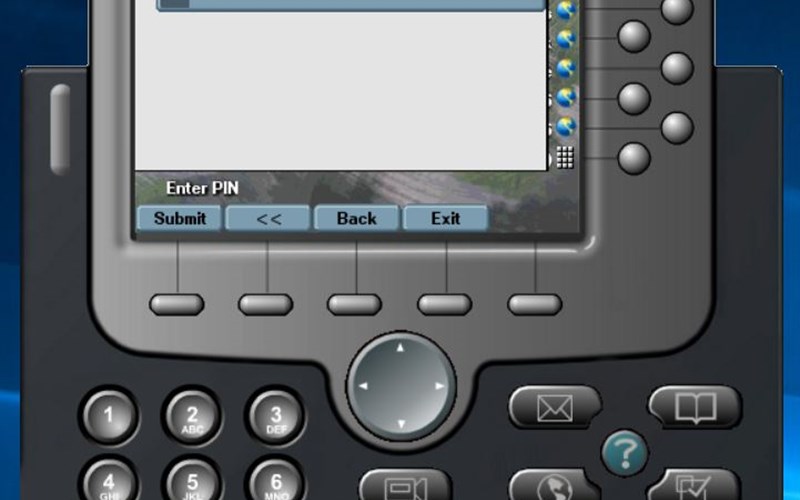 Phone Lock
Use a personal PIN code to stop unwanted calls from unattended desk phones. It is possible to define an extension label for each state. For more security, it can be scheduled; e.g., all phones can be locked immediately after work hours.
Easy Sign On (ESO)
If you are a heavy user of Cisco Extension Mobility, 2Ring IPPS Client will simplify the login process to a desk phone. It will automatically log you in to a phone once you login to your workstation. ESO works for wire and wi-fi connection.
Conferences
Everybody knows how unfriendly it is to set up a conference call. 2Ring PHONE SERVICES allows users to create a conference call with all participants by selecting a group of numbers and pressing one button.
Phone Background
The deployment and management of a company's IP phone background can become a nightmare. IPPS offers an easy solution to deploy the background to all phones from one place, and even more, it can be scheduled so that the IP phones can display a new background each morning.
Door Locks
When the 2N IP door locks (2N Helios system) are in place, you can lock and unlock the door or a group of doors by pressing a button on a phone. Such an action can also be scheduled; e.g., the building is open during working hours, but locked at any other time.
Cameras and Integration with Door Entry Systems
Display images from IP (web) cameras on IP phones. Benefit from the automatic pop-up of live images on an IP Phone at the time of an incoming call from intercoms (door entry systems, door phones) at door or security entrances. Up to two action buttons can be defined for such events - e.g. one to open the door, the second for an alert.
MS Exchange Calendar Support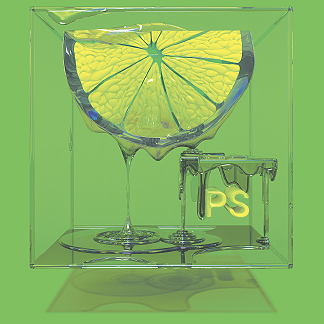 Route Call
Directs call traffic to your IP phones, mobile device, and/or voicemail depending on your status in MS Exchange Calendar (Busy/OFF/Tentative/Free event).
Manage Calendar
For restricted areas where employees only have access to their IP phones, 2Ring PHONE SERVICES (IPPS) offers calendar management to list, create, edit, and delete calendar events.
Room Booking
Quickly book a conference room from any Cisco IP Phone. This is very handy when you find an empty conference room and want to check its booking status and book it for yourself.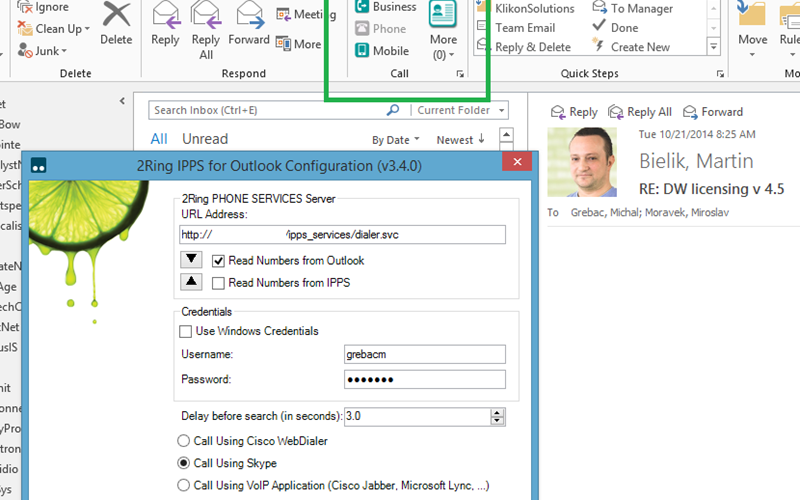 Trees
List information on Cisco IP phones within a structure - e.g. create a hierarchy where the result will be a call to the appropriate support personnel.
Weather Forecast
Find a weather forecast directly within your Cisco IP phone
RSS Reader
Access your favorite RSS feeds on your Cisco IP Phone
Click2Dial for MS Outlook
Be just one click away from calling a person from an email or a contact that you have selected. Call their extension, cell phone, or home number by using one of the three ribbon icons. This is a perfect way to speed up your communication. MS Outlook 2010, 2013, 2016, and Office365 are supported.
IPPS Client for Windows
Have you ever wanted to see very detailed information about a caller right on your desktop? Wouldn't it also be nice to be able to dial a number from your desktop as well? 2Ring IPPS Client displays all available information about an incoming call and allows you to answer or hang up the call right there on your desktop. Moreover, the advanced caller identification can even include a link to a record in your CRM system, so the Client can serve as a customer pop-up solution for those organizations that are not yet ready to start using Cisco Unified Contact Center. Of course, the IPPS Client comes with SSO support, so users are all set once they log in to your domain/network.