Access Real-Time Data from Anywhere
2Ring Dashboards & Wallboards allows you to be connected to the contact center from wherever business (or family) takes you. All that without installing a platform specific app. All that without worrying about screen resolutions - all content automatically resizes to the space you can give it. Simply open a bookmark in a browser on your mobile device and review all important key performance indicators (KPIs) at one glance. A sample layout is always available at www.2Ring.com/TryItWxCC (link opens to a new browser tab).
Stay Focused on Your Audience
Companies have the need for accurate and timely information to be available to the right people. Organizations, even if they come from the same vertical, are not uniform, and agents, supervisors, and managers have different expectations for real-time reporting. Therefore, we strive to learn about your requirements and end each project with a deployment of 2Ring Dashboards & Wallboards providing think-through real-time layouts that fit the needs of every team using or influenced by the performance of the contact center. Do you want to show the agents how valuable they are for the business? Incorporate in your layout some KPIs from the ERP system. Is the service desk using a contact center as well? Build a unique layout for the service desk department - so on one large TV screen they get to see not only the number of calls in the queue and the longest waiting call, but also how many tickets of priority 1 have not yet been resolved. 2Ring Dashboards & Wallboards lets you create multiple business units (data silos), and build team specific layouts.
Choose the deployment speed that is right for you. 2Ring Dashboards & Wallboards offers the option to cover agents from selected teams and queues (WXCC). In other words, if currently only one team needs a wallboard, you only need to cover the peak number of concurrently logged in agents + supervisors in this team and filter out all the other teams. There is no base / server / tenant license, and with minimum order size of 10 seats, you can start small and add more teams down the road.
Multiple Data Sources - Unified Layouts
Create layouts that do not only contain call center metrics, but also present business data from any SQL source, ServiceNow® , or Salesforce® (SFDC). You can also include marquees / tickers, banners, pictures, PDF files (for sharing PowerPoint slides), YouTube videos, and weather information (current or forecast).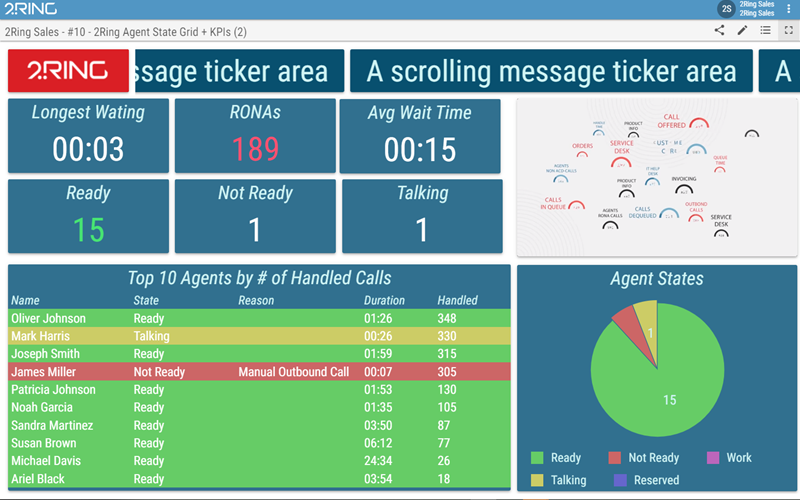 With no limits on the number of KPIs, layouts, or viewers, we make it easy to give people the right information at the right time. With an unlimited number of KPI's able to be displayed you can view as little or as much information as needed to perform your job. There is also no limit on the number of dashboard layouts that you can create. You are free to build multiple layouts for teams, agents, supervisors, managers, sites, and departments. Sequences can be created by embedding multiple wallboard layouts into a single layout. There is no limit on the number of users viewing your layouts so, you can display layouts on as many screens, monitors, or devices as you require. The configurability is practically endless, so go ahead and provide access to your layouts to as many users as you would like to.
On Cisco's Price List, Part of Solutions Plus
Security is 2Ring's #1 Priority
We aim to provide the most secure solution following principles of:
Secure by Default
No Insecure Transports
Prefer password hashing over encryption
Use of strong hashing/cypher algorithms and keys
Regular vulnerability testing
Read about our ISO/IEC 27001:2013 Certification.
Have your say. We at 2Ring listen and update product roadmaps based on feedback from our customers, resellers, and prospects. If we currently do not offer a feature that would help your contact center, please let us know! Contact us.