Sacramento, CA – 2Ring Dashboards & Wallboards (DW) is a real-time reporting solution that uses out-of-the-box connectors to connect to many standard data sources in contact centers. It also offers a user interface that is friendly to business users for creating "unlimited" number of views that can combine various data types and content.
A ready to use connector for Amazon Connect has been introduced earlier in 2020 (full release notes), and now, 2Ring also offers prospects with 24/7 access to a sample wallboard layout built using data from Amazon Connect: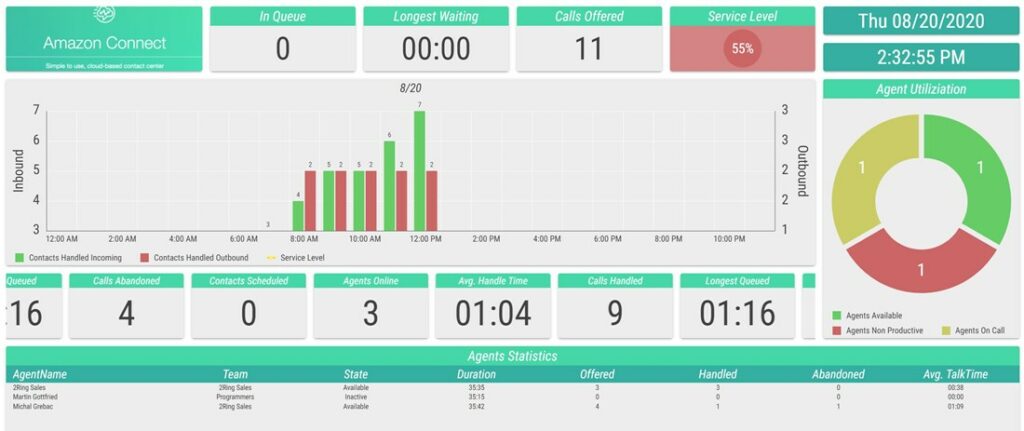 Try It on Your Own
To view this sample wallboard layout from any device, simply click on the following link (no credentials needed to view): www.2Ring.com/TryItAmazon
If you would like to explore the solution on your own, and see how easy it is to adjust any of the sample layouts, or to build one from scratch, please fill out this basic form www.2Ring.com/DWtrial and you will receive your access information instantly via email. The layouts that you will find there can display data from multiple data sources, display various types of content (pictures, powerpoint slides, Twitter or Facebook streams, weather forecasts, current date&time, message ticker, YouTube videos and streams, …)

We Can Help
If you have unique needs, challenge us. We cannot wait to hear what you are after. To schedule a personal walkthrough of our solution with one of our product experts, or to simply request further information about how our 2Ring Dashboards & Wallboards connector for Amazon Connect can enhance your contact center, visit our demo page here.

Why Choose 2Ring Dashboards & Wallboards for Amazon Connect?
Our solution is incredibly user-friendly and comes with numerous pre-built KPIs, right out-of-the-box, allowing you to save precious time over custom-coded solutions that often result in being more cost prohibitive. 2Ring Dashboards and Wallboards for Amazon Connect gives you instant access to tether data sources into your customized layout, hassle-free and without complication. Additionally, with the presence of the 2Ring PowerApp (details beneath), agents/users who work from home can customize their display to showcase a permanent layout on top of all application windows (outside of the browser), to maximize the efficiency of their workspace. All in all, a seamless solution tailored to be user-friendly to the business-minded contact center representative.

More Adjustability = Streamline your Workspace
2Ring Dashboards & Wallboards is fully web-based, so to access these layouts users only need a browser, but for the users who work from home, running these layouts within a browser might not be ideal. Therefore, we also offer 2Ring PowerApp that can be used to permanently display a configured layout on top of all the application windows, just like you can see here: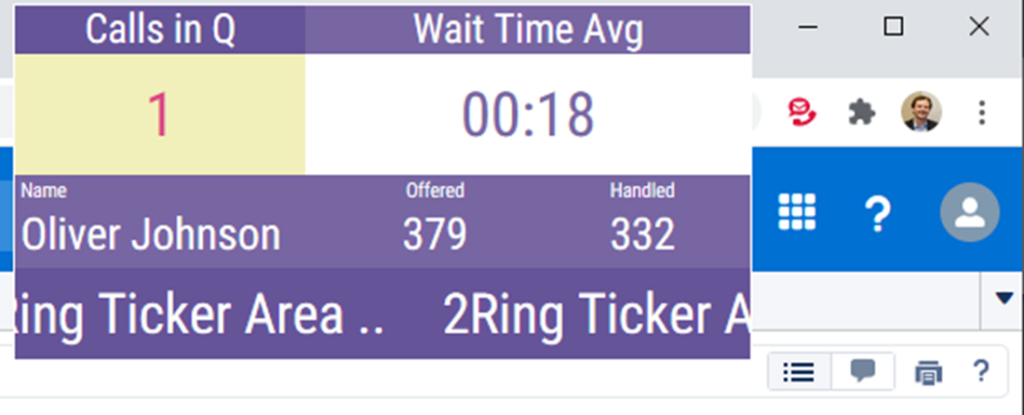 2Ring Power-App fully supports any of the wallboard layouts – color changes, blinking, audible alerts and announcements, marquee / ticker, but on top of it also offers:
Always on Top Mode – to never hide behind other windows
Borderless – to take as little space on the screen as possible
Resizable – to auto-scale to the space that you provide
Personalized Data – to be filtered to user's personal metrics
AutoStart – to start when agent logins to his machine

Interested in Learning More?
We specialize in making life of agents and supervisors in contact centers easier, so let's talk. No strings attached. Request your demo here.