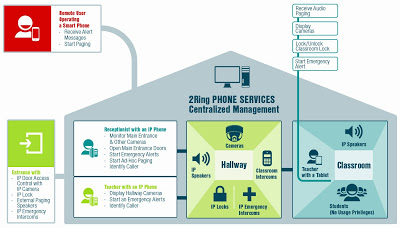 My first two blog posts covered a bit of history and theory about reporting and alerting on 2Ring PHONE SERVICES. Now it is time to show you how to use this solution in real life.

The first vertical that I am going to focus on is
EDUCATION
Generally speaking, in education, many IP systems are located outside (speakers, cameras, door entry system, safety devices), but even more of them can be found inside of buildings – in hallways, classrooms, .. (speakers, intercoms, cameras, emergency buttons, safety devices, IP phones). These are just the most common devices used for communication, live and periodic announcements, security, and emergency.

Let's see how 2Ring PHONE SERVICES helps here:
Regular, Repetitive Tasks
Locks – group and schedule opening/locking of IP locks, so e.g., the main entrance(s) are automatically locked / opened at different times than class locks
Announcements – schedule special broadcasts, e.g., school bells, prerecorded morning announcements, or closing time announcements, for the appropriategroup of IP speakers. These announcements do not have to be limited to broadcasts, but they can also be delivered in the form of a text message or image displayed on Cisco IP Phones.
Ad-hoc & Emergency Events
Live & Ad-Hoc Announcements – allow authorized users to start live announcements to specific groups of numbers (e.g., to the whole school or teachers' offices, ..)
Locks – open or lock appropriate locks directly from Cisco IP Phones, smartphones and/or tablets. When a call arrives from a door entry system – when someone presses a button on the door-entry system to open the door, a phone, such as the one on the teacher's desk in the classroom displays a picture from the camera as well as a button (soft-key) for door opening
Cameras – access streams from IP cameras on Cisco IP Phones, smart phones, and tablets
Panic buttons – launch predefined actions (play audio sound, send messages or even call specified numbers, open / lock locks, etc.) directly from Cisco IP Phones, smart phones, or tablets as well as from selected hardware solutions.
911 alerts – a call to 911 (or to other defined numbers) can start an alert in the background allowing security personnel to receive information immediately
Mobility
Remote users are other important alert targets. Using your regular home phone or smartphone, you can start or receive a page voice broadcast. If you have your smart phone around, you can use it to open/lock locks and receive messages – e.g., those sent by 2Ring PHONE SERVICES alerting.
Summary
Create your own special configuration with respect to your emergency procedures, and prepare everything to keep your students and staff safe even in situations like these:
Fire & Weather Emergency
Water or gas leak, or other facility/equipment malfunction
Chemical alert in a lab
Intruder
Last but not least, you manage everything from above via a single web GUI.

Please do not hesitate to send us feedback, feature requests, and questions regarding the solution. We will listen and work hard to add features that meet your needs.
Download a trial of Advanced Edition to try the above features for free!
Jiri Princ