The public demo environment has been already upgraded, so request access here.
Most of 2Ring customers can get their wallboards upgraded under their existing support coverage without any additional charges. All existing customers can request their wallboards to get upgraded by opening a ticket requesting upgrade here.
What's New in 7.2?
Layout Parameters – a layout can now define parameters that are inherited by all KPIs, grids, charts, etc. When value of the parameter changes on the layout, all child source reflect it.
Dynamic Filter Parameters on Layouts – layouts can now consume parameters supplied in real time. Create a layout once and then parametrize it for different teams/queues. Note that these parameters only affect grids on the layout!
Multi Table Grids – a grid can now be composed of multiple tables. This allows for combining multiple tables from the same or even from different connectors! For example, imagine a single grid displaying stats from UCCX and also from ServiceNow.
YTD, MTD, WTD – native Year to Date, Month to Date and Week to Date calculations options for all cumulative calculations have been added.
Dropdown Data Refresh – user experience with dropdown controls have been improved, so dropdown controls in config client are refreshed without leaving edit mode. For example, if you add a new font, image, .., you can refer to it in the config editor right away.
Copy/Paste – copy/paste support is now available for layout, tickers and sequences, allowing you to copy and paste segments of a layout, items of a ticker, or items of a sequence.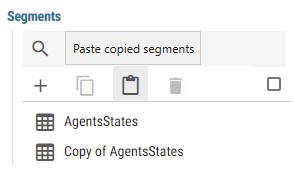 Fully Compatible with 2Ring Gadgets for Cisco Finesse v4.3 – customers with 2Ring Gadgets for Cisco Finesse v4.3 will benefit from much tighter integration of these two 2Ring solutions.
Content Picker/Uploader – uploading an image or a pdf was never easier. Upload a file directly on the same spot you are asked to pick one.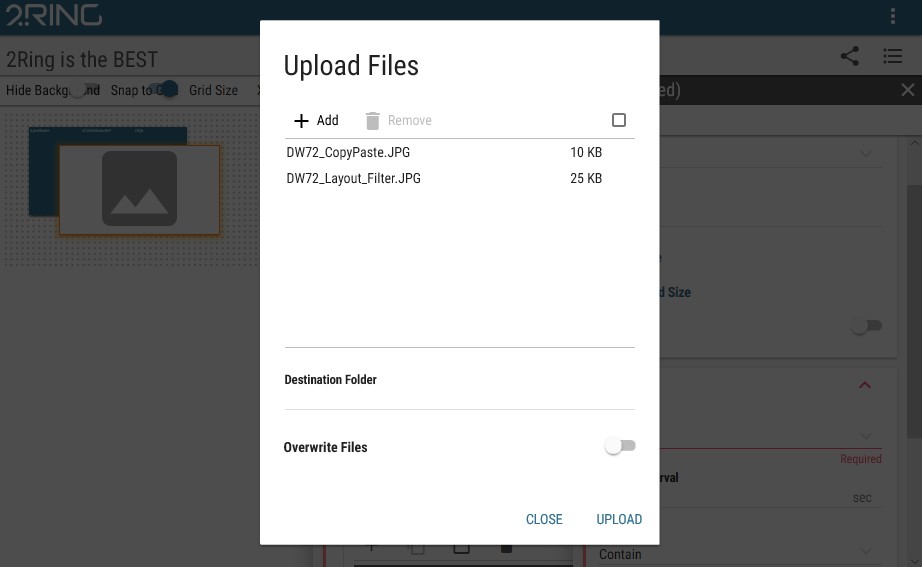 Layout List Filter – use a new layout filter to quickly find what you are looking for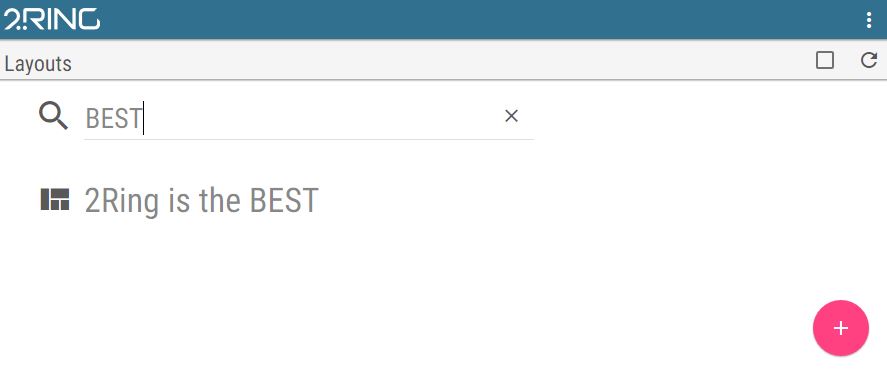 Some other minor yet useful changes:

Automatic chart legend sizing
Autofill column header based on selected source column
Autofill title on a chart segments/series based on selected function
Autofocus the search field in pulldowns when expanding
Title alignment – segment/ticker item/sequence item
Font size coefficient – segment/ticker item/sequence item/kpi/grid
User info (Full name, BU) in client menu
Support for custom connection string settings
What's New with Connectors in 7.2?
UCCX Connector

Call History Grid is not available anymore

UCCE Connector

Added a new KPI: Agents – Call Direction: number of agents that are currently on a call with specified call direction (In, Out, Other In, Other Out / Direct Preview, Outbound Reserve, Outbound Preview, Outbound Predictive / Progressive)
Added a few new columns to the Agent Grid:

Calls In Queue
Current Call Queue
Call Direction

UpstreamWorks Connector

Brand new connector having lots of KPIs and grids for non-voice channels.

DW CUCM Connector

Added support for showing a state of hunt group extension – Logged In or Out

DW Demo Connector

Our public demo environment is now even more realistic since our demo connector comes with all the KPIs/Grids/Features that are part of our UCCX connector. You can request your access here.
Need More Info? Would you like to Upgrade?
A sample layout of 2Ring Dashboards & Wallboards is accessible at www.2Ring.com/TryIt (no credentials needed), and full access to our public demo environment can be requested here. To receive a list with all the available KPIs/metrics for all of our connectors (UCCX, UCCE, CUCM, Unity, Staffino, Salesforce, and ServiceNow), or to request an upgrade of your system to the latest release, please contact us.
What's Next?
Our team is currently working on adding support for Azure AD and ADFS authentication. If you would like us to add new features, KPIs, or connectors, please contact us.
Feature Requests
All of the features above were added based on feedback received from our customers and/or prospects, so please do not hesitate to reach out to us with any feature suggestions (www.2Ring.com/Contact). Also, please note that 2Ring Dashboards & Wallboards (DW) is available in two of the bundles of 2Ring Gadgets for Cisco Finesse (Enhanced and Premium) – remember the best user experience is achieved when 2Ring DW is used in conjunction with 2Ring Gadgets for Cisco Finesse. To schedule a live demo, please visit www.2Ring.com/Demo.