What's new in 2Ring CALL ACCOUNTING v4.3? Here are some of the highlights:
New Features
Budget / Limits Report – a new call summary report that allows users to compare the actual call costs per device or extension to a limit set by the user when viewing the report. The limit can also be taken from a CustomAtrribute that is auto-synced from a selected IS (CRM, AD, CUCM, ..)

Auto-saving Reports to a Folder – any of the reports (using user-defined presets) can be scheduled, and on top of being emailed to selected users, the report can also be saved to a folder in a selected format (csv, excel, pdf)
Time Zone Support – every user can set his or her default time zone to view data in. Instead of viewing calls in the system's time (the time zone in which the CDR records were generated), the user's time zone selection will be applied.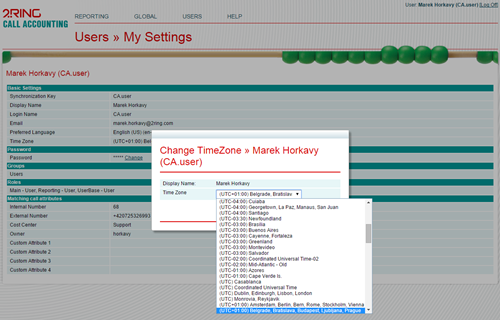 Report Subscription Emails Can Be Edited– users can edit what emails auto-generated and sent by the system should look like (for every subscription, a user can change the address sending the email and the subject of the email, and the body of the message can also be modified).

German and French Localization – the user and admin UI and user documentation have been localized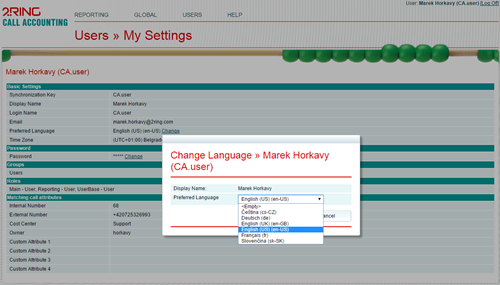 Unified Installer – deployment has never been easier / faster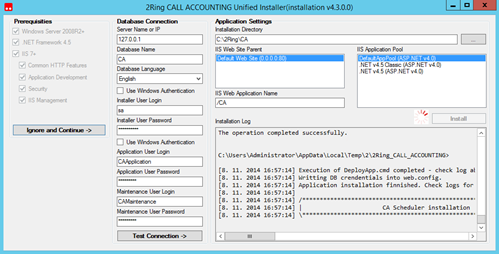 System Based Cost Centers and Extension Descriptions – for selected extensions, numbers, and cost centers, you can use descriptions that are not synchronized from other systems, but that are managed within 2Ring Call Accounting
Enhanced AXL Support – AXL connectors support CUCM 10+
Bugs Fixed
Bar Chart Report: we fixed data ordering
Pie Chart Report: we added a legend
Chart Reports: we added labels to unassigned items and we are showing those in the chart now
"Check All" checkbox for grid control is fixed
DateTimePicker has been fixed
Default Tasks for the Scheduler have been fixed
Two-Way checkbox filter has been fixed
Longer reports are not cut at the bottom if IE11 is used
Checkboxes in CallDirection filter have been fixed
The public demo of 2Ring CALL ACCOUNTING on MS Azure will be upgraded to version 4.3 before the end of November.