Sacramento, CA, August 14, 2020 – Calabrio® and 2Ring have joined forces to significantly boost agent and supervisor experiences in Cisco contact centers by integrating selected features from Calabrio Quality Management (Call Recording) and Calabrio Workforce Management (WFM) into Cisco Finesse® via the use of 2Ring Gadgets for Cisco Finesse.
Finesse is a web-based agent and supervisor desktop application used in Cisco® Contact Centers that can be enhanced by embedding various third-party gadgets, such as those offered by 2Ring.
To experience brief demos of both of the integrations, feel free to view the videos below.
1 – Cisco Finesse 12.5 enhanced with 2Ring Gadgets
"Agents and supervisors, even in modern contact centers, are forced to use too many various applications, making their training complex and their day-to-day experience difficult. This results in unnecessary agent confusion, longer interaction times, increased training times, and ultimately lower customer satisfaction and higher agent attrition," explains Michal Grebac, Strategic Sales & Marketing Director at 2Ring.
Grebac continues: "We turn Cisco Finesse into a single pane of glass. This decreases the number of windows that agents need to deal with, reduces the number of clicks needed to resolve repetitive tasks, and most importantly, decreases complexity by only displaying relevant data and fields from the company's CRM, service desk application, or other tools necessary to help successfully handle the task."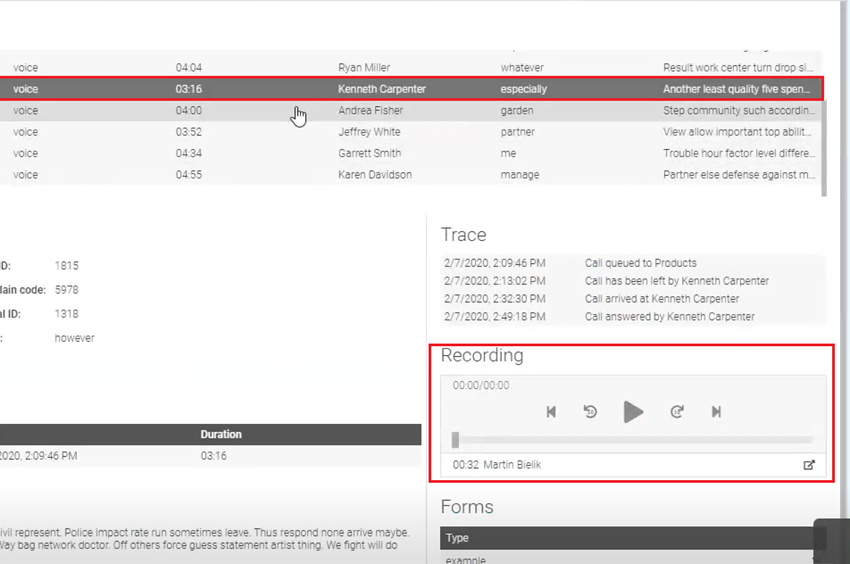 2 – 2Ring Team Gadget to Search & Play Calabrio Call Recordings with deep link to Calabrio QM
The power of this 2Ring approach is even stronger when all the key elements from Calabrio Quality Management and Workforce Management are also available in or from the Cisco Finesse user interface. Ross Daniels from Calabrio puts it simply, "After all, agents spend their entire shift in Cisco Finesse handling customer interactions, so Calabrio recognizes that extending its capabilities to Finesse and allowing agents to see their WFM schedule, receive schedule alerts, pause/resume call recordings, or even tag calls to obtain feedback from their supervisors brings an elevated agent experience."
Supervisors also benefit from the addition of 2Ring Gadgets for Cisco Finesse. For example, 2Ring Team Gadget allows supervisors to pick an agent to view this agent's current interaction, personalized KPIs, state history, interaction history, feedback from customers, and much more. However, only when 2Ring is coupled with Calabrio and WFM does information available to supervisors about their agents become complete and comprehensive. The agent's interaction history then also gives the supervisor the option to listen to call recordings, access the agent's WFM schedule including adherence, and last but not least, be alerted when the agent deviates from their WFM schedules.

3 – 2Ring Team Gadget with Calabrio Schedule & Adherence Details
2Ring Gadgets for Cisco Finesse is available on Cisco's Global Price List (GPL) and thus available for purchase through all Cisco resellers globally. Existing Calabrio customers can purchase 2Ring directly from Calabrio Marketplace. A demo with one of 2Ring's product experts can be scheduled at https://www.2Ring.com/Demo.