2Ring Gadgets for Cisco Finesse is a set of simple, open, and smart tools for improving productivity and user experience across all Cisco Contact Center platforms (Express, Enterprise, and Packaged UCCE). To see what 2Ring can do for your contact center, schedule a demo with one of our product experts.
This 4.0 release is our entrance into the multichannel arena. As with all the previous feature enhancements for customers with Cisco Contact Centers, 2Ring hasn't replaced the core Cisco functionality. Instead, 2Ring builds on top of Cisco's backend applications. Here, Cisco Social Miner is still used to handle chat and email routing, while 2Ring Gadgets are used to deliver a significantly improved user interface to agents handling conversations. Note: 2Ring's support for UCCX email is in the works and it will be added towards the end of 2018.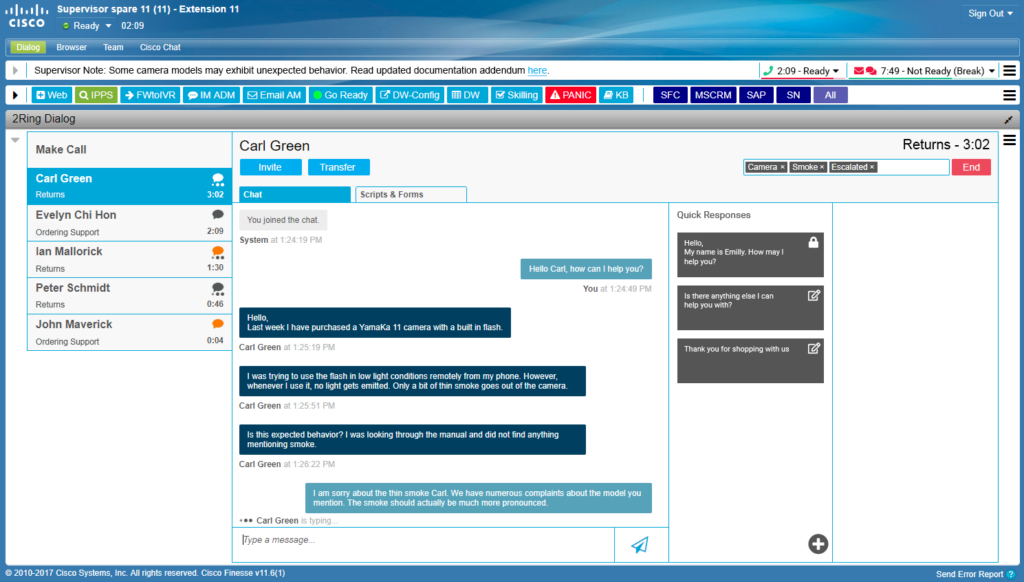 This is what the new 2Ring Dialog Gadget looks like for agents when handling a chat conversation.
What's New in 4.0?
Multichannel Support for UCCX – 2Ring's Dialog Gadget is the single unified gadget that agents need for handling all inbound or outbound traffic whether it's voice, Cisco Social Miner chat interactions, or inbound and outbound text messages (this is provided via integration with WebText). All customer interactions regardless of channel now benefit from the possibility to use applications that are embedded in 2Ring's Dialog Gadget as tabs, such as Scripts or Forms. These app are tied to the specific interaction and present information coming from various sources that are related to the one interaction:

Customer (Public User) / Caller Identification for Voice / Chat / Text / Email

integrates with

Salesforce (SFDC)
Dynamics (MS CRM)
Service Now (SNOW)
2Ring Phone Services (MS Exchange, Lotus Notes, LDAP / MS AD, CUCM, csv files)
Arbitrary SQL Databases

delivers CRM / servicedesk screen-pops as desired
displays complete interaction history for a public user
shows toast alerts (including CRM and IVR data) on top of all the application windows (displays toast alerts about new messages received from a Public User in any of the currently handled interactions)
creates Voice / Chat / Text / Email Interaction Record or ticket in CRM (including FULL or PARTIAL chat transcripts)
pushes transcripts to CRM via 2Ring's Workflow Engine (Orchestrator) – transcripts can be used in its entirety or just the segment when customer was part of the chat session for further processing

CallVariable Editor – agents can edit some or all call variables for voice and now also for chat
Agent Guiding Scripts – display unique Agent Guiding Scripts based on menu selection or Call Variable set to ensure the agents are asking and getting pertinent information or providing legal or compliance messages.
Wrap-Up Forms – agents can disposition a call or chat multiple levels to ensure proper and accurate call disposition.
Control over the conversation via the use of 2Ring Orchestrator

notifies supervisor about "profanities / undesired words"
blocks messages e.g. inappropriate language
adds automated messages to chat conversations
invokes workflow actions based on use of certain keywords (e.g. send a text message to the customer – texting requires integration with WebText)
enables semi-automated Bot conversations where a bot and an agent can handle a conversation in tandem. The bot can start by greeting the customer and asking few introductory questions, while the agent can finish up after the bot, or even interrupt the bot and take over the conversation.

List of Current Interactions

shows what conversations include unread messages (bubble is orange)
shows typing indicator

Message Detail

starts with ALL the information that public user enters on web-site – including long opening messages
uses intelligent scrolling – conversation detail shows the agent the last message sent by him/her and all the new messages from customer. The agent does not need to scroll to get oriented where he left off. In addition, at the top or bottom of the message detail the agent sees how many more unread messages were sent by the customer (indicator at the top / bottom)
gives the option for an agent to transfer an existing chat to a queue (escalate to expert, or send to a different department)
wrap-up code selection is more ergonomic for chat/email interactions just like 2Ring provides for calls (including support for keyboard shortcuts)
enhances the agent experience by allowing agents to create, edit, and use personal response templates (Cisco's gadget only offers global/server-based responses and shows the text of each responses on hover only)
changes web pages and emails to allow clickable hyperlinks

Improved Wrapup Code Selection – search, grouping, and keyboard shortcut support

enhances agent experience by letting agents to create, edit, and use personal response templates (Cisco's gadget only offers global/server-based responses and shows the text of each responses on hover only)
changes web pages and emails to clickable hyperlinks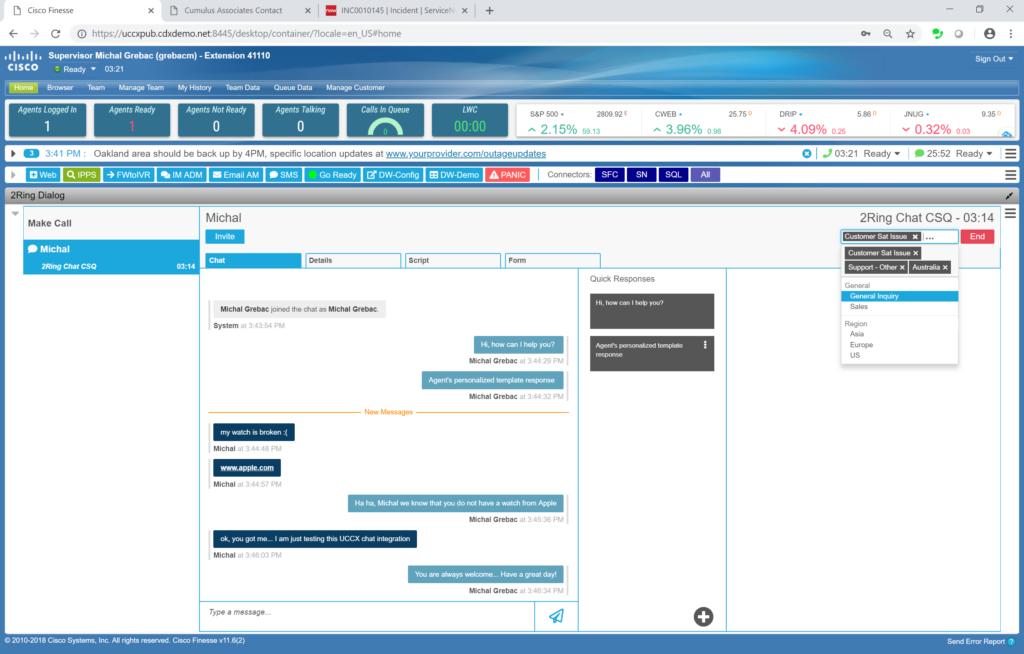 2Ring Dialog Gadget v4.0 – Wrap-Up Code Selection for UCCX Chat
Ticker Gadget and Browser Extension – the current state sections allow agents to change state for both voice and chat (UCCX).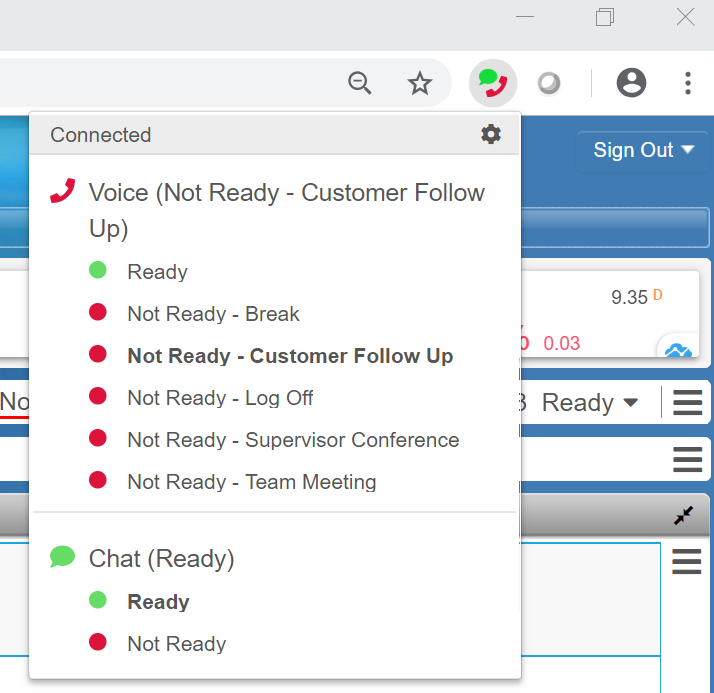 2Ring Browser Extension v4.0 – Voice and UCCX Chat
Ticker Gadget – the Time in State now comes with progress bars plus agents and/or supervisors can receive toast/message alerts based on time spent not only in the voice state but also in the UCCX chat/email state. This ensures that agents can manage their voice and chat state from the same place.

2Ring Ticker Gadget v4.0
Skilling App – the skilling application now supports the creation of Queue Sets based on Skillgroups and Precision Queues (CCE) and CSQs (CCX). You can learn more in our previous release notes here (opens to a new tab in your browser).

Agents can change from skillset to skillset with a single button press (if allowed)
Agents can add a skillset for themselves to aid their colleagues in critical situations such as catastrophic failures, disasters, or catastrophes
Supervisors can quickly and easily switch agents from skillset to skillset on the fly
Applying a skillset means applying potentially tens of skills/skill groups/precision queues with a single click

2Ring Skilling v4.0 – UCCX, UCCE, Packaged UCCE
Workflow – new dialog windows can be displayed prompting the user for input and processing it from 2Ring Orchestrator (Workflow).
These dialogs can be used to request consent, pick a choice or to enter a few missing data pieces before submitting a call record to CRM or to send an SMS (requires integration with WebText). These dialog actions are available to all workflow actions both within an out of a conversation context. Custom dialogs with heavy logic can be created to address unique and complicated business requirements.

Typical usage scenarios:

Send an SMS message

From an ongoing conversation
From the Team gadget
Without a conversation context

Ask for a comment before automatically storing a phone record.
Ask for detailed data input to create an order in an ordering system directly from 2Ring Gadgets – including a complex validation logic.
Ask for confirmation before a potentially dangerous action is performed. Such as submitting an order with a value over a threshold.
Customized Panic action that asks for a message and recipients.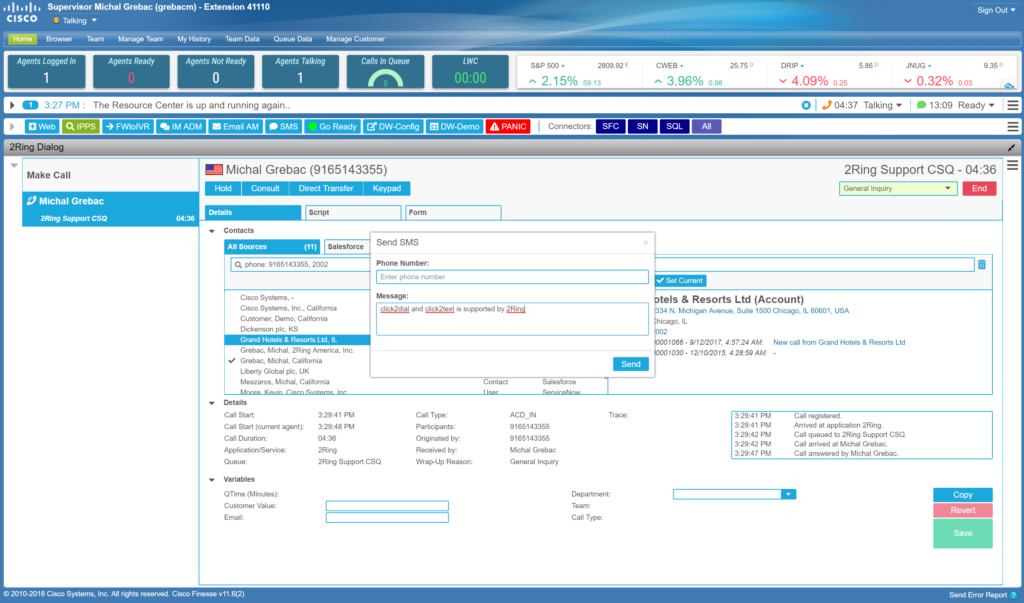 2Ring Texting / SMS in Cisco Finesse
Team Gadget – now enables for Team and Queue based views. This provides access to team or queue specific layouts from 2Ring Dashboards & Wallboards and/or CUIC reports via permalinks.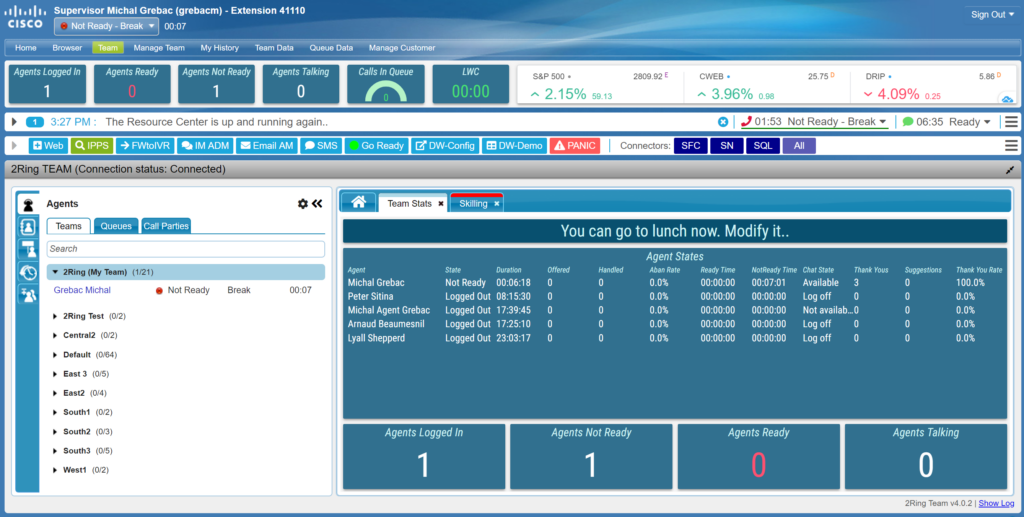 2Ring Team Gadget v4.0 – Team-based Views