2Ring DASHBOARDS & WALLBOARDS (DW) v6.0 has been released. Read a couple of short notes before you dive deep into what's new:
To check out what a 2Ring DW layout can look like, go here: www.2Ring.com/TryIt

No credentials are needed!

To build your own layouts, request full access to our public demo environment: www.2Ring.com/DWtrial

Nothing has to be installed in your environment!

To learn about the solution, watch this short product overview video:
New Features in 6.0 Release
Performance Enhancements

The web client consumes less memory, CPU, and network bandwidth (making it even easier to embed DW layouts inside of Cisco Finesse)
The solution can handle even more clients while delivering data five times more frequently to every client (all data included in a layout are refreshed once per second in one request).

New Look

Web Client uses the modern Google Material Design look and feel
Layout designer has been simplified and reorganized
New portrait oriented layout templates suited for mobile phones are now available
New support for themes simplifies visual changes
New bar presentation type has been added for KPIs and for Grids
Android and Windows Phone devices can run in native full screen mode (no address bar)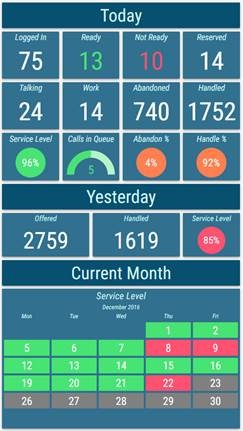 New and Enhanced Content Types

New YouTube Video Source

Upgraded to a native source
Supports a single video and playlists
Supports subtitles/captions
Supports volume setting

New KPI Calendar Source

Displays a metric's history in a calendar mode (see the screenshot above)
Displays data in a weekly or a monthly fashion

New PDF Document Source with automated paging
New Ticker Source

Enables animation of these native sources created in 2Ring DW (Banner, Clock, Grid, KPI, Image, KPI Calendar, KPI Interval, Web page)

New Clock Source
New Image Source

Can be aligned vertically and horizontally
Multiple sizing modes

New Web Page Source
Updated Grid Source

Grid can now update values when changing pages (optional).

Updated Banner Source

Supports 5 different text flows
Can be aligned vertically and horizontally

Many Usability Improvements

Client can remember logged in user
Mouse cursor disappears in full screen mode after 5 seconds
All visual properties have been moved to Layouts (no more screen groups)
A layout can be set to be not interactive and thus making it impossible for user to navigate away from it (suitable for embedding it into a 3rd party app such as Cisco Finesse)
System layouts are now locked (cannot be changed, but can be copied or deleted)
Server logs more events and new logging level – Trace – has been added
Gadget reports (call history, state history) now show durations in d hh:mm:ss format
Notification Service uses UTC time to calculate interval length (previously local time was used)
Notification email now displays time and date in the time zone of the calculation.
Added support for MS SQL Server 2016 and for Windows Server 2016

Added Weather Connector

Location
Temperature in C / F
Precipitation in mm
Wind Speed in kph/mph
Visibility in km
Humidity in %
Pressure in mbar

Enhanced UCCX Connector with

new column to Agents States Grid
new columns to Tet CSQs Statistics Grid

Reserved
Ready
Not Ready
Busy
Active Chats
RNA
Average Reserved Time

new KPIs

Agents – Text Reserved
Chats – Active
Chats – RNA
Chats – Average Reserved Time

Enhanced UCCE Connector with

new KPIs

Agents – Max Ready Time
Calls – Service Level MTD (Month-to-date)

new column in Agents Grid
new column in Precision Queues Grid

Agents Not Ready with Reason Code

new column in Skill Groups Grid

Agents Not Ready with Reason Code
Other Changes
IE 8 and IE9 Browser are no longer supported
Thick client and content sequences are not supported anymore
Support for PowerPoint files has been replaced with support for PDF files (see above)
Layout sequences are not available in this release, but will be back in the 6.1 release
Banners

no longer scroll natively (must be placed in ticker)
no longer display clock (clock is a native source now)
no longer display images (image is a native source now)
Feature Requests
All of the features above were added based on feedback received from our customers and/or prospects, so please do not hesitate to reach out to us with any feature suggestions (https://www.2ring.com/Contact). Also, please note that 2Ring DASHBOARDS&WALLBOARDS is available in two of the bundles of 2Ring GADGETS for Cisco Finesse (Enhanced and Premium) – if used with Finesse, 2Ring DASHBOARDS&WALLBOARDS provides even more features. To schedule a live demo, please visit www.2Ring.com/Demo.