The very nature of customer experience, the way the consumer interacts with different types of businesses, institutions, and enterprises has changed drastically in the past three years. Common face-to-face interactions have been replaced by virtual contact, video calls, web chats, and conversational AI.
Many contact centers have adapted successfully to this new paradigm shift, embracing the modern landscape of Customer Experience (CX) and its accompanying technologies. Others have not, and the evidence of declining customer service statistics has started to slowly surface.
Recent Downturns in Customer Service Metrics
A recent ratings report by Citizens Advice, a UK-group monitoring customer service metrics, has revealed that the service standards of energy & utility companies in the United Kingdom has dropped to record lows of 2.8 stars, down from 3.4 stars from a period of two years prior. Reference source article here. Such sudden downturns are usually indications a larger amount of people making inbound calls to the contact center, which are then unsuccessfully met and handled by the respective enterprise (in this case the energy suppliers).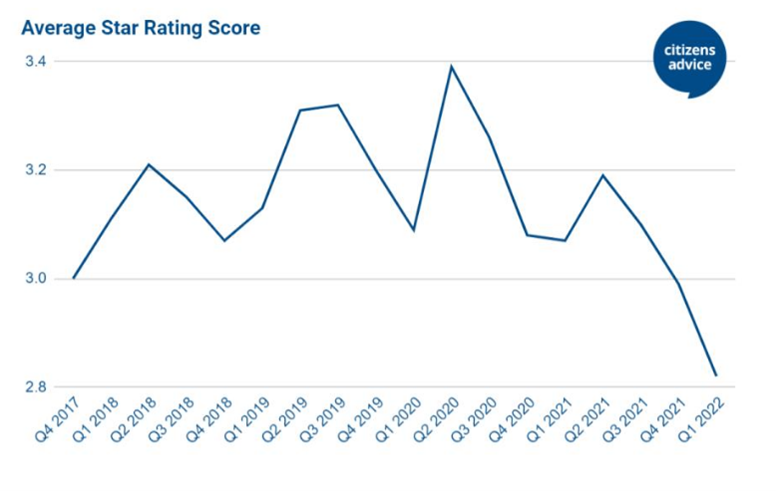 Source: https://www.citizensadvice.org.uk/about-us/about-us1/media/press-releases/worst-customer-service-on-record-from-energy-companies-says-citizens-advice/
The sheer number of interactions the contact center faces on a daily basis is growing at an exponential rate, but the number of agents tasked to handle said interactions isn't, leading to exceptionally high wait and handle times. Citizens Advice states that "The average time to wait on the phone to speak to an energy supplier is now around six and a half minutes (391 seconds), compared to just under four minutes (224 seconds) during the same period in the previous year. Customers of one supplier face an average call waiting time of more than 16 minutes."
Emails and associated response times haven't been spared either, with utility companies "…getting slower to respond to emails. On average, suppliers responded to 62% of emails within two working days, compared to 66% during the same period in 2021." A 4% decrease may initially not seem as much, but over an extended period of time, these figures indicate a grim future for the general customer service sector in the coming years.
Energy providers and utility companies in the UK are just one example of sectors that have seen dwindling customer satisfaction numbers and an ever-increasing amount of disgruntled clients facing frustrating experiences.
The Importance of Real-Time Reporting
This brings us directly to the importance of real-time reporting in contact centers. Such solutions, for example, 2Ring Dashboards & Wallboards, can help enterprises see or even get alerted in real-time about the creation of potential bottle necks or other agent behavior that might contribute to undesirable performance, and thus prevent situations that create frustrating experiences which can ultimately result in dissatisfied customers.
2Ring Dashboards & Wallboards provides unparalleled insights into all contact center related events 24 hours a day, 7 days a week. Real-time reporting and alerting allows supervisors to respond to critical events while they are in the making (building up) and therefore apply corrective measures before situations escalate. Alerting and notification systems can automatically notify agents, supervisors, and even management staff via the most effective notification channel – IM message to a space in Microsoft Teams, Slack, WhatsApp, Cisco Webex, Discord, or by sending out an email or simply by playing a pre-recorded message to agents on the floor. Receive help and stay in the know. Get alerted when certain KPI thresholds are reached/exceeded or spike/dive, according to parameters you've previously set.
The Value of Attaining Immediate Insights
Real-time reporting is probably the most essential tool in successfully alleviating or deescalating decreasing customer sentiment. Responding to dissatisfied customers after a lot of time has elapsed and after a bad experience has occurred does little to retain the customer. Instead, completely preventing a bad customer interaction or intervening while an unwelcome interaction is taking place, is key. The closer to the issue itself a resolution is reached, the bigger the chance the customer will leave satisfied, or the more likely it is, for instance, for an unwanted agent behavior to be remedied. Additionally, rectifying poor contact center agent etiquette immediately after it has transpired lessens the probability that these undesired behaviors will surface again in the future. Resolving a problem while it's still ongoing is far more effective than trying to correct an already bad experience after the customer has left it with a dissatisfactory impression. In the world of CX, prevention really is the cure.
In the example outlined above involving the United Kingdom's energy companies taking hits in customer satisfaction scores, their service issues could be partially alleviated using the effective implementation of real-time reporting solutions within the contact center. A solution such as 2Ring Dashboards & Wallboards can serve as a general notification board, alerting supervisors and managerial staff that wait times have exceeded allowable limits and that the overall service level is dwindling.
Though historical reports are useful for observing past trends and informing long-term decision making, when a present customer is experiencing service that is not up to their expectations, such reports fall short in providing real-time, actionable data. 2Ring Dashboards & Wallboards provides holistic overviews, all in real-time, of contact center statistics via either wallboards (large screens) or dashboards (small screens on monitors, or on personal devices). Anyone, even managers or back-office employees who do not work in the contact center, can get alerted and can have access to wallboard/dashboard layouts. No longer must a business rely on one singular layout to alert/notify staff but it is possible and desirable to create one-off layouts featuring specialized KPIs that match the needs of each unique user group.
With 2Ring, there is no punishment for building more layouts; an unlimited number of layouts can be created, as licensing is determined by # of concurrently logged-in users, making this solution very affordable and scalable. Multiple layouts (which can be team, skill, or even queue based) translate to a multitude of options when it comes to monitoring the contact center and its performance. This, once again, opens a virtually limitless number of ways to ensure important metrics are monitored in real-time, reducing the chance of escalating situations taking place that could seriously impact customer sentiment.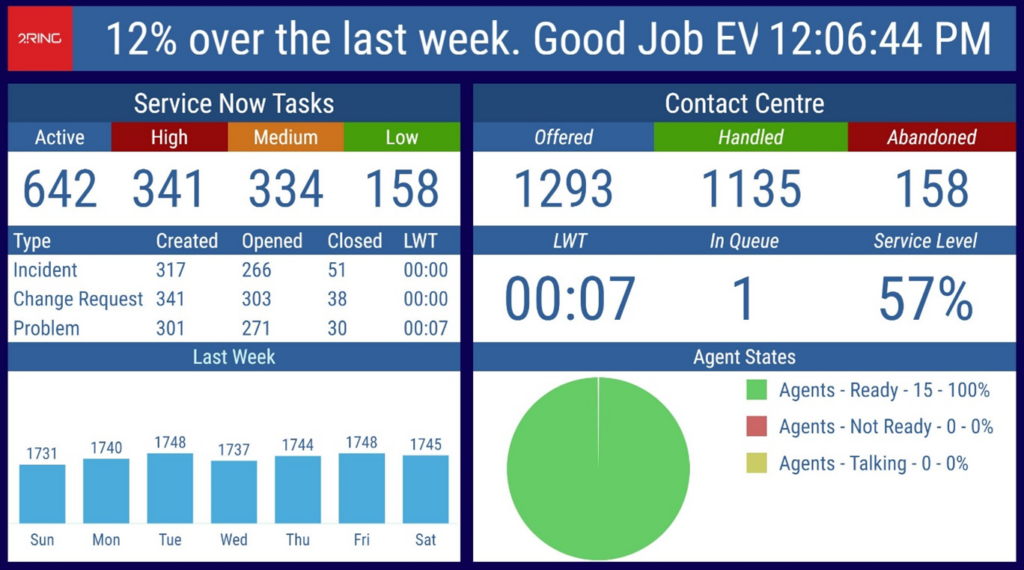 Sample Layout of 2Ring Dashboards & Wallboards with ServiceNOW data
On a final note, service desk or CRM systems (such as Salesforce, ServiceNOW, MS Dynamics) and 3rd party SQL-based databases or API based data sources could also be connected to display mission critical data within your desired layouts, creating the ultimate platform to stay on top of contact center events as well as data/ticket details/customer information from other sources that tie into the functioning of your enterprise's contact center.
Conclusion
In summary, 2Ring Dashboards & Wallboards can be made into a highly functional real-time reporting hub, outfitted, and configured to suit your exact needs. See and display data you want to monitor and get alerted when business critical KPIs change. Track the performance of your contact center to stay ahead of falling customer sentiment scores and ensure that your client base leaves interactions satisfied. Retention rates will increase, so not only do customers benefit, but your staff does as well.
To view sample 2Ring Dashboards & Wallboards layouts for our various supported contact center platforms, click on the following links (no login required):
If you would like to schedule a personal, one-on-one demo with one of 2Ring's product experts, feel free to do so here. We'd love to walk you through our solution and discuss your unique use-cases!
Lastly, you can also very easily gain access to 2Ring's public demo platform, where you can create and experiment with our Dashboards & Wallboards solution. It's all free and only requires you to fill out a short form. Request your access to our trial demo environment here.